I spoke with a trader recently who went all in on small-cap stocks on the news that a tax plan will likely be passed next Tuesday, December 19, 2017.
While I wouldn't argue with such an aggressive shift in strategy, I would suggest caution about using a petal-to-the-metal growth strategy.
We have some early signs that "smart money" is becoming more cautious about U.S. stocks. 
According to Boston Consulting Group's ninth annual survey on investor sentiment, 46% of institutional investors are pessimistic about the direction of equity markets in 2018, up from 32% a year ago and only 19% in 2015. The bearish sentiment is the most widespread since 2009, when the U.S. was mired in the Great Recession.
I think what's going on is that institutional investors are expressive skepticism about Republican's tax cuts boosting GDP. The main reason is that institutional traders are not sure that corporations will use the extra money from tax cuts to grow their core businesses. Instead, corporations may use the extra money from tax cuts on share buybacks, debt reduction, and shareholder dividends.  
Money has been quietly rotating away from growth and into value stocks. This rotation into quality can best be seen by examining the relative performance of XLF.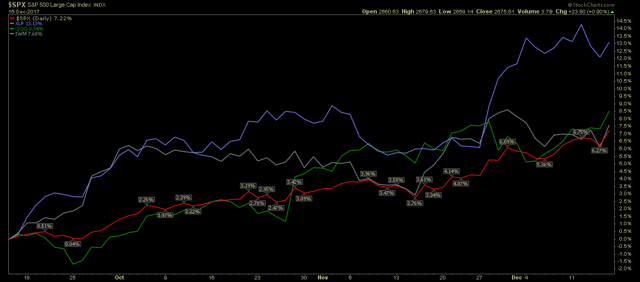 Over the last 3 months, XLF is up 13.13% versus 8.54% for QQQ, 7.22% for SPX, and 7.6% for IWM. Most of the leadership gains from XLF have occurred within the last month.
We don't know how long this sector rotation away from growth and tech and into value and quality is going to last. IWM, QQQ, and SPX could all play catch up to XLF over the next few months. Nonetheless, this is something you want to keep a close watch on in my opinion.
If out-performance of XLF continues, you may want to realign your portfolio with a heavier weighting on value and large banking stocks, and reduce some of your exposure to small-cap growth and technology stocks.