Dry bulk shipping stocks are attracting an increasing number of large players as evidenced by rising large players volume.
In my stock market screens I'm increasingly seeing large players volume rising across many dry bulk shipping stocks.
After bottoming in early 2016, the Baltic Dry Index has been climbing since, recently hitting 1,500 for the first time since 2014.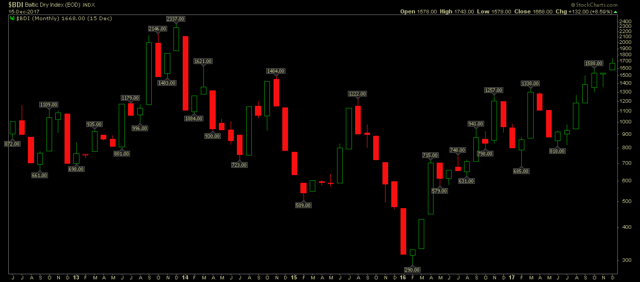 Bloomberg reports that the rally has been supported by China's insatiable demand for coal and iron ore, more than tripling rates for giant Capesize ships. Source: Shipping Costs are Surging Globally, Squeezing Grain Traders
In a market where nearly every asset class is overstretched on valuations, the dry bulk shipping sector stands out as an exception in my opinion. If you are looking for value plays, the dry bulk shipping sector is the place to look.