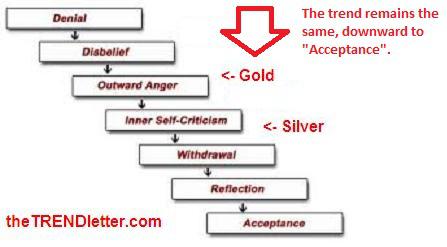 The above chart is an update to this posting.
https://seekingalpha.com/instablog/1049564-trend_t_trader/248476-silver-and-gold-shorts-update
Nobody has called gold and silver more accurately over the past several years than we have.
Our latest gold signal, via our subscriber-only "Trend Technical Trader" service, was to sell short on March 21st.
It's getting about time for a bounce in precious metals. Silver will eventually get to our target in the low-$20's. For starters.
Disclosure: I am short GLD, SLV.
Additional disclosure: Holding calls on ZSL that are now way in-the-money, as well as a hefty DZZ position.