It is time to update what's going on with El Nino.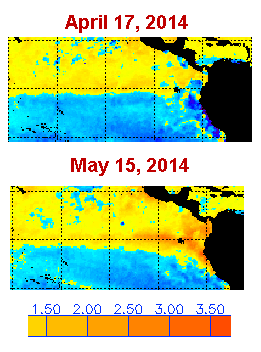 The images at right show sea-surface temperature anomalies in degrees Celsius. The temperature scale is below the images; blue is colder then normal.
The warmer than normal water under the sea surface on April 17 reached the surface April 24 between Ecuador, Galapagos and northern Peru with temperatures 2C warmer than normal.
As of May 15, sea surface temperatures are now 3C warmer than normal, spreading south along the Peruvian coast, north to Central America and west of Galapagos.
The latest data shows temperatures 6C above normal 50-100 meters below the surface just west of Galapagos. That's an important bit of information because the warm waters are on a trajectory toward the ocean's surface. Downstream, at 150 meters below the surface near the International Date Line, the water is showing signs of warming with a couple of new pools 3C to 4C above normal.
So, El Nino is underway and it already is affecting global weather patterns. I expect the Australian Bureau of Meteorology to increase their probability on El Nino in early June. NOAA will continue to be conservative because their criteria is more conservative. If you're looking for good government guidance, follow Australia's lead.
Disclosure: I have no positions in any stocks mentioned, and no plans to initiate any positions within the next 72 hours.
Additional disclosure: This post is my professional opinion only. The references to commodities and weather patterns may appear incomplete because my clients get the information first.