A reminder of the turbulence of global equities over the last three months would be trite, with the smoke still settling. Some indices saw up to a 20% decrease, with traders dumping stocks as market confidence diminished. The S&P 500 tumbled 14% in the last quarter, the Nasdaq 17%, and the FTSE100 15%; the worse decline since Q4 2008. All of this has had the press and media clamoring for yet more stock images of traders with their face in their hands, with the classic Wall Street 'I'm screwed' image plastered on every newspaper and website of note.


Initially, the problems were triggered by faltering indecision within the Eurozone, US debt ceiling negotiations, and a global sovereign debt crisis not aided by ratings agencies; cue an angry Berlusconi. More recently, analysts have been glued to inherently negative PMI data from China, which has added to the doom and gloom. Seemingly none of the major economies are any longer bullet-proof. Paris and Berlin are continuing their exercise of kicking the can down the road and are failing to conclude talks as to the fate of the Eurozone. Reluctance to act by EZ ministers in regards to EU monetary policy, austerity measures and recapitalization of banks. The ECB, IMF, and EC ('the Troika') have spent the last few months pointing at economic models that neither they nor anyone else can fathom, with a solution to Greece, in the shape of bailouts and reforms, looking like the pot of gold at the end of the rainbow. As the possibilities narrow, it's looking increasingly likely that the EFSF will step in as a bank, insurer, lender of last resort, or guarantor to limit the contagion of European sovereign bonds. The US markets have felt the strain of this indecision, something that Tim Geithner made clear at last month's talks in Wroclaw, Poland.


However, there has been a bounce back. Some would call it market correction, some would have you believe that a repeat of 2008 threatens. The reality may be somewhere  between the two, with most markets being stuck in a range following the initial drop off in early August. Three months down the line, markets have rallied somewhat, the VIX has quelled from highs of 48.00, and market sentiment (Sept CCI at 45.4) has gone from despair to mildly cautious. The direction of the equities markets has been clear, though/but tech stocks have been doing something more interesting, with some of the larger stocks gaining ground  and some of the (relatively) smaller caps being eaten.


It would be impossible to talk about tech stocks without some mention of the NASDAQ, with the Composite being historically  heavily weighted towards technology stocks, due to their potential for high growth. The NASDAQ Composite famously indicated - numerically at least - the burst of the dot.com bubble as the index doubled in value from 1999 to 2000. Once led by stocks such as Microsoft, Dell, Intel and Cisco (the 'Four Horsemen of the NASDAQ'), with some defining the then new internet kids being Oracle, EMC, Sun Microsystems and Cisco once more (the 'Four Horsemen of the Internet'). Today it seems less likely for an index to double in value y/y; indeed far from it. To date the 20 most actively traded stocks on NASDAQ 100 are all tech stocks (barring
QQQ
ETF), with the top 5 consisting of Apple, QQQ, Google, Intel and Microsoft. A more interesting statistic is that 8 of the top 10 stocks, measured on a weighted cap basis, are all tech stocks. The Composite pushed into positive territory for the year as of 24th of October, with the earnings season reports of the big tech stocks a contributing factor.
Technology stocks have been doing some interesting things this past year and even more recently in the last quarter. There's been much talk this year about tech companies, whether in the form of IPO's, explosive growth, or a perceived bubble. Let's look first at the headline-grabbers:


-
Apple
(
AAPL
) - I couldn't possibly write this article without discussing Apple, so we'll get them out  the way first. For me, there were three significant moments in the last quarter: gaining the largest global market cap, poor earnings and the death of Steve Jobs.
August 10th saw the momentary ascent of Apple to top of the pile as the world's largest company by market cap overtaking Exxon Mobil (
XOM
). At that point, the Apple share price had climbed 13% for the year, fuelled by increasing sales of the iPhone and iPad and increased business in China. At the time, the company's market caps were $337.2 billion and $330.8 billion respectively. Since then, share prices have yoyo-ed, as have positions at the top of the leader board.  


Now the story is somewhat different, with below expectancy results published, the iBlip (don't hold your breath for a marketing campaign), which led to some traders dumping the stock and wiping nearly $20b of market value in a single session. This was the first time since 2004 that Apple had underperformed on analysts consensus'. Deutsche Bank's Chris Whitmore noted: 'Even mountain climbers need a breather at altitude',- nicely put Chris. A rather poetic expression for an analyst, though it may be an apt metaphor. The short was not aided by the somewhat disappointing iPhone 4S, which surprised the market in being an improved version of the previous model. The phone gained a new OS (iOS5) and a list of new features, including a somewhat irritating personal assistant by the name of Siri. Regardless of this, most analysts are bullish about the stock and are happy with key data figures, which they see as more long term indicators; the stock is trading in the region of $395, the 50-day MA is $387.24 and  200-day MA  $357.31, and earnings estimates for AAPL are about $27.70 per share in 2011 and $32.79 for 2012. However, these estimates appear to me to be too low; the 52-week range is $297.76 to $424.81, and strong data is still evident, with 17.073 million iPhone shipments and the iPad  seeing y/y growth of 165% in the quarter and generating nearly $7b in sales. 


Was the death of the indomitable Steve Jobs a factor in this slight drop off? It isn't the first time that Apple have been without their CEO, though it is the first time unceremoniously and with the evident possibility of a return. Many investors tend to look at the management of a company when making a judgement on whether to invest or not. Shareholders want their securities to lie with suitable CEOs and you'd be hard pushed to find a more suitable CEO than founder and technological visionary Steve Jobs. Tim Cook has since taken over the reigns and has rather large boots to fill. Thankfully for him, such is the disparity between himself and Jobs that I don't realistically think anyone expects him to be a similar figurehead, shareholders included. One thing that investors will be keen to avoid is a repeat of Microsoft's decline since the ascension of Steve Ballmer post-Gates. Going into the festive season I believe Apple will come into their own, with a stronger than typical outlook; Apple expects record iPhone and iPad units in the December quarter. 

-
Google
(
GOOG
) The battle for mobile and tablet OSs/devices in which to sell content continues, with Google being a key player and the main rival to Apple in the space. Good (technology) reports that Android phones made up 39% of all enterprise smartphone activations that it tracks, up from 33% last quarter (6 points Q/Q). The iPhone, meanwhile, dropped from 66% to 61%. Good does not track Windows Phone 7 or Blackberry activations; quite frankly why would they? The most evident advantage that Google has over its competitors is that it's a horizontal aggregator involved in most information sub-sectors, thus it has strong multiple revenue streams. Google is still the web's search engine of choice; they are seeing 4x multiples on mobile search since 2007, and their advertising platform and their license free multi-platform operating system (Android) are all driving strong revenues. Don't be fooled though; Google isn't giving away an OS out of sheer kindness, it's looking to drive search traffic to Google and also looking to capitalise on the 30% of app revenue sold through Android enabled devices. It is fast gaining market share over its competitors, notably Apple. The last year has been turbulent for the Google share price, with a 52wk high of 642.96 and 52wk low of 473.02. The last quarter has seen their share price act in sync with global equities and  it has now bounced to the $580 region.
Google has a lot going for it and I would recommend it as a strong buy; all indicators point to strong growth. Analysts are predicting revenue growth of 32.80% this year and 22.40% next year. What is more defining is the growth of Android on both mobile devices (50% of new sales in their market) and on tablets. This may still be a long way behind the iPad, but many believe that the Amazon Fire will make a significant dent in that market share. These figures are especially evident when making the comparison to Google's competitors in the last 6 months; AOL is down 25%, Yahoo up only 2% (acquisition rumours are rife, some of which are Google), with Google up 10%.

-
Research in Motion
(
RIMM
) - Not the most relevant in terms of market cap but interesting to see where they stand between those they used to rub shoulders with. Blackberry is a great example of how a market leader can be toppled by an innovative competitor and portrays the ever changing and evolving technology market. Blackberry could do no wrong in 2008, with their share price topping $144. They are now trading in below 20s. Ouch. Blackberry has been plagued by a number of catastrophes, none more catastrophic than the release of their 'iPad beating' tablet, the Playbook. We won't mention recent disasters that left a large (or is it now small?) number of people data-less; this for Blackberry was more a negative PR-wise than it was in regards to its share price. They have always prided themselves on the security and reliability that made them the choice handsets of business users. RIMM's handsets have evolved very little in the last 3 years and Blackberry fans have been subjected to several dud releases such as the Torch and Storm. The new head of developer relations Alec Saunders' key task is to encourage developers to embrace the Blackberry platform, something that, unlike Android and iOS, they have completely failed to do. Blackberry's smartphone market share dropped 5% in the last quarter to 20%, with Android the significant climber. Seemingly they can do no right, with an impending law suit about the usage of the BBX name, the new platform they are using. They are also seeing 30% of large enterprises (10,000 employees or more) emigrating to rival platforms. One key factor in disappointing sales has been the lack of developer excitement about apps and thus a lack of apps for users.
Blackberry have been staring down the barrel for sometime with what now seems like the final nail in the coffin. For the first time in nine years the share price dropped below it's book value. Some speculators are giving RIMM a 50% chance of being priced below $10 in under 12 months. The market and investors' have little to no faith in the company with RIMM's next steps being watched closely.
-
Microsoft
(
MSFT
) The old timer, still rocking slowly on the front porch, telling the other more fresh-faced kids on the block how to and how not to run a multi-billion tech company. Unlike its competitors, Microsoft hasn't been able to make much headway with its mobile operating system - Windows Phone 7, and has also seen market share of its PC operating system eaten by Apple, slightly. Unlike its competitors it's missed out on just about every major trend in the last decade; its recent ties with Nokia in substituting the severely out of date Symbian OS with Windows Phone 7 seem too little too late and has had suspicious fingers wagging at Microsoft. There still seems to be some life left in Windows Phone 7, with the impending release of Windows Mango OS. Some believe that Windows will have a 20% share of the smartphone market by 2015 Others, like myself are more sceptical about the dominance of Android and iOS; emerging markets will be key to this. Microsoft released its Q1 2012 earnings on Thursday, with some strong results as the company exceeds analysts' targets. Microsoft saw a 7% increase in revenue to $17.37 billion. While many have seen Microsoft as operating behind the trend, they are nevertheless seeing continuing revenues from the Windows OS, software such as Office, the Xbox 360, and the Bing search engine. Many forget that Microsoft, in terms of online property, still commands the second most unique visitors globally, positioned between Google above it and Facebook below. 

-
Amazon
(
AMZN
) has historically been an international online retailer but has more recently moved with the curve in realising the value of being able to sell content such as music, film, books and apps. Amazon has seen some very strong share growth this year, with a 52-wk low of $156.77 and a 52-wk high of $246.71, though a very poor earnings report has been a shock to many analysts. Amazon's EPS of 14 cents, 37 cents less than the same quarter last year (a 73% decline in net income). Revenue dropped from the same period a year ago, from $10.88 billion to $10.95 billion. Amazon had been the only real competition to the iPad to date, with their early 'tablet' the Kindle launching Q4 2007 and selling over 16 million units. Much like the Google model they look to be providing software platforms at subsidized rates in order to be able to sell content. The launch of the recent Kindle Fire will be the biggest threat to the iPad with what I believe will be a large chunk of Apple's market share eaten into over the festive season, some predicting up to 5m shipments in Q4. The Kindle Fire is priced at a competitive $199 and should undoubtedly sell well. Unfortunately, Amazon may not directly benefit from the positive sales due to the price point; good for share price but not great for profit generation. Fourth-quarter guidance also expects operating to be between a loss of $200m and a $250m gain, most likely due to the Kindle's pricing.

-
IBM
(
IBM
) Another tech stock that has had a strong year, with 52wk high at $190.16 per share just prior to its earnings report. IBM missed analysts' earnings, and shares are trading at around $180. IBM provides a variety of information technology products and services. They have seen increases in their business analytics, cloud computing and have been prominent growth wise in emerging markets, contributing significantly to revenue performance. The shares have traded in a range of $136.70 to $190.53 in the past 52 weeks, the 50-day MA is $172.23 and  200-day MA  $166.46, and earnings estimates for IBM are just over $13 per share in 2011 and about $14.74 for 2012. The shares are trading over the 50- and 200-day MAs, and close to the 52-week high. IBM's overall revenue has only increased 8% year on year (3% adjusted for currency). Competitors like Oracle have grown at a much faster rate and I remain cautious over the future growth of IBM.


How does this effect the NASDAQ?
The above stocks, barring RIMM, have all seen great year on year growth and have fought off the turbulent August and September months. Another shared attribute is that they're traded on the NASDAQ Composite, an index that tends to lead US markets higher or lower and is an interesting index to look at outlook–wise.
It's evident that there are a number of big tech IPO's in the pipeline and the stalwarts listed earlier in this article will have some new classmates to play with. The key questions are whether these new boys will continue to justify their large market caps and whether more traditional investors will ever truly be able to understand tech companies' large revenue multiples. Groupon (
GRPN
), who list today on the NASDAQ, would be a perfect example of this; an $11.4b valuation on relatively slim revenues. While much of the tech sector remains strong, we will only be able to comment in retrospect whether the pricing of tech stocks has been realistic. For some it's all beginning to feel like Q4 of 1999 with analysts looking for imaginative new ways in which to price tech companies with markets being far from reflective of their optimism. There are also questions to be asked about whether these inflated stocks can survive at these levels and whether they can all stay ahead of the curve. What is inherent in tech is the fast-moving pace of consumer appetite and the importance of being at the forefront of new technology and technological trends. This is something that Apple and Microsoft, in contrasting manners, know all too much about. Just how many of the new wave of tech IPO's will be able to sit at top table with the old guard is yet to be seen, but it seems that the only one with enough clout right now is Facebook.
The NASDAQ's own ETF, the
QQQ
, is also relevant and gives a good indicator of where the market is heading.
QQQ
is an ETF designed to correspond generally to the performance, before fees and expenses, of the Nasdaq 100. Shares of the ETF are trading at just off the pre-August highs of 58.93. The top 10 components of the QQQ, which make up nearly half the index, are primarily tech stocks, including
GOOG
,
MSFT
,
AAPL
and
RIMM
. Hulbert Interactive rate the Q's as a fair to bullish stock, with analyst consensus being somewhat more bullish. What is important to consider here is whether the index has been led higher by market sentiment or by the strength of the Nasdaq's top equities. The following chart shows the movement of the Nasdaq Composite alongside, Apple, Blackberry, Amazon and Microsoft: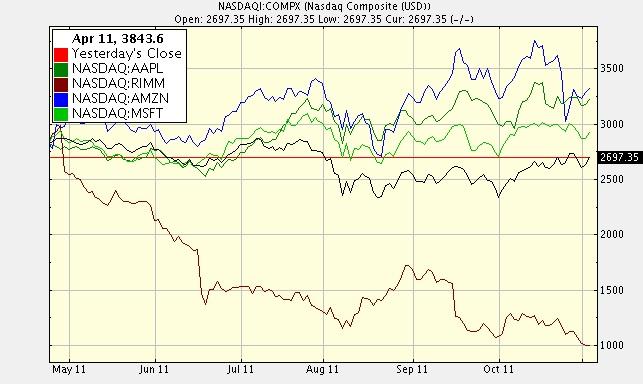 Regardless of strong results coming out of earnings season for tech companies, the evidence of tech stocks leading markets higher is minimal. Apple is a large component of the QQQ, making up 14.4% of the ETF's overall weighting. The ETF broke above its 200 MA, while S&P and Dow ETF's were well below this point. Data suggests that fluctuations on indices may have more to do with market sentiment and macro-economic factors than a particular market sector. This is certainly evident when looking at the drop in indices; economic data and particularly indecision in the US and Eurozone. Tech stocks have helped the NASDAQ remain strong and have aided it in the last few months. Though they have not been pertinent in the markets bounce or the NASDAQ's move into positive territory for the year.
The defining factor in market movements have been macro-economic and continue to be. This week has been proof of this, with market fluctuations being inline with the ongoing Greek rollercoaster. Monday saw Greece's Prime Minister George Papandreou, seemingly snatch defeat out the jaws of victory, as his calls for a referendum sparked a global crisis. On Tuesday, the Nasdaq Composite Futures were down -48.03 in pre-market with indices in Europe taking much heavier hits. Since then Greece's PM has laid to rest his explosive plan to put the bailout to a vote which saw markets react positively. Unlike the events of 1999/2000, there are increasingly turbulent and forceful macro-economic factors which are causing more substantial changes in the performances of indices. Until we find more global economic stability, this will continue to be the case.
Disclosure:
I have no positions in any stocks mentioned, and no plans to initiate any positions within the next 72 hours.