Business Summary
AnnTaylor (NYSE:ANN) is a leading specialty retailer of women's apparel, shoes and accessories in the United States, and competes with Aeropostale (NYSE:ARO), American Eagle Outfitters (NYSE:AEO), J.Crew Group (NYSE:JCG), and Limited Brands (NYSE:LTD). Over the past five years, ANN Inc.'s success has become more dependent on LOFT than any other store. Trefis estimates LOFT as representing 60% of the company's value. Ann Taylor also operates in the e-commerce space and has recently introduced global shipping to more than 100 counties.
Catalysts
1. Strong Product Performance and Brand Strength
Ann Taylor brand maintained its strength during the first two quarters due to quick responses to changing trends, wide product range, appealing shopping experience and balanced pricing strategy. The Ann Taylor factory strategy for the first half of 2013 has been to position inventory to maximize gross margin due to the softer traffic trends at outlet centers. This channel, along with LOFT Outlets had weaker than hoped for performance in the first half of the year, but are positioned for top-line growth going forward.
2. Multi-Channel Initiative
In the 11 months since this initiative was launched, ANN has been leveraging this new capability to drive increased sales and customer satisfaction. The multi-channel effort has made more productive use of inventory has not only been effective at clearing sale items, but has improved margins on that merchandise. Multi-channel has also provided management a better view of the online demand for marketing looks and key fashion. And beginning this fall, the company will invest, from an inventory perspective, to better meet this demand. Overall, multi-channel has been a major win for ANN with more opportunity to come.
3. E-Commerce
E-commerce continues to be a major contributor to growth. Online sales increased at double-digit rates, again, this quarter. This trend is expected to continue while traffic and conversion continue up at both brands. Ongoing investments in this platform, the client experience and digital marketing, combined with a continued expansion of exclusive online products, will continue driving results.
4. International Growth Strategies
ANN's expansion into Canada continues to prove very successful. Stores are outperforming management expectations, in 2Q, they opened 2 LOFT stores and 1 Ann Taylor store, all in the Greater Toronto market. The company is on track to have 10 stores in Canada by year end. Both brands are benefiting from a loyal client base in Canada, and there is significant potential for the company to continue to gain market share.
Separately, their international shipping capability, launched earlier this year, is generating a very strong response and should continue as a platform for growth.
5. Store Remodeling
ANN Inc. continues to benefit from a remodeling effort designed to enhance the customers' overall shopping experience. Management is on-track to meet their stated objective of having 80% of the store fleet updated in the modern format by year end. This cost-effective, capital-light initiative has had very positive feedback, and is considered to be part of their larger real estate strategy.
Overall, these strategic initiatives provide a strong foundation for the continued long-term profitable growth of the company, and I expect, per management implications, equally powerful strategic visions to be developed for 2014.
Valuation Summary
My price target for ANN Inc is $41 based on a half-way point between an EV/EBITDA derived price target and a P/E target. Both multiple numerators are below the peer-group mean.
Business and Products
AnnTaylor (NYSE:ANN) is a leading specialty retailer of women's apparel, shoes and accessories in the United States, and competes with Aeropostale (NYSE:ARO), American Eagle Outfitters (NYSE:AEO), J.Crew Group (NYSE:JCG), and Limited Brands (NYSE:LTD). Ann Taylor's two brands are Ann Taylor and LOFT.
The Ann Taylor brand is higher-end and targets women making between $100,000 and $150,000 a year. Ann Taylor has continued to generate strong sales and higher profitability. The brand is seeing stronger, more consistent performance driven by the continued execution of their multi-part strategy to offer customers an expanded assortment of fashion in all stores and online; to enhance the value by continuing to provide a balanced assortment across good, better and best price points; to be more targeted in our promotional strategy; and to elevate the shopping experience, both in-store and online. Ann Taylor saw strength across the entire assortment. Dresses, tops, skirts, suits, jewelry, accessories and shoes all received positive results for the quarter. In addition, Ann Taylor's color offering, grounded in white, navy and black, was well-received. Kate Hudson capsule collection was also highly successful, and Weddings performed exceptionally online. From a product perspective, the assortment is stylish and versatile, offering transitional fabrics and a strong offering in neutrals. Black, navy and camel will anchor the collection, with pops of color and a broad assortment of print, pattern and novelty items. The new shoe collection, designed in partnership with Vince Camuto, is in stores and online this month and is off to an unbelievable start. Ann Taylor will be offering special occasion dresses again this fall, which have historically been successful for the brand.
LOFT is considered the lower of the two Ann Taylor brands, targeting women making between $75,000-$100,000 a year. The brand has seen strength across the assortment. Leathers, woven and knit tops, casual dresses, denim, LOFT lounge and jackets all generated positive comps. Customers were most responsive to denim and color offerings in the last quarter. Similar to Ann Taylor, LOFT online continues to be a significant contributor to the growth of the brand, driven by the strength of the product offering. Customers responded to the expanded offering in both denim and LOFT lounge, resulting in another quarter of substantial growth.
Financials
The second quarter represented the fifth consecutive quarter delivering positive comp performance.
Net sales for the second quarter were $638.2 million, an increase of approximately 7.3% versus the $594.9 million in net sales reported in the second quarter of 2012. By brand, net sales across all channels of the Ann Taylor brand were $245.2 million, a 5.1% increase over the $233.3 million reported last year. At the LOFT brand, net sales were $393 million, up 8.7% versus $361.6 million reported last year.
Second quarter gross margin sat 54.7%, 120 basis points below last year's record rate of 55.9%. Gross margin is expected to finish the year at around 54.3%.
SG&A as a percentage of net sales was 45.3%, a 170-basis-point improvement compared with 47% in the second quarter of last year. SG&A expenses in the second quarter were $289.3 million compared with $279.5 million reported in the second quarter of 2012.
Second quarter net income was $35.6 million, representing a 16% increase compared to net income of $30.7 million achieved during the second quarter of 2012.
The company has no bank debt or long term debt and is not expected to take any on in the next year.
Capital Expenditure are expected to sit at around 160MM in the year ahead.
Valuation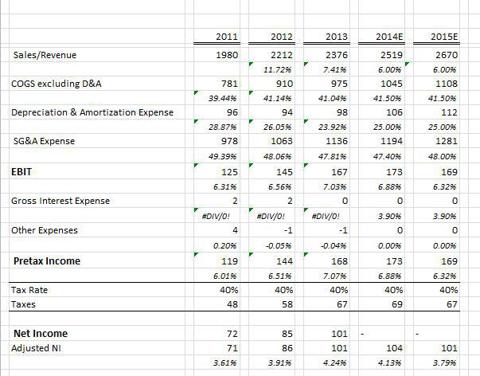 For my valuation, I've used a combination of management, industry, and analyst guidance to forecast next year's sales and major drivers. You will find Gross Margin to be hovering around 54.3% and I've increased overall sales at mid-single digits. I believe SG&A is just slightly conservative on my valuation, but not materially.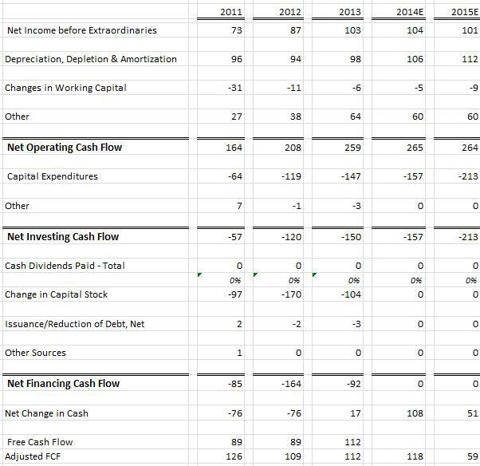 Moving on to the cash statement, I think the only thing here that I'd like to draw attention to is their CapEx. Again this is largely in-line with management predictions.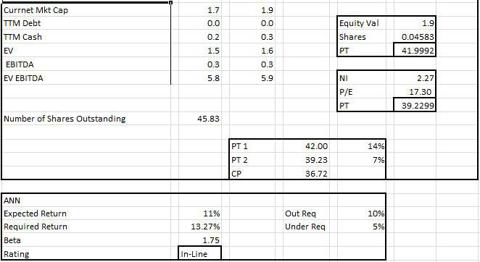 Finally, the table above shows my metrics used in deriving my price target. The EV/EBITDA and P/E multiples are both beneath the industry mean and I expect they will converge slowly as the company continues to perform well and expand going forward.
Conclusion
Ann Taylor is a profitable, well-managed company with strong brands and an expanding reach. The company has no long term debt, is solidly profitable and has a strong cash flow stream. Management just wrapped up a $600 million share repurchase program, and has planned for another $250 million to return value to shareholders through another round of buybacks. I expect ANN to continue to meet and/or exceed analyst expectations going forward which bodes well for shareholders.
Disclosure: I have no positions in any stocks mentioned, and no plans to initiate any positions within the next 72 hours.