When Bloomberg reported on February 29th that an upcoming Apple (NASDAQ:AAPL) dividend was "probable," it sparked a question that I had to answer. Exactly how many Apple shares would one have to own for an Apple dividend to pay for an Apple product or related service? To find the answer, a few inputs and assumptions were needed to compose the chart displayed a few paragraphs down.
The first question to answer was what is the dividend per share that Apple might distribute? Bloomberg is estimating that Apple may pay a $2 per share dividend based off peer group dividend distribution rates in the tech sector. To further put this number in perspective, TechNewsWorld reported this quote in their story on the potential Apple dividend:
"A $2 quarterly dividend is about a 1.5 percent dividend yield, so it's within range of companies like Microsoft (Nasdaq: MSFT, HP (NYSE: HPQ or IBM (NYSE:IBM)," Yaniv Grinstein, professor of finance at Cornell University, told MacNewsWorld.
While this seems reasonable, there is an argument that Apple may only pay a large one time distribution to shareholders in order to retain future flexibility. Accordingly, my assumptions will use a conservative one time dividend distribution of $2 per share. Any additional Apple distributions will just be a matter of multiplication.
Secondly, the pricing of the products and services needed to be gathered. Fortunately, the Apple store provided all the pricing data on products and third party services cited. In addition, where appropriate, I outlined specific characteristics to identify the device or service. Be advised that none of these prices include associated taxes or fees.
Finally, it is important to note that Apple has indicated they are only considering a dividend. Thus my examination is 100% based on speculation, but for those who own Apple products or stock I am told this examination can still be considered fun.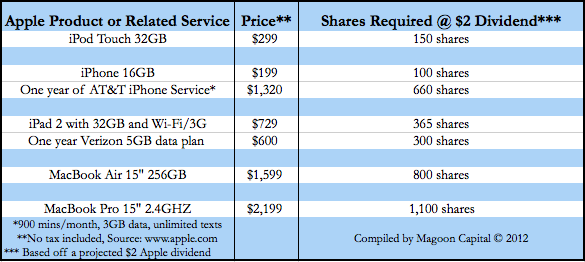 When reviewing this chart, I was reminded of a bit of history. In years past, utility stocks were often positioned to investors in a clever way: own enough shares in your utility company and the company's dividends will cover your utility bill. In essence the idea was a great combination of the adage, know what you own and why you own it. Could an Apple dividend create the same investment fervor propelling it to higher levels? Could the pitch, buy Apple stock and pay your iPhone bill, be far away? Only time will tell.
Disclosure: I have no positions in any stocks mentioned, and no plans to initiate any positions within the next 72 hours.
Additional disclosure: Christian Magoon wrote this article on a MacBook Pro.