RNA interference ("RNAi") based therapeutics have been termed "potential superdrugs" for a reason. With the ability to silence any gene, they could become invaluable in biotech applications as diverse as cancer and wound care. The patients in these markets are in dire need of better technologies, and with each market consisting of multiple billion dollar opportunities, the companies that are focusing on RNAi technology could be poised for substantial gains.
The problem has been effectively delivering these RNAi therapeutics into cells, since the administered nucleic acids must survive in circulation long enough to reach their target issue, enter desired cells, escape their delivery packaging, and incorporate into the RNA-induced silencing complex ("RISC"), according to RNAi Therapeutics: A Two-Year Update.
In this article, we'll take a look at a few companies that are developing RNAi based therapeutics with upcoming catalysts that researchers and investors may want to watch.
RXi Pharma's Self-Delivery Platform
RXi Pharmaceuticals Corporation (OTC Markets: RXII) is focused on developing therapies based on its proprietary, self-delivering RNAi platform. Using its proprietary sd-rxRNA® platform, the company developed its flagship RXI-109 compound to reduce dermal scarring following planned surgeries.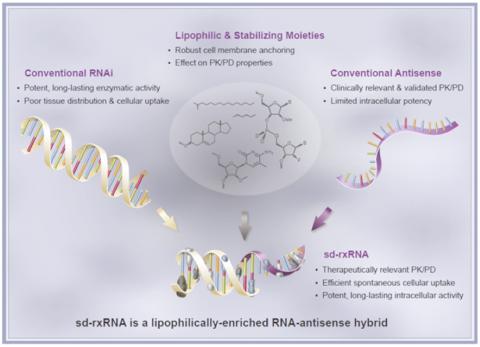 On June 6, 2013, the company announced the blinded results from the first of two placebo-controlled double blind studies in volunteers using RXI-109. Almost three months after a single intradermal dose of the drug, histological comparisons showed significantly reduced expressions of CTGF in the wound area in a dose dependent manner, reducing abnormal scarring.
The success confirms the efficacy of its sd-rxRNA® platform, which could solve drug delivery issues that have plagued the industry. Instead of simply encapsulating RNAi into a lipid-based particular, the company's innovative technology reduces the need for any delivery technology by building drug-like properties into the RNAi compound itself.
The sd-rxRNA® platform is ideal for therapeutic use and have drug-like properties like high potency, target specificity, serum stability, reduced immune response activation, and efficient cellular uptake. Researchers and investors may want to keep an eye on the firm's upcoming trials, as they could confirm safety and efficacy and set the stage for additional therapeutics.
For more information, see rxipharma.com.
Alnylam Pharma Backs Up Claims
Alnylam Pharmaceuticals Inc. (NASDAQ: ALNY) is a leading RNAi therapeutics company focused on a new class of drugs based on RNA compounds. In particular, the company is targeting serious, life-threatening diseases, such as familial amyloidotic polyneuropathy, familial amyloidotic cardiomyopathy, rare bleeding disorders, iron disorders, and liver disease.
In May, the company presented key findings from pre-clinical models showing that RNAi therapeutics targeting ALAS-1 can completely block the abnormal production of toxic intermediates of the heme biosynthesis pathways that cause the symptoms and disease pathology of AIP, which helped show strong promise.
The following month, the company presented pre-clinical data with ALN-CC5, an RNAi therapeutic targeting complement component C5 for the treatment of complement-mediated diseases. The therapeutic showed inhibition rates of approximately 90%, again showing strong promise as the company moves towards clinical trials.
While these are early stage indications, the company expects to have five RNAi therapeutic products for genetically defined diseases in clinical development, including programs in advance stages, on its own or with a partner by the end of 2015.
For more information, see alnylam.com.
Arrowhead Research Begins Phase I Trial
Arrowhead Research Corporation (NASDAQ: ARWR) is a clinical stage targeted therapeutics company with development programs in oncology, obesity, and chromic hepatitis B virus. Leveraging platform technologies to design peptide-drug conjugates based on RNAi, the company aims to create improved versions of small molecule drugs.
On May 28, 2013, the company announced that it filed an application to begin a Phase I clinical trial of its RNAi based therapeutic candidate, ARC-520, to fight chronic hepatitis B virus infection. Pending approval, the firm will begin a randomized, double blind, placebo-controlled, dose escalating study to evaluate the drug's safety and pharmacokinetics.
ARC-520 treats hepatitis B virus in a way that's fundamentally different than any other therapy on the market. With the potential for a functional cure, the therapeutic intervenes at the point of DNA transcription, upstream of where nucleotide and nucleoside analogues act, and can deeply knockdown all HBV gene products, including proteins and viral intermediaries.
For more information, see arrowheadresearch.com.
Conclusions & Looking Ahead
RNAi therapeutics have come a long way since they were first introduced. While the industry experienced some setbacks early on, scientists remain confident that RNAi has the potential to create a class of "superdrugs" that could revolutionize modern medicine. Investors should therefore at least consider keeping some exposure in their portfolios.
The three companies above all represent potential plays in this market with upcoming clinical trials and pre-clinical results. But, RXi Pharmaceuticals Inc. represents perhaps the most under appreciated play, with its unique platform that redefines how RNAi is delivered into cells. As a result, investors may want to keep a close eye on the stock moving forward.
Disclosure: I have no positions in any stocks mentioned, and no plans to initiate any positions within the next 72 hours.
Additional disclosure: EGC is a marketing and consulting firm that specializes in creating ongoing communications strategies for public and private companies. For full disclosure please visit: secfilings.com/Disclaimer.aspx