Heating Fuel Mandates Could Drive Biodiesel Growth
Jul. 11, 2013 10:24 AM ET
MEIL
Please Note: Blog posts are not selected, edited or screened by Seeking Alpha editors.
Biodiesel has seen its share of controversy and volatility over the past couple years, with government mandates stirring public concern and the RIN crisis throwing prices for a loop. But, it's becoming increasingly clear that biodiesel is an industry that's both rapidly growing and here to stay, especially as it moves into the heating fuel industry.
In this article, we'll take a look at what impact this move could have on the industry, where it's headed from here, and how investors can take advantage of the movement.
Biodiesel Mandates Expand to Heating
In early July, the New York State Assembly and Senate passed legislation requiring that all heating oil sold in the state contain at least 2% biodiesel by 2015. The new regulation will replace about 30 million gallons of petroleum each year with cleaner burning, renewable fuel that is safe, seamless and improves fuel efficiency throughout the state.
New York City had already passed and implemented similar heating fuel laws back in 2010, when the City Council passed a law requiring all home heating oil to be made with biodiesel by October 2012. The resulting "BioHeat" fuel is an ultra low sulfur heating oil combined with 2% biodiesel, with several tax incentives in place to ensure prices remain low.
Watch the video here: www.youtube.com/watch?v=gLOG01GYLIE
Interestingly, New York City regulators have also been considering broader biodiesel mandates for their municipal vehicle fleets earlier this year. While no official plans have been announced, city officials are reportedly planning a move from a B5 fleet to a B20 fleet and even considering public biodiesel requirements that could impact private companies.
Extrapolating a Potential Market Size
The new regulations in New York could set a precedent for similar laws in other states, if they are successful in reducing emissions without significant cost increases. After all, New York City has long been an early adopter of new policies - including controversial ones - that have been later implemented nationwide, and this one may not be any different.
With a population of 19.57 million in 2012, New York State's 30 million gallon increase in biodiesel demand equates to about 1.5 gallons per person per year. These metrics suggest that a nationwide heating fuel program along the same lines could represent an additional 471 million gallons of demand per year, given the U.S. population in the year 2012.
Last year, B100 biodiesel production amounted to 969 million gallons, with total annual capacity standing at 2.16 billion gallons per year, according to the latest U.S. Energy Information Administration Monthly Biodiesel Production Survey. An incremental 471 million gallon increase could therefore have a significant impact on the market and prices.
Capitalizing on the Opportunities
Investors looking to capitalize on this potential for greater biodiesel demand have several options, including giants like Renewable Energy Group Inc. (NASDAQ: REGI) and Green Plains Renewable Energy Inc. (NASDAQ: GPRE), as well as smaller players like Methes Energies International Ltd. (NASDAQ: MEIL) that are carving out a niche.
Many of these stocks have been solid performers lately, with Renewable Energy Group trading up over 150% so far this year. There are several reasons for this outperformance, including the industry's recovery from the RIN debacle last year and ongoing improvements in the market for biodiesel that has led to near-term and long-term pricing improvements.
During the second quarter alone, RIN prices started under $0.80 and rose to over $1.00, according to data from Progressive Fuels Limited. These strong prices have been a negative for companies forced to blend biodiesel into their products, but have provided a strong boost to biodiesel producer margins, helping produce the higher share prices seen above.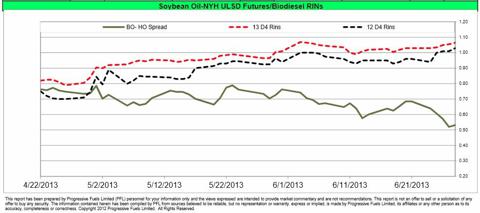 Methes Energies' Unique Catalysts
Methes Energies represents a smaller play that investors may want to carefully consider moving forward. In addition to producing its own biodiesel, the company offers an array of products and services to a network of small to mid-sized biodiesel fuel producers. These products include its Denami processors capable of producing 1.3 million gallons and 6.5 million gallons per year.
In late 2012, the company completed construction and installation of two of its intermediate-scale Denami 3000 processors at its Sombra facility, paving the way for production levels that could generate some $56 million in annual revenues at $4.30 per gallon prices. These figures are nearly ten times higher than its $5.8 million in FY 2012 revenues reported last year.
In the end, investors may want to consider the stock for these two reasons. First, its Denami processors are targeting the fastest growing segment of the biodiesel industry - small to mid-sized producers. And second, its own plants using the processors are poised to increase revenues on their own to the $50 million annual level, creating significant potential value.
More Information
Disclosure: I have no positions in any stocks mentioned, and no plans to initiate any positions within the next 72 hours.
Additional disclosure: EGC is a marketing and consulting firm that specializes in creating ongoing communications strategies for public and private companies. For full disclosure please visit: secfilings.com/Disclaimer.aspx
Seeking Alpha's Disclosure: Past performance is no guarantee of future results. No recommendation or advice is being given as to whether any investment is suitable for a particular investor. Any views or opinions expressed above may not reflect those of Seeking Alpha as a whole. Seeking Alpha is not a licensed securities dealer, broker or US investment adviser or investment bank. Our analysts are third party authors that include both professional investors and individual investors who may not be licensed or certified by any institute or regulatory body.