Genufood Energy Enzymes Corp (OTCBB: GFOO), a leading distributor of nutraceutical-grade enzyme supplement products suitable for both human and animal consumption, recently secured significant growth capital via an open-ended capital raise and announced the opening of its first of ten retail locations in the Singapore market, as it begins its commercial roll-out.
In this article, we'll take a look at the recent capital raise, new store opening, and earnings report and analyze where the company may be headed from here.
Securing Growth Capital
Genufood announced a $3 million investment by Kodiak Capital Group LLC on August 8, 2013 to support its plans to penetrate Singapore's market with ten retail locations. Founded in 2009, Kodiak has transacted more than $300 million in financing for companies across a wide variety of industries, with the goal of providing growth companies with capital and business solutions.
According to the S-1 filing with the SEC, the company registered 3.5 million shares with a proposed maximum offering price per share of $0.857143. The investment agreement enables the firm to "put" to Kodiak up to $3 million in shares of common stock at a purchase price equal to 80% of the 5-day volume weighted average price defined as the lowest closing price.
Management believes that they will be able to successfully commence full operations within the next 12 months with key agreements with manufacturers of its enzyme products already in place and sufficient cash resources to begin operations. By appointing a sole distributor for each country, the firm aims to reach multiple Asian markets with its product lines.
Scaling Retail Revenues
Genufood opened its first retail location at the Suntec City Mall in Singapore on July 14, 2013, with ten additional stores slated to open over the coming quarters. These retail outlets will not only complement its existing distribution network, but also create brand awareness for its ProCellax and ProAnilax enzyme supplements throughout Singapore.
Singapore itself also represents a very attractive starting point for operations. With a higher GDP per capita than the U.S. and rising consumer spending, the market could prove far more valuable than the U.S. in terms of per-store spending income and growth rates. Investors may want to shift their projections higher than otherwise given these demographics.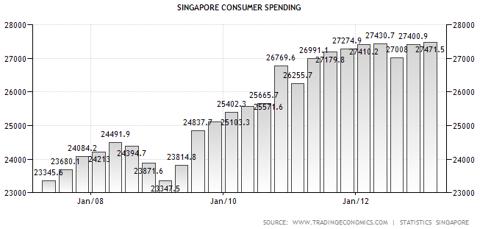 Beginning to See Results
Genufood released its 10-Q filing with the SEC on August 16, 2013, showing revenues that increased from $0 to $107,686 year over year. While these results don't include the retail locations quite yet, investors can get a rough idea of what to expect. The gross margins of 46.3% were healthy and could move higher given that they're cutting out the middleman.
On its balance sheet, the company reported cash and cash equivalents of $697,852 and a working capital surplus of $847,914, putting it on solid financial footing at the moment. Notably, the firm's S-1 filing indicated that this cash balance has actually increased to $1,176,378, as of July 19, 2013, potentially showing some early success from its retail operations.
Investors will have to wait for a couple quarters in order to see the impact of the retail locations, but there are some Western comps for comparison. For instance, GNC Holdings Inc. (NYSE: GNC) reported retail sales of $502.5 million last quarter with 3,097 stores in operation, which suggests revenue per store of approximately $162,253 per quarter.
Investment Opportunity
Genufood represents an attractive investment opportunity given its recent capital raise and plans to execute its expansion strategy over the coming quarters. With ten new stores slated to open in Singapore, the company could see revenues of around $6 million per year, assuming $150,000 per store in quarterly revenues, per the GNC Holdings comp.
Investors in the nutritional supplement and enzyme space, including companies like Nature's Sunshine Products (NASDAQ: NATR) and USANA Health Sciences Inc. (NYSE: USNA), may want to take a closer look at the stock as a result. With a market capitalization of about $130 million, the stock could be poised for a move higher as it accumulates market share in the Asia-Pacific.
More Information
Disclosure: I have no positions in any stocks mentioned, and no plans to initiate any positions within the next 72 hours.
Additional disclosure: TDM Financial is a marketing and consulting firm that specializes in creating ongoing communications strategies for public and private companies. For full disclosure please visit: secfilings.com/Disclaimer.aspx