CrowdGather, Inc. (OTCQB: CRWG), a developer and operator of online forum communities and advertising technologies, stands at a unique point in its corporate history. Having built an enormous forum network generating millions of page views per month, management recently refocused on reducing its expenses and plans on transitioning its business to an online advertising exchange model that could unlock significant value for shareholders.
CrowdGather's Legacy Business
CrowdGather was formed in April of 2008 to develop and monetize online forums and message boards. With branded communities, like Digishoptalk.com and PbNation.com, and forum hosting platforms, like Yuku.com and Lefora.com, the company generates revenues by showing display advertisements on a cost-per-thousand ("CPM") basis. For instance, advertising networks might pay $1.00 or greater for 1,000 banner impressions on the CrowdGather forum network. Additionally, companies like Google Inc. (NASDAQ: GOOG) might pay well over $1 on a cost-per-click (NYSE:CPC) or cost-per-action (NYSE:CPA) basis, depending on the value of relevant key words that lead to conversions on the CrowdGather forum network.
As of FY 2013, the company owned more than 80 web properties and 600 web domains that generated an average of 155 million monthly page views and 12.4 million monthly unique visitors. The network also counted more than 20 million registered users that have created over 75 million total discussions comprised of over 1.5 billion individual replies. These metrics make it easily one of the largest collections of forum communities on the Internet.
Between FY 2009 and FY 2013, the company's revenues moved from $112,546 to more than $1.9 million, while it maintained gross margins of more than 95%. Operating expenses have kept its net loss relatively stable over that time frame, as management has historically reinvested heavily in its growth by acquiring new forum properties. But in May 2013, management's efforts to refocus on profitability led to a 45% reduction in its operating expenses.
Targeting A New Exchange Model
CrowdGather's ultimate goal is to build an advertising network that enables them to leverage the targeted demographics of its network to generate the highest advertising rates for all member sites. By expanding this network to include third-party forums, the company could become a full-fledged advertising network, similar in ways to Google Inc.'s AdWords, Yahoo! Inc.'s (NASDAQ: YHOO) Publisher, or IAC Interactive Inc.'s (NASDAQ: IACI) CJ Network.
According to Online Ad Networks: Monetizing the Long Tail, a report combined by the IAB, advertising networks like these have emerged as an essential vehicle for monetizing the long tail of the internet by aggregating traffic that was too difficult to buy or otherwise undesirable in the past. The enormous growth from these networks has also driven M&A interest, from WPP's $649 million purchase of 24/7 Real Media to the $6 billion acquisition of eQuantive.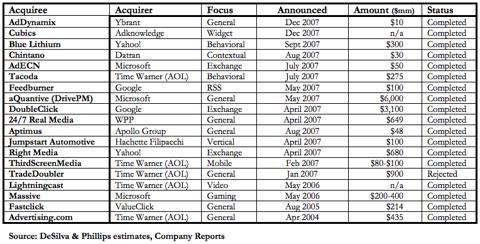 Figure 1 - Acquisitions from 2004 to 2007 - Source: IAB Report
Figure 1 shows just how many acquisitions were made prior to the 2008 economic downturn, while these trends have continued as the economy has recovered since then. The company aims to capitalize on these trends by developing the first online advertising exchange for forum communities. Since forums have very targeted and advertiser-friendly demographics, such an advertising exchange could attract above-market CPM rates and generate significant value.
Moving From Value To Growth
CrowdGather's move into the online advertising exchange business could favorably impact its top and bottom-line results and ultimately contribute to higher multiples for its equity. Typically, a stock's sales or earnings multiples are dictated by a company's growth rates and profitability, and since the advertising exchange model involves very little overhead, CrowdGather's net revenues and earnings could grow incrementally.
Advertising networks also represent attractive acquisition targets, as seen in Figure 1 above. These trends are likely to continue given the growing amount of cash and short-term investments held by large tech companies, as well as the relatively low interest rates available in the U.S. and other developed countries around the world. Figure 2 below shows this growth in cash that companies may be tempted to spend in order to support continued growth.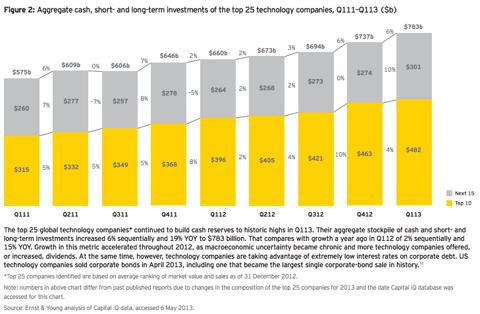 CrowdGather's story is changing from a valuation play that trades below book value to a growth play given its move into online advertising exchanges. The results should be an improvement in its sales and earnings multiples over time, as investors begin to grasp these changes and realize its potential. Industry trends also suggest that the stock could become an acquisition target in the future, given its cheap valuation and earnings potential from an advertising exchange.
Unique Investment Opportunity
CrowdGather represents an attractive investment opportunity, with a market capitalization of under $5 million and modest price-book ratio of just 0.3x. With the ability to acquire the stock at less than its liquidation value, investors could also benefit from the tremendous growth potential from its move into the online advertising exchange business. These dual benefits, combined with favorable industry M&A trends, make this stock worth a second look for investors.
For more information, see the following resources:
Company Website
Disclosure: I have no positions in any stocks mentioned, and no plans to initiate any positions within the next 72 hours.
Additional disclosure: TDM Financial is a marketing and consulting firm that specializes in creating ongoing communications strategies for public and private companies. For full disclosure please visit: secfilings.com/Disclaimer.aspx