There's little doubt that interest in cannabis is on the rise throughout the United States, with legalization efforts making significant headway over the past year. After several states legalized medical and recreational marijuana, the Department of Justice effectively green lighted all 50 states to implement reasonable marijuana programs - either medical or recreational - without fear of prosecution or intervention on a federal level with those efforts in September 2013.
While several public companies stand to benefit from these trends, ranging from pure-plays like HEMP Inc. (OTCQB: HEMP) to tobacco companies like Altria Group Inc. (NYSE: MO), investors may want to pay closer attention to the largest pure-play - GrowLife Inc. (OTCQB: PHOT). The company has already built a sizable online and offline retail business and is poised to dramatically increase its brand with the launch of Cannabis.org.
Quantifying Online Interest In Cannabis
Google Trends clearly illustrates the growing interest in search terms like "cannabis" in the United States, with states like California, Colorado, Washington and Oregon leading the pack. Related terms like "cannabis card" and "legalization of cannabis" have also seen a 450% jump in online searches. Combined, these trends seem to suggest that there's significant demand for cannabis related information online, as consumers seek to learn more about laws and products.
See: http://www.google.com/trends/explore?q=cannabis#q=cannabis&geo=US&cmpt=q
Figure 1 - Google Trends for "Cannabis" - Source: Google Trends
In order to quantify the potential traffic to an industry portal like Cannabis.org, investors may want to consider using Cannabis.com as a good proxy. Quantcast indicates that the website - which is directly measured - receives more than 1.2 million global unique visitors each month. These visitors are disproportionately males between the ages of 18 and 44 years old, as seen in Quantcast's demographics data in Figure 2, representing an attractive target market.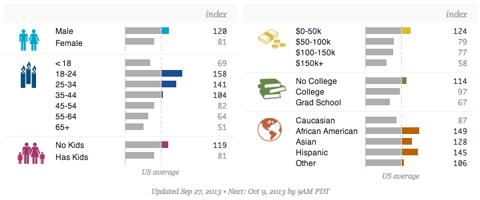 Figure 2 - Quantcast Demographics Data for Cannabis.com - Source: Quantcast
With the domain name and content being most important for search ranking, GrowLife should be able to quickly build a leadership position in the online cannabis space with its Cannabis.org industry portal. The data above suggests that such a position could result in significant web traffic that could be tactfully exposed to its products and services, which could in turn help improve both its brand image and revenues over the long-term.
Developing A Unique & Trusted Industry Portal
GrowLife CEO Sterling Scott described his vision for Cannabis.org in a recent press release as "a living, evolving, multi-media, multi-subject offering that should truly encompass every significant facet of the culture and movement." On a more practical level, the cannabis portal aims to provide a place for the cannabis movement to do everything from organize its political efforts to review various products and services that can help legal growers.
"It is important to note that this website joins our ever-growing portfolio of virtual and physical real estate in cannabis," added Mr. Scott. "Over the last 18 months we have gone from a Company whose core was one of the most venerable and best selling home growing units in the business to a collection of quick growing retail brick-and-mortar stores, a network of revenue generating websites and now, a live website that we believe will soon be one of the most influential of its kind. Ultimately, we envision our collective assets heightening the efficacy of each sales channel through cross promotion and brand recognition."
By positioning itself as the cannabis industry's thought leader, the company stands to dramatically enhance its brand's image and awareness of its products in the same way that companies like Google Inc. (NASDAQ: GOOG) have become Internet thought leaders.
Potential Catalyst To Drive Long-term Financial Results
During the second quarter, GrowLife reported revenues that increased 460% to $872,000 and year-to-date sales that soared to over $1.6 million. The company later announced that the Department of Justice's September 2013 announcement led to record sales and transactional volume day on its Greners.com portal. Over the coming years, the firm plans to expand its retail locations to generate some $8 million in revenues this year and $15 million next year.
With a market capitalization of just $30 million, these revenues could send the stock sharply higher over the coming years, particularly as management moves the firm to breakeven. Many tobacco companies trade at a 2.5x to 4.0x price-sales ratio, which would equate to a $37.5 to $60 million market capitalization next year, or a 25% to 100% move higher in share price. And, these figures may be undervaluing the stock given its triple-digit growth rates.
The addition of Cannabis.org to the company's coffers could dramatically enhance these revenues over the long-term. While the impact is difficult to quantify pre-launch, investors can view the move as just one of many catalysts that could drive shareholder value higher.
For more information, see the following resources:
Disclosure: I have no positions in any stocks mentioned, and no plans to initiate any positions within the next 72 hours.
Additional disclosure: TDM Financial is a marketing and consulting firm that specializes in creating ongoing communications strategies for public and private companies. For full disclosure please visit: secfilings.com/Disclaimer.aspx