You can only climb so far out on that limb. Every baby-step towards the end of the branch has you pondering, "Is this the step that sends me crashing down?" Of course, if a 5% drop in the Chinese markets (a leadership index) yesterday couldn't do it, why not take another leap forward? Which is what we are seeing in the stock market today, shorts capitulating. This is a necessary step for a finishing move of any kind. Ask yourself: given the overbought nature of the markets, and the overextended charts of many leading stocks, who would be buying right now? If it isn't short sellers, my name is Simple Simon.
Here is an updated chart from our "broadening top" discussion: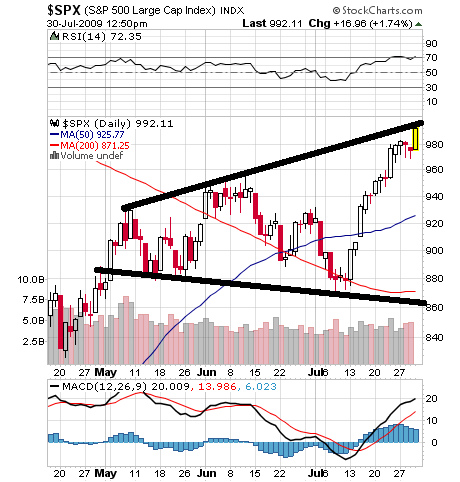 The gap & go today peetered out right at 1000 in the 
S&P 500
. Taking some profits here in some profitable longs is never a bad thing to do. Yes, there is no telling, tomorrow morning this rocket show could launch higher still. But the risk-reward is not very attractive, and more importantly, if market action is indeed predicated on shorts getting squeezed, and smart longs getting out (the interchange between "right" and "wrong" money), then further failures at resistance (1000, 1009, 1018), should exhaust the move and bring out fresh, more determined shorts. 
If the most difficult thing to do is nothing, then that is probably the right move at the moment, until this works its way through.  Assuming speculating on the short side is not your thing, and you have already booked some juicy profits, there is little edge in the market right now.