While we have been meaning to perform a more thorough write-up on Opko Health (ticker: OPK), the stock has moved nicely and broken out from its recent ramp-up consolidation.  Opko recent announced some new findings in flu vaccination, which may / may not be responsible for the renewed interest in the stock.  However, it is worth noting that billionaire Dr. Philip Frost (famous for his selling of Ivax to Teva Pharmaceuticals) has been consistently buying shares of the company since its inception (or rather, purchase from the pink sheets).  From a trading perspective, the stock is very interesting here.  Take a look at the recent chart below.  Obviously a close towards the day's highs would be pretty bullish for some near-term continuation: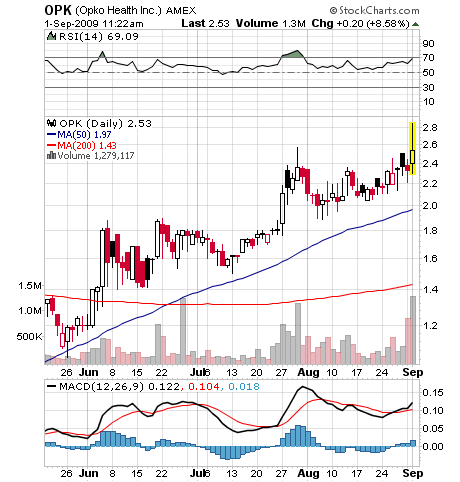 In general, many of our recent watchlist stocks have done well.  MVL, obviously, was just bought out for a nice premium over where we drew attention to it recently (
here
).   
Our short call on BGU would have netted investors a quick 10%.  Traders who took short positions should place trailing stops at the recent highs to ensure that any potential market snapback to the upside does not turn this winning position into a loser.   Here are some pertinent charts: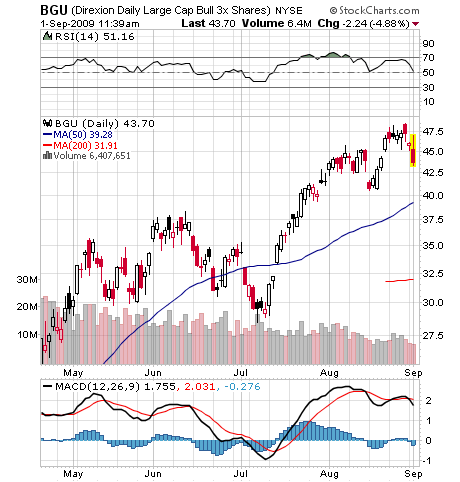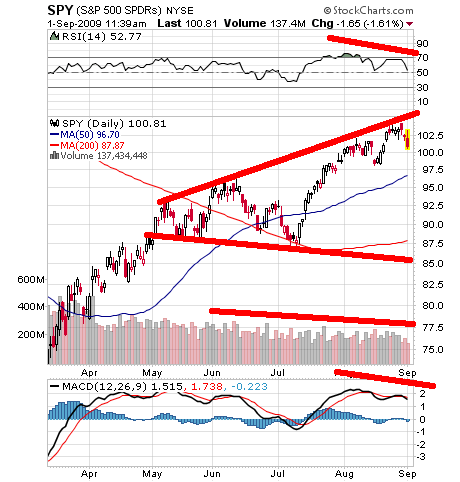 A good place to look to book some gains on short positions may be the 40-level, or the 97.5 area in the S&P 500.  I am still expecting further consolidation, correction for all of the major indices, but this may occur as part of a more complicated topping process, or even after another squeeze higher.  Nonetheless there are divergences across the board, as the chart above demonstrates, and suggest at least a pause if not a complete reversal of fortune.
Disclaimer:  the author's clients may hold positions in OPK and/or BGU.