After a long-overdue vacation, I am back to the grind. In my absence, it appears nothing has changed: the S&P continues to melt higher (albeit with continued divergences), gold has finally broken out of previously highlighted resistance levels, and economic data has continued to come in mixed. Over the course of the past several months, despite leaning bearish, I have continued to invest and lean investors into ideas that have done well, suggesting that despite a negative macro bias, or at the very least a cautious one, investors can do well with singular ideas that make sense. One of these obviously continues to be gold: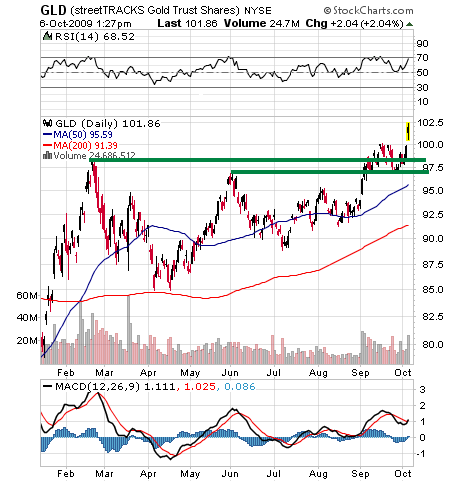 Looking at the chart above highlights the break-out. For investors or late-comers any pullback or spike back down to the 97-98 range would make for an excellent re-buy or trading opportunity.  Platinum and silver also make excellent investing/trading ideas, and may outperform gold in the longer-run.  
Meanwhile, while the metal may be leading the stocks in this move, the GDX, the ETF that tracks mining stocks, may also be worth a look here as it appears to be coiling to follow the precious metal: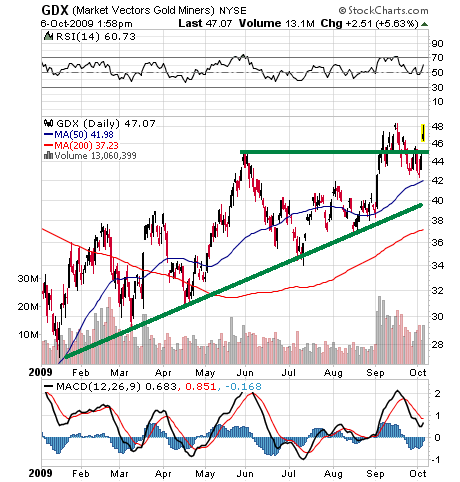 As for stocks in general, emerging markets stocks continue to present some interesting price action. One we have mentioned before, DGW, Duoyan Global Water, is working on an ascending triangle break-out, and might be worth a look if the market continues to buck higher: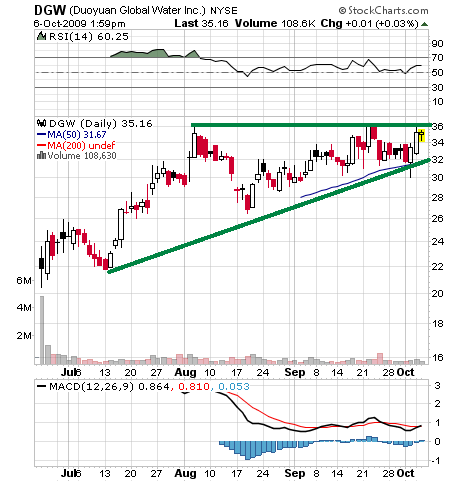 As for the broad market itself, it continues to churn and burn shorts. My overall pessimism has been well-documented in this column, though it is worthwhile to note that some noted chart technicians, like Don Worden of Telecharts fame, have now labeled all of the major indices in primary uptrends (i.e. bull markets). Despite this designation, he is similarly looking for a more nefarious pullback ahead, as the market continues to demonstrate flagging momentum.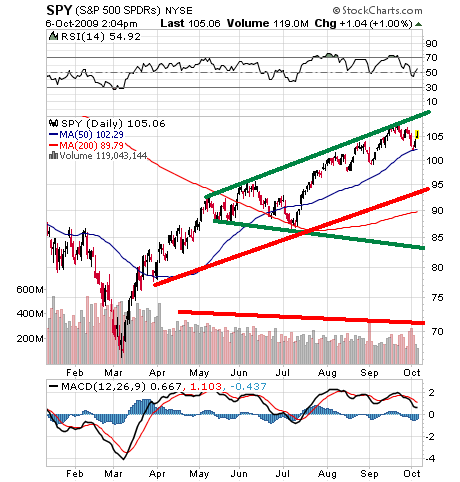 Note that in the chart above, I have kept the previously outlined expanding range to show just how far we have come without a meaningful correction. Also, note the volume had been declining through-out this move until the most recent signs of distribution.