Lots of chatter about inflation lately. Arguments abound whether we should still be worried about deflation, or whether the demon of hyper-inflation is more pressing, as signaled by the break-out in gold. Try to filter out the noise. Gold's move is a consequence of its own longstanding consolidation. The new uptrend is likely only in its early stages, given the disconnect between its inflation-adjusted highs and other commodities. Furthermore, the Fed's printing presses may have saved us from deflationary apocalypse, but that doesn't mean that inflation is going to set in tomorrow and wrack us with 1970's-like pain.
Inflation in the future will large be a consequence of tectonic shifts occuring in Asia - India and China more specifically - as they continue their near-gravitational transformation from an agrarian society into an urban and industrialized economic force. And by consequence cheap labor and material rich countries in Latin America. This process takes time, and will take place over the next decades, not years. Nonetheless the inflationary pressures created by the raw materials these countries need are very real. It is no coincedence the first surprise interest rate hike came from Australia.
It will undoubtedly be written some day that the biggest opportunities of our lifetimes back in March were the emerging markets and natural resource stocks. Nonetheless, we now live in a world of trades, with fewer and fewer bargains. The barbell approach to portfolio management still should be applied - make your growth trades work hard for you, and keep a basket of steady dividend-yielding stocks and ETFs to anchor your positions.
One ETF that might make a nice addition to investment portfolios is TIP (the inflation-protected treasury ETF). It sports a 4% yield, with a nice price pattern as well: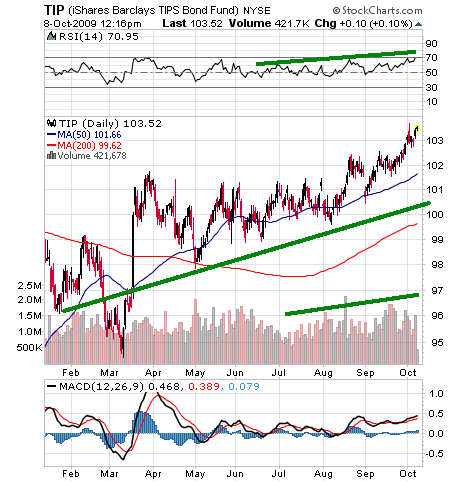 The chart above clearly shows a steady uptrend, increased volume and positive relative strength on this recent move higher. Nonetheless, a pullback to the 100-102 area would present a better entry opportunity.
Disclaimer: the author or his clients maintain positions in TIP.