The market broke above recent consolidation last week on what could best be described as "holiday" volume, but it performed the feat nonetheless. Several outstanding shorts we initiated at the highs were stopped out for breakeven or neglible losses. It is not worth stressing when positions get stopped out, especially when it occurs on such a well-defined break of a consolidation or range, as the move can turn out to be dramatic and you don't ever want to step in front of any powerful move. That being said, this move and this volume isn't exactly convincing. Holiday trade can be deceptive. We won't really know until after the New Year whether this advance has legs or whether we will see it fizzle and swoop the other direction.
Taking a look at the QQQQ below one can see the range break:
For now this move must be respected. Current longs should be monitored and future shorts refrained from until we get more patent signs of distribution. Taking a look at a weaker ETF, the SPY, we can see that we are coming into more longstanding resistance between 112-120: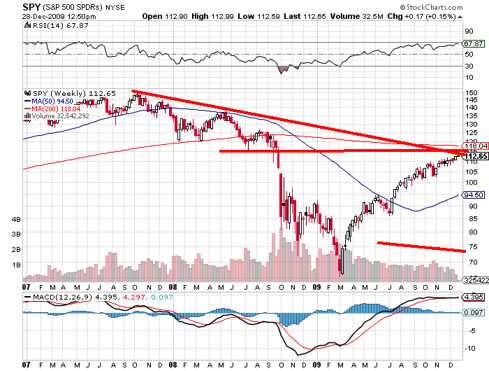 Notice the declining volume trend in the S&P 500. One way or the other, January should usher in more activity which will help define the next stage and direction of the move.