This is a preview blog series on what you can expect when subscribing to my "Biotech Analysis Central" service marketplace. For the full article you must subscribe to my service. This is just an intro of two snippets on the research articles that are written. Thus far, there are about 70+ research reports on both both small-cap and mid-cap biotech stocks with full analysis of the pipeline, catalysts, financials, and clinical trial analysis. If you want to read more then please subscribe to my marketplace service. As always I offer a 2-week free trial just to show you how helpful my service is. You can cancel anytime before the 2-week free trial is up and never be charged a dime.
First Section Of Marketplace Article (This article piece was originally written on September 16, 2019)
For this Biotech Analysis Central Update Series I wanted to go over a biotech by the name of Mesoblast Limited (MESO). The reason why I wanted to take a look at this biotech again is because it has been ramping up in stock price recently. I believe this is attributed to the fact that the company is gearing up to complete its rolling Biologics Licensing Application (BLA) to the FDA before the end of 2019. The reason why is so that the company can gain FDA approval for remestemcel-L in acute Graft-Versus-Host-Disease ((GvHD)). I will explain more in detail below, but an approved version of this type of treatment exists in Japan. Japan has seen some decent revenue and Mesoblast has earned some revenue in terms of royalties from net sales, but not much. However, the U.S. market is the big golden ticket. That's because it is expected that the U.S. market will be 8X more sales compared to the Japanese market. Plus, it is likely that the biotech can charge more in the United States for the very same type of treatment. In addition, remestemcel-L and its future doesn't just rely on aGvHD in children. It is first looking to expand this treatment into adults with aGvHD. Then, it is looking to use Remestemcel-L to treat children with chronic GvHD. As you can see, the possibility to expand to many types of market using the very same product is highly ideal. I have not included the other items that are being worked on in the pipeline. They include a few phase 3 studies using revascor for heart failure and MPC-06-ID for lower chronic back pain. With all these programs, plus despite the recent rise in stock price, I believe the biotech is highly undervalued.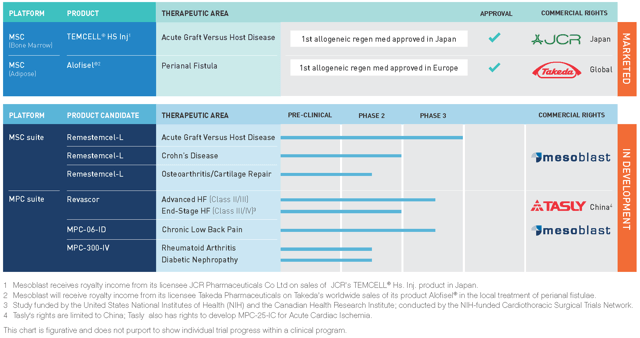 Source:// Product Candidates Overview
Conclusion of Marketplace Article
The final verdict is that Mesoblast is a good biotech to invest into in my opinion. The only reason why I make that claim is because remestemcel-L has already obtained the primary endpoint for its phase 3 study in patients with aGvHD. Then, you have to consider that if it worked well for this population it is highly likely that the expanded indications should also be successful using this type of treatment also. There is a solid foundation here for remestemcel-L. The market opportunity is north of $500 million for several indications, which is not blockbuster status. However, it offers a good start at generating some revenue while the other programs in the pipeline take off. For instance, there are results expected from a few programs in the coming year. Mainly, both results being released in the 1st half of 2020. For instance, the use of Revascor to treat chronic heart failure is important. Results from this study are actually expected in the 1st half of 2020. The global heart failure market could exceed $16 billion by 2026. Even just capturing a portion of this market is ideal. However, as I stated above another phase 3 study in end-stage heart failure is expected to begin before the end of this year. That will allow Mesoblast to go after more of this $16 billion market potential. The last item to note is the chronic lower back pain market. Results from this study are expected in mid-2020. If good, it will be a huge deal. Especially, since the chronic pain market is expected to reach $105.9 billion by 2024. It all boils down to the initial results in chronic lower back pain. That's because if MPC-06-ID ends up being successful in this study, then I believe the company can eventually expand to other types of chronic pain indications.
Disclosure: I/we have no positions in any stocks mentioned, and no plans to initiate any positions within the next 72 hours.