On Saturday, the Wall Street Journal featured an indicator that I developed for Ned Davis Research under the title "Is the market getting riskier?". Since I received a few questions on this piece, I thought it would be easier to address them here.
1. What is this indicator about?
The concept is very straightforward: add up the inflation rate, the unemployment rate and the price-to-earnings ratio of the stock market. If the total is below the long-term average, buy the stock market (SPY), otherwise stay in long-term treasuries (TLT).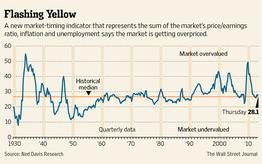 2. Does it work?
Remarkably well. Based on my calculations, this simple strategy returned an annualized 11% since 1939 (more than the total return of the S&P 500 of 10.7%) for a maximum drawdown of 19.2% (the same as that long-term treasuries). Equities-like returns and treasuries-like volatility: the Holy Grail of investment strategies.
Quants will point that indicators can be 'optimized' to generate such results, i.e., if you tweak your parameters enough, you can turn meaningless noise into a hockey-stick like backtest. But I did not optimize this indicator: the indicator only used in-sample data, relied on a simple rule (sell when the indicator above the average, buy if it dips below) and worked consistently over multiple decades.
3. Why does it work?
Financial theory tells us that the value of the stock market should equal the net present value of its expected dividend stream. If you can calculate this precisely, you should stick with dividend discount models. Short of that, common sense indicators with a good track record are the next best thing. In this case, you want to buy stocks when multiples are low ('cheap' valuations), inflation is low (no risk of rising rates) and unemployment is low (lots of potential revenue for U.S. companies).
The indicator works better than any of its components taken in isolation because a positive interaction effect. For example, multiples were exceptionally depressed during the bear market of the early 70s. But, the indicator would have kept you in treasuries because of the poor economic conditions - the great 'stagflation' and the breakdown of the Phillips curve.
4. What should you do?
M. Hulbert subtitled his MarketWatch column with 'new indicator says the time to sell is here'. Mark observes that the indicator just reached 28.1, slightly above its long-term average of 26.7. He then goes on to recommend a cautious strategy of investing U.S. large caps with a good rating from the Hulbert Financial Digest: Chesapeake Energy (CHK), Exelon (EXC), Hewlett-Packard (HPQ), Chevron (CVX) and ConocoPhillips (COP).
I generally find Mark's views insightful and see nothing wrong with buying fairly cheap U.S. large caps. But this is advice, not Ned Davis Research's (the firm has a more positive view on equities). I do not believe that the indicator is flashing a red 'SELL' signal. Actually, I believe that the indicator is likely to fall back into safer territory in the coming months even in the absence of market declines:
The unemployment rate is still slowly falling
The Federal Reserve likely sees no inflationary pressure on the radar: otherwise, it would not have tapered the taper of its bond-buying program last week
Earnings growth will help multiples in the next two quarters: Wall Street analysts expect earnings of almost 20% in the second half. We are not quite that optimistic (we do not make money by selling stock), but we do expect decent growth in EPS - it may be as simple as buybacks reducing the 'S'.
The point of the report was to indicate that many global markets had better combinations of multiples, inflation and unemployment than the U.S. For example, South Korea (EWY) boasts close to single-digit P/Es, virtually no unemployment and low inflation. After such a strong run for U.S. indices, markets offering better valuations and global diversification would be a good addition to your stock portfolio.
Disclosure: I have no positions in any stocks mentioned, and no plans to initiate any positions within the next 72 hours. I wrote this article myself, and it expresses my own opinions. I am not receiving compensation for it. I have no business relationship with any company whose stock is mentioned in this article.