At the CEF/ETF Income Laboratory, we are always on the hunt for a good bargain in the CEF and ETF space. Stanford Chemist provides model portfolios with many opportunities no matter the type of investor you are. However, this isn't all we do. We are constantly on the hunt for potential moves that can shake a fund. There are discussions that are always popping up in our chat board on all sorts of topics that might disrupt a certain name or sector.
====================
For example, Dominion Energy Inc. (D) was recently just discussed. Why? Because it is held in a number of different funds. It is a utility/infrastructure company that funds like Reaves Utility Income (UTG), Cohen & Steers Infrastructure Fund (UTF) and Macquarie Global Infrastructure Total Return Fund (MGU) could or do have exposure too. In the case of UTG, it is quite a significant amount.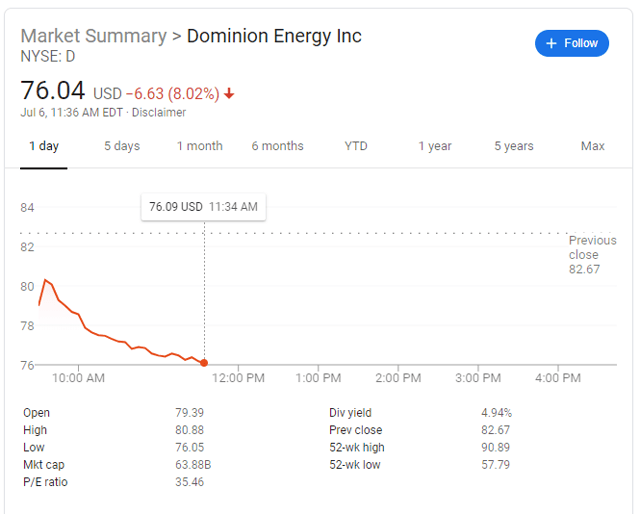 (Source)
The name is plunging today based on dividend cuts that are coming down the pike. We were discussing this move on our chat board on Sunday. (Even on a holiday weekend, we are here for you! I hope everyone had a safe and happy 4th of July!)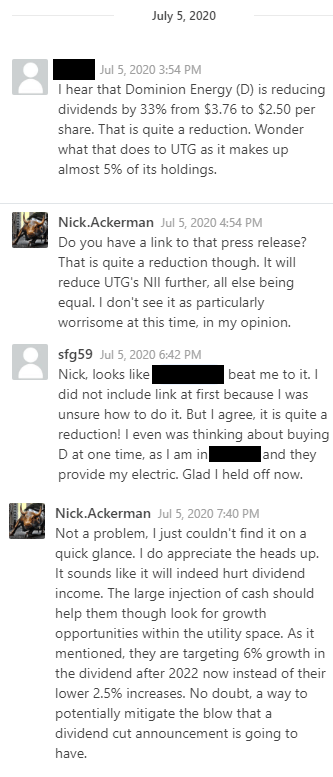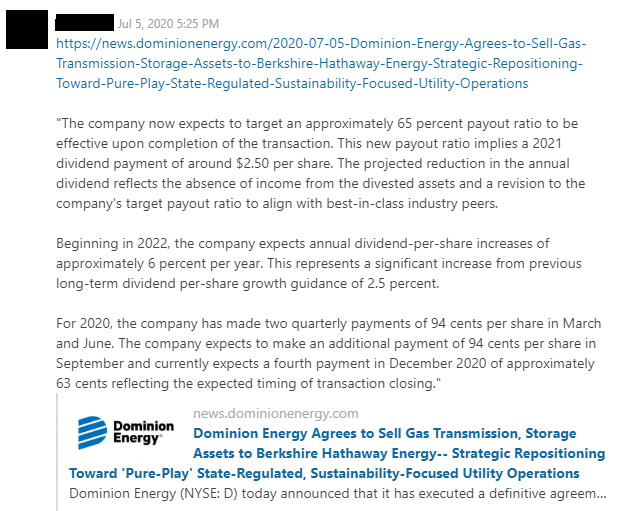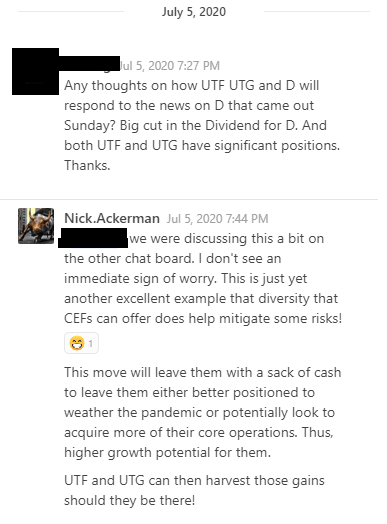 This was just the most recent example, there is very little information that gets past this 1000+ member group! That means better and more informed decisions for investors. It also means that an investor can end up with more profitable results!
====================
It then doesn't take us too long to start incorporating this information into our analysis and research! On this fine late morning, July 6th, 2020 - I realized an analysis piece on DPG comparing it to its other utility/infrastructure peers. Another utility fund that holds D, this is what I had to say on that subject:
One area to note is the changes Dominion Energy Inc. (D) is going through. They just announced a divesture to Berkshire Hathaway (BRK). D is another common one that is held in utility/infrastructure plays. Therefore, it will have a cascading effect on many funds in the CEF universe. Essentially, what they are doing is cutting out their non-utility assets.

The big news is the dividend cut that will ensue as they target a 65% payout ratio. This is being done because their cash-flow from the energy-related business will now be gone. However, the influx of cash should be seen as a positive for D over the long-term. They are ridding themselves of a volatile business and focusing more as a core utility company.

On the bright side, they mention that "beginning in 2022, the company expects annual dividend per share increase of approximately 6 percent per year. This represents a significant increase from previous long-term dividend per share growth guidance of 2.5 percent."

Ultimately, it remains to be seen if they will be able to follow through at this time since it is at a future date. With that being said, they did have a previous history of raising their dividend for 16 years now. The compounded annual growth rate over the past 10-years was actually over that 6% future target anyway.
Please consider joining the CEF/ETF Income Laboratory to read the full publication!
Bottom Line: We have your back in all things fund related. This includes anything that can move and shake funds, we have you covered! We are often even the first place to find such information and topics discussed!
====================
Profitable CEF and ETF income and arbitrage ideas

At the CEF/ETF Income Laboratory, we manage ~8%-yielding closed-end fund (CEF) and exchange-traded fund (ETF) portfolios to make income investing easy for you. Check out what our members have to say about our service.
To see all that our exclusive membership has to offer, sign up for a free trial by clicking on the button below!

====================
CEF/ETF Income Laboratory: Profitable CEF and ETF Income and Arbitrage Ideas
Whether you're a novice or experienced closed-end fund (NYSEARCA:CEF) and exchange-traded fund (ETF) investor, the "Income Lab" is the right place for you. Our goal is to help you benefit from income and arbitrage strategies in CEFs and ETFs, all without having to be an expert, because we do the heavy lifting for you. If that sounds like something you'd be interested in, we hope you'll consider joining us here at CEF/ETF Income Laboratory.
We would love for you to join us. We are sure that you will enjoy our service and benefit from what we have to offer!
Sincerely,
Stanford Chemist and team