Launch Of The ETF Income Portfolio - CEF/ETF Income Laboratory
Please Note: Blog posts are not selected, edited or screened by Seeking Alpha editors.
CEFs, Dividend Growth Investing, Dividend Investing, ETF investing
Seeking Alpha Analyst Since 2011
Nick Ackerman is an avid student of the markets and has been investing in his own accounts for over 14 years. He is a former Financial Advisor and has previously qualified for holding Series 7 and Series 66 licenses. These licenses also specifically qualified him for the role of Registered Investment Adviser (RIA), i.e., he was registered as a fiduciary and could manage assets for a fee and give advice. Since then he has continued with his passion for investing through writing for Seeking Alpha, providing his knowledge, opinions, and insights of the investing world. His specific focus is on closed-end funds as an attractive way to achieve income as well as general financial planning strategies towards achieving one's long term financial goals.
---------------------------------------------------------------------------------------------------------------
I provide my work regularly to CEF/ETF Income Laboratory with articles that have an exclusivity period, this is noted in such articles. CEF/ETF Income Laboratory is a Marketplace Service provided by Stanford Chemist, right here on Seeking Alpha.
Summary
We are excited to announce that we recently just launched a portfolio that exclusively holds ETFs.
This portfolio has a focus on income, with a strong yield of 6.86% currently.
Join the CEF/ETF Income Laboratory today to check out this portfolio, among our other CEF portfolios as well!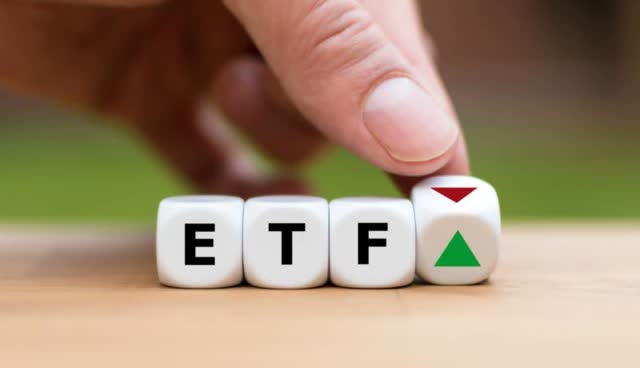 At The CEF/ETF Income Laboratory, we have always had a focus on both closed-end funds and exchange-traded funds.
Until now, there has been a distinct lack of ETF coverage. We have taken several initiates recently to address this for our members.
First, we added a new analyst to the team to better fill in the coverage of the ETF space!
We were very pleased to announce that Juan de la Hoz has officially joined the CEF/ETF Income Laboratory team earlier in May of this year!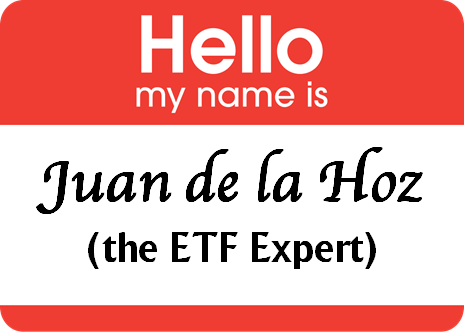 Here is his brief biography:
Juan has previously worked as a fixed income trader, financial analyst, operations analyst, and economics professor in Canada and Colombia. He has hands-on experience analyzing, trading, and negotiating fixed-income securities, including bonds, money markets, and interbank trade financing, across markets and currencies. He focuses on dividend, bond, and income funds, with a strong focus on ETFs, and enjoys researching strategies for income investors to increase their returns while lowering risk.
Members will have seen many of Juan's guest posts in our service over the past year. His analysis has always been very well-received, and I have particularly liked his analysis of ETFs as well as CEFs that can generate benchmark/peer group-leading returns while lowering risk.
====================
Now, most recently, we have launched an ETF Income Portfolio that will be only including ETFs!
This portfolio is designed to be a bit more passive. The portfolio is a diversified portfolio of ETFs across the broad spectrum of sectors and asset classes. This design makes it a perfect fit for a more passive investor that wants to sit back and watch the monthly income roll in!
Speaking of income, this portfolio throws off a yield of 6.86%! This is a significant yield that income investors need to enjoy their retirement years OR for investors that just have an income-generating strategy for investing!
We, of course, will continue our dedication to the CEF space - that coverage is not going away - this is just merely an expansion to generate even further ideas. To generate even further income ideas for everyday investors! An added benefit of an ETF strategy does mean that investors not comfortable with the volatility of CEFs - can find comfort in knowing that ETFs do not generally trade at large premiums/discounts as we see with CEFs. What this does is generally lower the overall volatility!
With that being said, CEFs can create their best opportunities during times of volatility. So some investors choose to stick to an ETF portfolio as we reach higher and higher in the overall market - then when we get the inevitable pullbacks start swapping funds back into CEFs. This strategy has worked in the past! Ultimately, it can be used as a passive portfolio too - the choice is yours!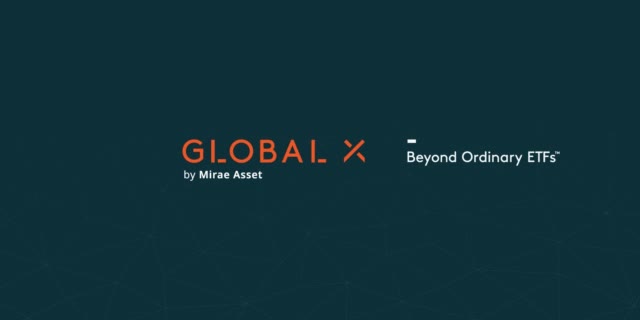 One of the fund sponsors included are the Global X funds - known for their high-income ETFs. Utilizing their option writing strategy and featuring portfolios designed to target high yielders - this is one of the top choices for most income ETF investors!

We also have holdings from the iShares offerings - these are BlackRock's lineup of ETFs. With a name like BlackRock, you know you are getting one of the top-notch fund sponsors in the world!
If you have given us a try in the past and were disappointed with the lack of ETF coverage - please do give us another try! If you were on the fence about joining as it felt like the service was heavily focused on CEFs - then please do give us a try too!
We are constantly looking to expand and grow our research capabilities - adding a new analyst to the team and a dedicated ETF Income Portfolio certainly continues this dedication!
====================

Dear follower,
The CEF/ETF Income Laboratory is a fast-growing subscription community covering closed-end fund ("CEF") and exchange-traded fund ("ETF") income and arbitrage strategies.
We are over 1000 members now and we urge you to take action today and decide within your 2-week free trial whether this service is something for you or not. You have everything to gain and nothing to lose.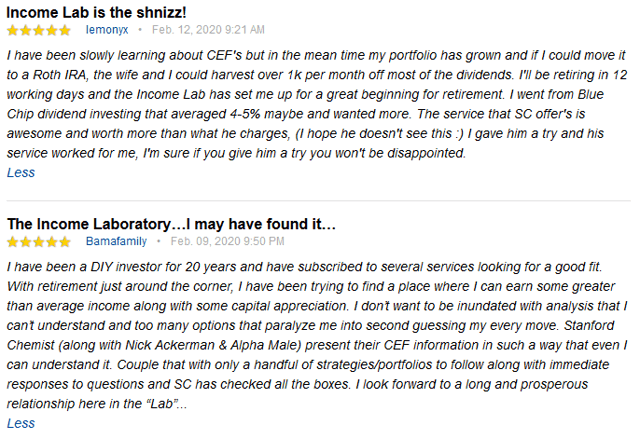 ====================
Our value proposition

Our membership is exceptionally popular because we help you:
(1) Identify the most profitable CEF and ETF opportunities.
(2) Earn a ~8% dividend yield together with capital appreciation.
(3) Avoid the overpriced funds that can sink your portfolio.
The CEF/ETF Income Laboratory membership normally costs $588 per year (on a monthly plan). That gets you 1000's of research hours conducted on your behalf each year by our team of experts which we share with our members at only a fraction of the cost. Today, you have the opportunity to access a discounted price of $439/year (25% off) by joining us on an annual plan.
All members are grandfathered for life at the membership rate that they signed up at (note: excludes any introductory discounts). So I highly suggest that you lock in the current rate while you still can.
Remember, "time = money", so being able to save hundreds of hours of time of CEF and ETF research each month with what amounts to the price of a cup of coffee every few days is truly an incredible bargain. And our members agree!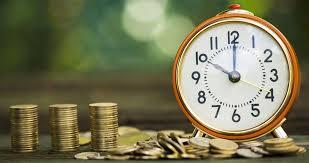 ====================
Don't forget to check out some of our latest reviews!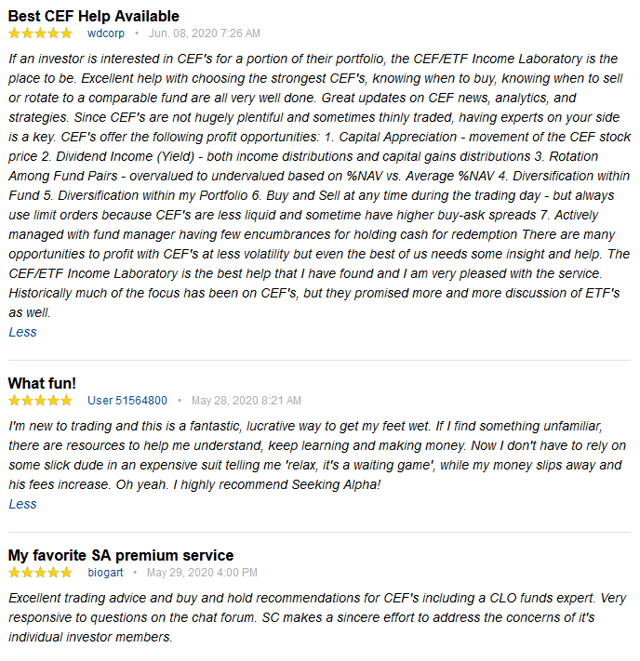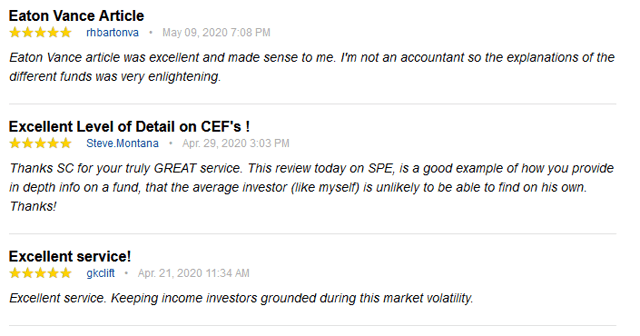 CEF/ETF Income Laboratory: Profitable CEF and ETF Income and Arbitrage Ideas
Whether you're a novice or experienced closed-end fund ("CEF") and exchange-traded fund ("ETF") investor, the "Income Lab" is the right place for you. Our goal is to help you benefit from income and arbitrage strategies in CEFs and ETFs, all without having to be an expert, because we do the heavy lifting for you. If that sounds like something you'd be interested in, we hope you'll consider joining us here at CEF/ETF Income Laboratory.
We would love for you to join us. We are sure that you will enjoy our service and benefit from what we have to offer!
Sincerely,
Stanford Chemist, Nick Ackerman, Alpha Male and Juan de la Hoz
Seeking Alpha's Disclosure: Past performance is no guarantee of future results. No recommendation or advice is being given as to whether any investment is suitable for a particular investor. Any views or opinions expressed above may not reflect those of Seeking Alpha as a whole. Seeking Alpha is not a licensed securities dealer, broker or US investment adviser or investment bank. Our analysts are third party authors that include both professional investors and individual investors who may not be licensed or certified by any institute or regulatory body.