Income Growth From Our Portfolios - Grow Your Income With CEFs!
Please Note: Blog posts are not selected, edited or screened by Seeking Alpha editors.
Summary
Growing income within one's portfolio has several key benefits.
Below we show that we have been able to grow our income without adding new funds.
Our Income Generator Portfolio grew a massive 35.54% in three years, our Tactical Income- 100 Portfolio grew a tempered but still impressive 28.64%.
We recently wrote an article discussing the subject of growing income with CEFs and ETFs. In that piece, there was a section about what we have actually experienced in our portfolios. The two portfolios we highlighted were the Income Generator and Tactical Income- 100 Portfolios. We are sharing this below to show that you can create your own income growth within investing in CEFs.
====================
Income Generator
We have also experienced income growth by more than just reinvesting dividends too. Utilizing our swap strategy, we have also grown income over the years. This is another example of 100% reinvestment. This is as the portfolio takes distributions in the form of cash, Stanford Chemist will then put that cash to work in opportunities.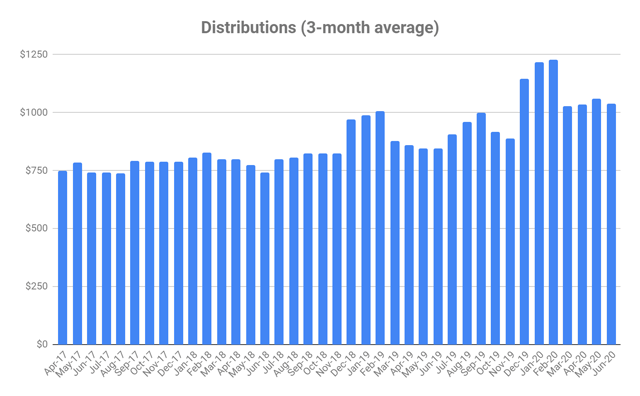 (Source - Stanford Chemist's Income Generator Portfolio)
Note: The 'spikes' in income at the end of the year and the beginning of the years are due to special distributions being paid out. This is when many CEFs pay out their required amount of capital gains/income to stay within compliance of the RIC status.
Above is the 3-month average income collected in the model portfolio. Using a 3-month time period reduces the variances that we see from quarterly payers. It is also important to realize that this isn't a completely passive portfolio, it does take trading as we swap between investments. Overall, trading is less frequent than our Tactical Income- 100 Portfolio where we look to take advantage of special situations.
In this case, for the first 3-months, the portfolio existed in February, March and April of 2017 the portfolio collected $2,242.56. For the same period in 2018, this worked out to $2,394.86 or a 6.8% increase. In 2019, this amount increased to $2,581.72. That is good for an increase of 7.8%. For 2020, we arrive at a grand total paid out for the same February, March and April periods of $3,106.91. That is good for a massive increase of 20.34%!
Being that this year was quite a bit larger, it does skew the data in our favor. From the first three months of inception to 2020, we arrive at an increase of 35.54%. That works out to an annualized increase of 12.85%. That is rather high and quite frankly, very lucky. I would temper forward expectations. Something like a 10% increase would even be fantastic. Of course, again, this is assuming a 100% reinvestment of all cash distributions coming in. It also was under the assumption every trade was taken at every exact price a trade alert went out.
This is especially true that we should temper expectations as we could see an overall downtrend this year due to the COVID-19 sell-off. We are already seeing the impact of companies cutting dividends. These dividend cuts are and will translate into CEFs and ETFs cutting their distributions as well.
Ultimately, that is what I am wanting to highlight though. If you give yourself flexibility now to increase income, then when the risks do hit, you aren't completely at their mercy. You have built-in a sort of "buffer" for your income if you are able to grow the income stream.
Tactical Income- 100
Our Tactical Income- 100 Portfolio also had some income growth. With this portfolio though we are more focused on making tactical moves to generate potential alpha.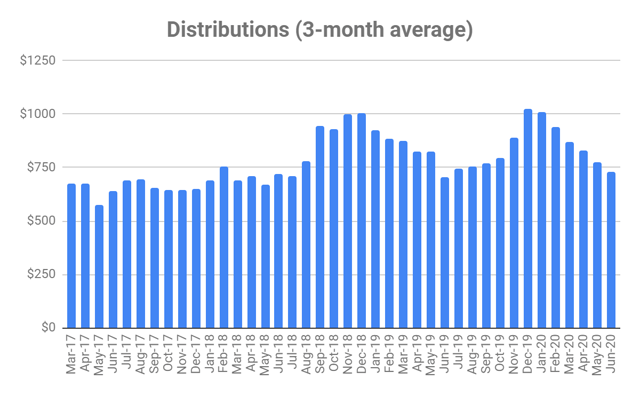 (Source - Stanford Chemist's Tactical Income- 100 Portfolio)
The model portfolio launched in January of 2017. In the first quarter after that portfolios launch income came in at $2,022.98. For 2018, income rose a bit to $2,076.46. A small rise of 2.64%. For 2019's equivalent January, February and March's income we have quite a significant rise of $2,617.44 or a massive climb of 26.05% off the prior 2018's income. Finally, for 2020 income came in at $2,602.32. This was a slight dip off of 2019 of -0.58%.
Overall, from Q1 2017 to Q1 2020, we arrive at an increase in income generation of 28.64%. This works out to annualized growth of 9.55%.
====================

Dear follower,
The CEF/ETF Income Laboratory is a fast-growing subscription community covering closed-end fund ("CEF") and exchange-traded fund ("ETF") income and arbitrage strategies.
We are over 1000 members now and we urge you to take action today and decide within your 2-week free trial whether this service is something for you or not. You have everything to gain and nothing to lose.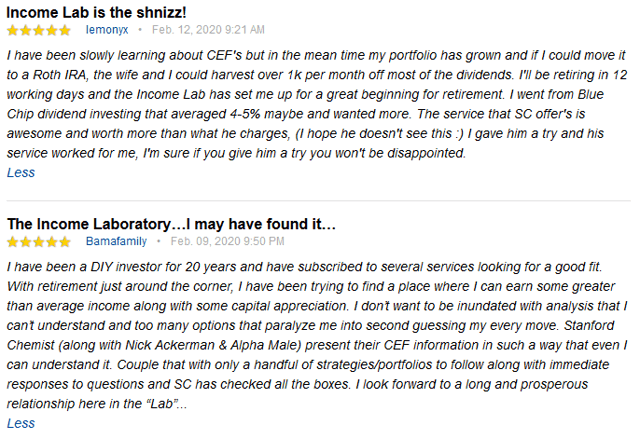 ====================
Our value proposition

Our membership is exceptionally popular because we help you:
(1) Identify the most profitable CEF and ETF opportunities.
(2) Earn a ~8% dividend yield together with capital appreciation.
(3) Avoid the overpriced funds that can sink your portfolio.
The CEF/ETF Income Laboratory membership normally costs $588 per year (on a monthly plan). That gets you 1000's of research hours conducted on your behalf each year by our team of experts which we share with our members at only a fraction of the cost. Today, you have the opportunity to access a discounted price of $439/year (25% off) by joining us on an annual plan.
All members are grandfathered for life at the membership rate that they signed up at (note: excludes any introductory discounts). So I highly suggest that you lock in the current rate while you still can.
Remember, "time = money", so being able to save hundreds of hours of time of CEF and ETF research each month with what amounts to the price of a cup of coffee every few days is truly an incredible bargain. And our members agree!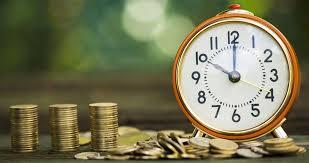 ====================
Don't forget to check out some of our latest reviews!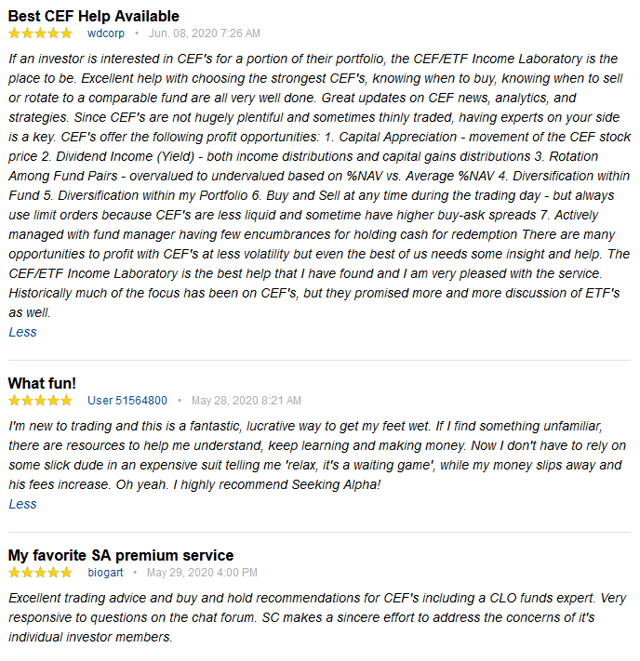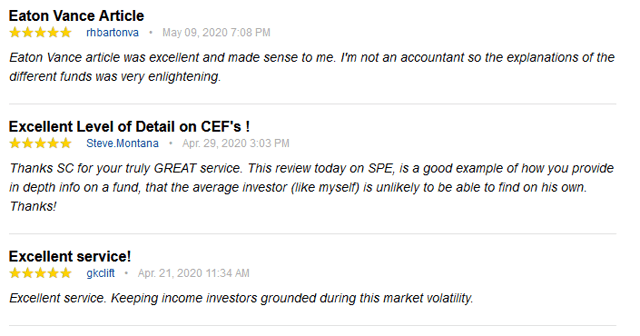 CEF/ETF Income Laboratory: Profitable CEF and ETF Income and Arbitrage Ideas
Whether you're a novice or experienced closed-end fund ("CEF") and exchange-traded fund ("ETF") investor, the "Income Lab" is the right place for you. Our goal is to help you benefit from income and arbitrage strategies in CEFs and ETFs, all without having to be an expert, because we do the heavy lifting for you. If that sounds like something you'd be interested in, we hope you'll consider joining us here at CEF/ETF Income Laboratory.
We would love for you to join us. We are sure that you will enjoy our service and benefit from what we have to offer!
Sincerely,
Stanford Chemist, Nick Ackerman, Alpha Male and Juan de la Hoz
Seeking Alpha's Disclosure: Past performance is no guarantee of future results. No recommendation or advice is being given as to whether any investment is suitable for a particular investor. Any views or opinions expressed above may not reflect those of Seeking Alpha as a whole. Seeking Alpha is not a licensed securities dealer, broker or US investment adviser or investment bank. Our analysts are third party authors that include both professional investors and individual investors who may not be licensed or certified by any institute or regulatory body.