Tender Offer Opportunities Abound
Please Note: Blog posts are not selected, edited or screened by Seeking Alpha editors.
CEFs, Dividend Growth Investing, Dividend Investing, ETF investing
Seeking Alpha Analyst Since 2011
Nick Ackerman is an avid student of the markets and has been investing in his own accounts for over 14 years. He is a former Financial Advisor and has previously qualified for holding Series 7 and Series 66 licenses. These licenses also specifically qualified him for the role of Registered Investment Adviser (RIA), i.e., he was registered as a fiduciary and could manage assets for a fee and give advice. Since then he has continued with his passion for investing through writing for Seeking Alpha, providing his knowledge, opinions, and insights of the investing world. His specific focus is on closed-end funds as an attractive way to achieve income as well as general financial planning strategies towards achieving one's long term financial goals.
---------------------------------------------------------------------------------------------------------------
I provide my work regularly to CEF/ETF Income Laboratory with articles that have an exclusivity period, this is noted in such articles. CEF/ETF Income Laboratory is a Marketplace Service provided by Stanford Chemist, right here on Seeking Alpha.
Summary
There have been several tender offers that have gone through or are scheduled that have created several opportunities.
Our Tactical Income- 100 portfolio is designed precisely for taking advantage of these special situations.
There have been a couple of successes that are especially worth noting over recent history.
Tender offers create opportunities to capitalize on for deeply discounted funds. They can create some short-term profits for investors that are paying attention. This is the go-to move for most activists in the closed-end fund space for these quick profits and the general accretive nature of these deals.
Think of them like buybacks, but put in place all at once on a specific date. In this case, it would typically be the expiration date. At the CEF/ETF Income Laboratory we have a portfolio designed to take advantage of these very situations - among other corporate actions that CEFs can take. This portfolio would be our active and aggressive Tactical Income- 100 portfolio.
When these deals are announced, a fund's share price usually moves quite swiftly closing the discount present in a fund. This means that there might not be too much time to take advantage of these types of deals; unless you are screening these news events as we are at the Income Lab.
While the deals are accretive and can provide some quick profits, the main downside is that after the deal is closed and the dust settled, is that discounts can start to widen again. This doesn't happen every time, to be sure, but the post-expiry dip is the downside here.
One of these tender offers that we were able to take full advantage of was the recent offer with Western Asset Global High Income Fund Inc (EHI). This was an extraordinary deal where up to 50% of the outstanding shares were authorized for tender. They were purchased for 99.5% of NAV. They announced this several months prior to the actual event, but we were able to start seeing the price move in our favor due to discount tightening.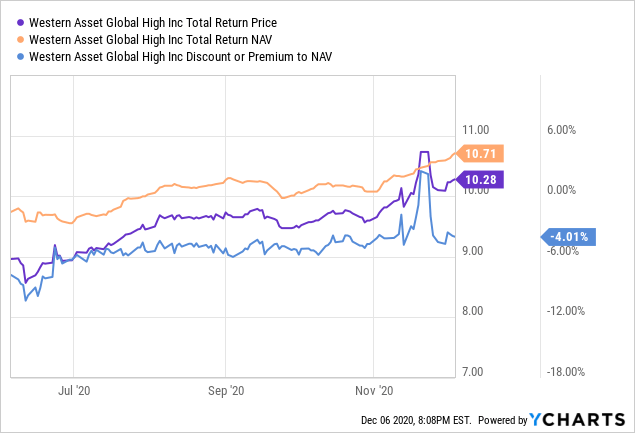 The reason this was such a beneficial offer is that we didn't have to worry about proration. This happened because investors that put up for tender 100% of their shares actually had 100% of their shares tendered at 99.5%.
This deal was also strange in that after the deal was over, we didn't see a dip but a massive shoot up in the price before settling lower several days later.
The next deal that we profited from handsomely was the recent Pioneer Floating Rate Trust (PHD). The TRADE ALERT can be viewed here. In this one, we didn't even have to wait for the deal. We held less than a month and after the announcement of their tender offer commencing, the discount contracted swiftly!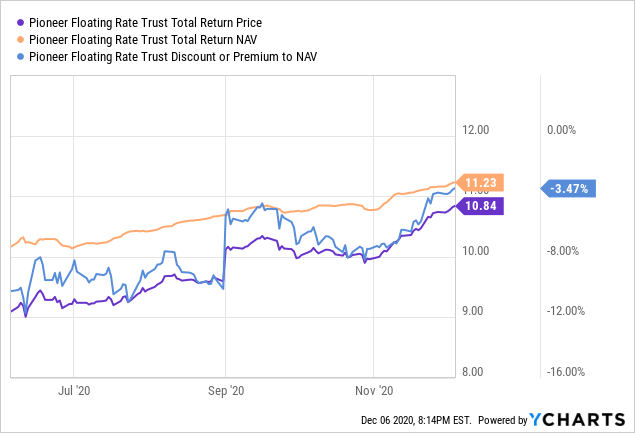 With that steep contraction, we swiftly took the profits before the tender offer even took place. For what it's worth, it is a generous offer for up to 50% of shares at 98.5% NAV. If it works out anyway like the EHI deal, one might not even have to worry about proration either - if they are still holding out for a couple of percentages of alpha. (We sold when there was around 1% of alpha left.)
This has resulted in where we are now after taking quick profits there, with Voya Prime Rate Trust (PPR). The TRADE ALERT can be viewed here for more details.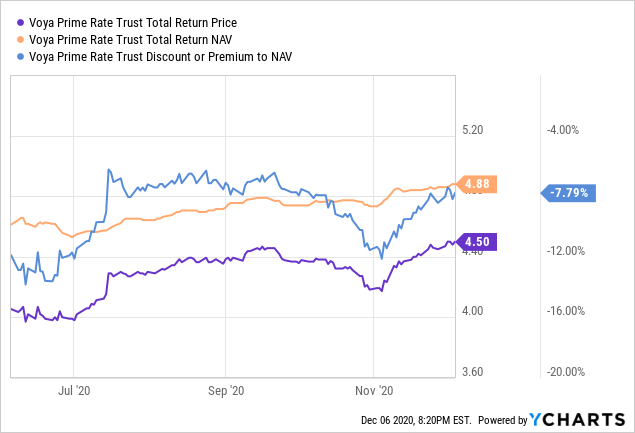 On the surface, it wouldn't appear to be as lucrative of a deal. With the announcement for 15% of outstanding shares at 99% of NAV. The kicker here is the anticipation of further tender offers in the future. A report with greater detail on PPR and the tender offer is exclusive to members of the CEF/ETF Income Laboratory right now!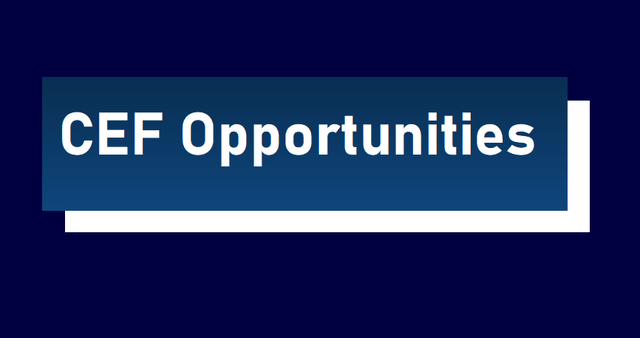 ====================
Take advantage of our annual membership and free trial
Take us for a free trial! That allows you to test out our service on a no-risk, commitment-free basis. You'll also get to experience our vibrant community of over one thousand income-orientated CEF and ETF investors, counting numerous full-time and professional traders and investors amongst our ranks.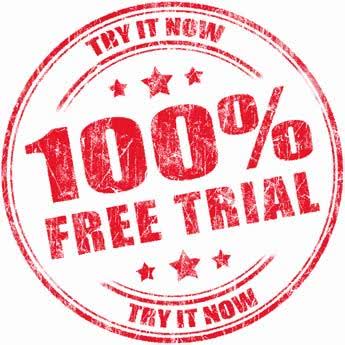 If you're not satisfied, simply cancel before your 2-week period is over and you won't be charged a single penny.
With an annual membership, you save 25% versus the monthly membership. There's no better time to try us out!
The CEF/ETF Income Laboratory membership normally costs $588 per year (on a monthly plan). That gets you 1000's of research hours conducted on your behalf each year by our team of experts which we share with our members at only a fraction of the cost. Today, you have the opportunity to access a discounted price of $352/year (25% off) by joining us on an annual plan.
All members are grandfathered for life at the membership rate that they signed up at (note: excludes any introductory discounts). So I highly suggest that you lock in the current rate while you still can.
Remember, "time = money", so being able to save hundreds of hours of time of CEF and ETF research each month with what amounts to the price of a cup of coffee every few days is truly an incredible bargain. And our members agree!
====================
"Don't head into retirement without Income Laboratory!"
Consider reading some of the reviews that members of the community have left us!
====================

CEF/ETF Income Laboratory: Profitable CEF and ETF Income and Arbitrage Ideas
Whether you're a novice or experienced closed-end fund ("CEF") and exchange-traded fund ("ETF") investor, the "Income Lab" is the right place for you. Our goal is to help you benefit from income and arbitrage strategies in CEFs and ETFs, all without having to be an expert, because we do the heavy lifting for you. If that sounds like something you'd be interested in, we hope you'll consider joining us here at CEF/ETF Income Laboratory.
We would love for you to join us. We are sure that you will enjoy our service and benefit from what we have to offer!
Sincerely,
Stanford Chemist, Nick Ackerman, Alpha Male and Juan de la Hoz
Analyst's Disclosure: I am/we are long PPR.
Seeking Alpha's Disclosure: Past performance is no guarantee of future results. No recommendation or advice is being given as to whether any investment is suitable for a particular investor. Any views or opinions expressed above may not reflect those of Seeking Alpha as a whole. Seeking Alpha is not a licensed securities dealer, broker or US investment adviser or investment bank. Our analysts are third party authors that include both professional investors and individual investors who may not be licensed or certified by any institute or regulatory body.