Summary
Shares of Kinder Morgan (KMI) are on sale and have dropped rapidly over the past month.
When buying Kinder Morgan, you have various ways to procure the shares.
Kinder Morgan warrants (KMI-WT) offer various possibilities you may have not considered or known about.
Let me start by saying that I have a lot of faith in the machine that is Kinder Morgan, most visibly represented by the Executive Chairman - Richard D. Kinder. KMI is a mid-stream of monstrous size and superb quality and I've been happily rewarded with my investments in both KMI and KMP - throughout the past few years. As expected, some present/past investors like KMI and Richard Kinder and some don't. I posted a Seeking Alpha STOCKTALK comment yesterday that went something like this: Just because Richard Kinder and Ken Lay used to share office space, that cat didn't pickup any fleas. Richard Kinder is not of the Ken Lay ilk, and consistently puts his proverbial money where his mouth is with regards to KMI, and again, he recently just scooped-up another large lot of KMI stock in this current downward slide of the stock price. Kinder has faith in the KMI machine, and his investments demonstrate it.
With respect to shareholder income, KMI pays quarterly dividends and reports your income via a 1099 form. Its MLP counterparts, such as EPD, PAA, and MMP - report your income via K-1. For tax simplicity, some investors prefer to go with a 1099 reporter as opposed to those who find the K-1 forms a bit too much for their taste, so to speak.
With regards to how the common stock has been performing, here are a few stats to consider:
1 month % change = down 10.39%
3 month % change = down 2.13%
6 month % change = up 2.06%
YTD % change = down 7.66%
1 year % change = up 10.42%
2 year % change = up 1.69%
Easy to see that KMI has been a bit volatile, but in my opinion - with the changes to the corporate structure, leadership team, and the overall volatility in the general markets, KMI investor relations has done a good job of communicating the "here and now" as well as what they believe is in store for the future of shareholders.
So what are your "options" for investing in/with KMI?
There are several, so let's discuss just a few. You can buy the common stock - as it has been on sale both before and certainly after Mr. Nelson's recently released article, which was further highlighted by a Barron's mention, or, you can buy the KMI warrants.
Being somewhat of a newbie to the usage of warrants, I'm not a newbie to spotting what I believe to be a deep discount. When the warrants reached as low as $2.70 on 06/12/15, I moved in to buy with my limit order.
For those new to investing via warrants, let's cover a few of the basics to better understand how an investor might put them to work for their benefit.
By one definition, a warrant is a security that entitles the holder to buy the underlying stock of the issuing company at a fixed price, called the exercise price, until the expiry date. Warrants have several characteristics to those of other derivatives, such as options. Just as with options, there are myriad terms that one should familiarize themselves with so as to have the best chance to beat the proverbial house at their own game. Additionally, one of the most important aspects to understand, is that the holder of warrants is not entitled to receive dividends on the underlying security - while they are holding the warrants, and warrant holders do not have voting rights - unlike holders of common stock. If you are a DGI, focused on dividends and compounding - warrants might not be an instrument for your toolbox. But for those who are interested, let's take a look at some examples of how they can be used, in contrast to simply purchasing regular common stock.
For myself, I bought KMI warrants on 06/12/15, for $2.90 each, but for illustration purposes, let's say that my cost basis was $3.00 for each warrant. So what did I "actually" buy?
The warrants give me the right to obtain KMI common stock at $40.00 a share (strike price). This right expires in May of 2017 (expiry date). To calculate the break-even cost at expiration, you simply add the cost of the warrant to the strike price, so in this example, $43.00 would be my break-even cost if the warrant was held until the expiry date.
If at expiration, KMI's share price is $46, I would double my money invested in the warrants.
If at expiration, KMI's share price is $49, I would triple my money invested in the warrants... and so on.
The negatives, if you will, are that if shares = $43.00 just before the expiry date, I will only break-even on my warrants investment and with the warrants, I don't get to participate in the collection of dividends along the way. If shares = less than $43.00 just before the expiry date, not only do I have the aforementioned negatives, but I begin to or will, lose some or all of my costs paid for the warrants.
For those investigating the usage of warrants, you'll want to understand how time plays a factor with this type of investment. As time marches on throughout the period that you hold the warrants, the price/performance will be affected. The more time remaining until expiry, the more time for the underlying security to potentially appreciate (we hope), which in turn, will enhance the price of the warrant, or, you may find yourself on the other side of that in a situation whereby the underlying security depreciates and the value of the warrant subsequently drops.
Please also note, that if you plan on exercising the warrant, you must do so before the expiry date. The expiry date is the date on which the right to exercise the warrant, ceases to exist.
For the SEC.GOV filing, detailing the KMI warrants, please refer to this link.
Fellow Seeking Alpha contributor, Clayton Rulli, has contributed quite a bit of useful information thru articles and most recently via postings in the KMI STOCKTALK section of Seeking Alpha.
And in closing, for those of us who appreciate a bit of technical chart analysis, here are a few charts to evaluate: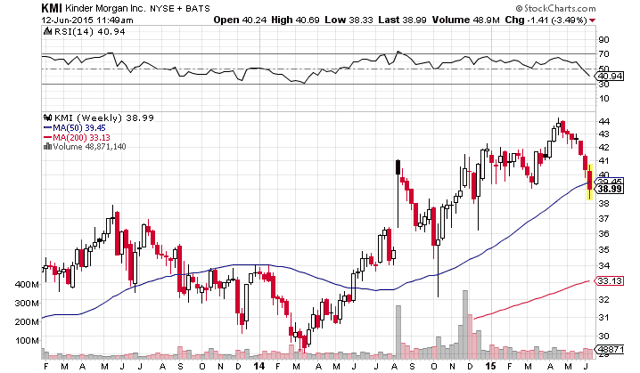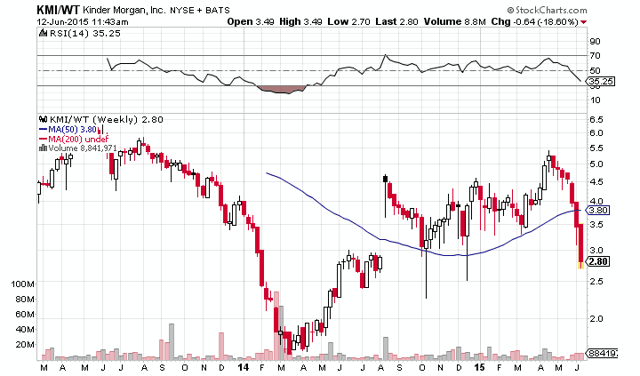 Conviction is defined as having a firmly held belief or opinion. Judging from past performance, past actions, and future expectations - I have conviction that although Richard Kinder has handed over the CEO reigns - he is still very much in control of KMI and he continues to step up to the plate with investment after investment of his own money. Additionally, KMI has already retired some 40% of the outstanding warrants, and just within the past few days, filed for another $100 million buyback of warrants. Having "skin in the game" doesn't get demonstrated much better than this, in my opinion. I believe that KMI is a long term buy and hold through whichever investment vehicle you choose to drive.
So what about you? Are you taking advantage of this downward slide in the share price or are you sitting this one out on the bleachers?
Having bought the warrants on Friday for under $3.00 each, they've launched higher on the day, today, up as much as 7.32%!