The following idea is driven heavily by technical analysis; fundamentals are considered, but overlooked due to the time frame of the trade idea.
Kodiak Oil & Gas Corp. (KOG) has made an incredible run since its +/-$5.00 low in 2011. It is still undervalued and poised for growth in the long run, but in the short run there is a low risk options play for investors who do not want to simply buy the stock. For investors already long (or short) the stock, this play can be used to lower the dollar cost average of the position or as a speculative monthly options play.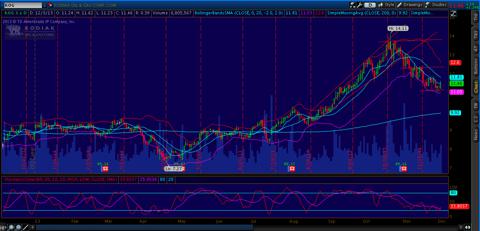 In the short run, Kodiak has been oversold on the daily chart since November options expiration. Although I do not see Kodiak breaking its $14.11 high from October, a target price of at least $12.60 is very possible in the coming month (9.08%+ gain on the stock). Yes, any investor can go buy the stock for about a 9% gain, but why not give the position some leverage with either of these two options strategies.
-Short 11/12.5 January put spread
$90 credit per contract
-Long 11/12.5 January call spread
$60 debit per contract
Note that each strategy has the same max gain/loss. It is up to the investor to find a discrepancy in the options pricing during market hours to decide which strategy has a greater yield. Personally, I prefer short strategies to long although the margin requirement is generally smaller for the long strategy.
To understand this strategy more please refer to this example:
-Long 1000 shares KOG at $11.46
Cost of $11,460 (+commission)
-Long 10 11/12.5 Jan call spreads at $60
Cost of $600 (+commission)
If Kodiak closes at or above $12.50 at Jan options expiration:
-1000 shares worth $12,500
9.08% gain
-10 Jan call spreads worth $1,500
150% gain
Risk Assessment:
What if Kodiak does not go to $12.50+ at January options expiration? This is where the options play becomes more favorable. With 10 contracts an investor has the same leverage as 1000 shares, but with only $600 at risk as opposed to $11,460. If Kodiak closes below $11.00 at options expiration the options are worthless at $0. At $11.00 per share the stock position is worth $11,000, a 4.01% loss of $460. What if Kodiak tanks and drops well below $11.00 per share. The options position still is only a $600 loss while the loss on the stock can be up to $11,460, although it would take only a 5.24% drop for the loss to exceed $600.
Advanced Options Strategy:
Long KOG stock (i.e. 1000 shares)
Jan 14.00 Covered calls at $15 per contract ($150 credit)
Short Jan 11/12.5 put spread at $90 per contract ($900 credit)
Use the credit of $90+$15/contract ($1050) on an OTM Jan 10/11 put spread at $25/contract ($250 debit)
Total Position:
Long KOG Shares
Short Jan 14 Calls
Short Jan 12.5 Puts
Long Jan 11 Puts (2:1 ratio to Short 12.5 puts; overlapping spreads)
Short Jan 10 Puts
Summary:
| | | | |
| --- | --- | --- | --- |
| Position | Cost | Gain (KOG>$12.50) | Loss (KOG<$11.00) |
| Long 1000 Shares | $11,460.00 | $1,040+ (9.08%) | $460+(4.01%) |
| Long 11/12.5 call spread | $600.00 | $900.00 (150%) | $600 (100%) |
| Long shares/call spread | $12,060.00 | $1,940+ (16.09%) | $1,060 (8.79%) |
| *Advanced Strategy* | $10,660.00 | $1,840+ (17.26%) | $310 (2.91%) |
Disclosure: I am long KOG. I wrote this article myself, and it expresses my own opinions. I am not receiving compensation for it (other than from Seeking Alpha). I have no business relationship with any company whose stock is mentioned in this article.
Additional disclosure: I am short ITM Dec and Jan monthly KOG calls. I am short ATM Jan put spreads. I am long OTM Jan put spreads. As stated in "Advanced Options Position", although position size and leverage varies. Investors should trade options at own risk, as risk varies greatly.