Apple (NASDAQ:AAPL) has resurrected its popular iPhone 6 in China, apparently to boost shipments before the launch of new iPhones (7s or 8) in this 10th anniversary year. Apple also wants to use this once popular iPhone to seize China's booming mid-range smartphone market.
IPhone 6 is one of the most popular iPhones ever but has been out of China market for a while. However, it is available for sales starting from this week on Alibaba's (NYSE:BABA) retail platform Taobao and other third-party online channels.
32G Version Golden iPhone 6 Sells for $494 On Third-party Channels
According to Shanghai news website thepaper.cn, a 32G version of iPhone 6 sells for 3,399 yuan ($494.04), near the top end of the 1,500 to 3,400 yuan price range for the mid-market segment in China.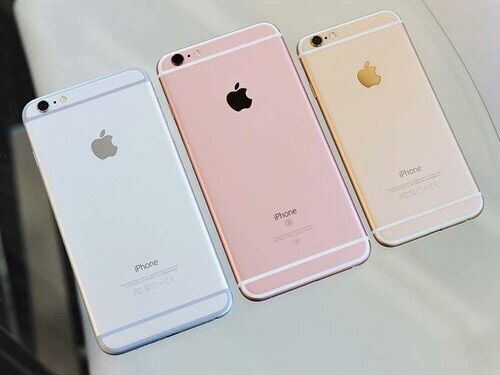 IPhone 6 originally had several color choices. Now only the golden ones are available in China for $494. Source: lovethispic.com
The resurrection of iPhone 6 leaves many Apple fans puzzled as Apple shops and its official website do not sell them. Many people wonder if the golden iPhone 6 now available on internet are authentic Apple products or counterfeits.
The news website said it got confirmation from Apple China on Wednesday (February 22) that the company indeed started selling 32G version of golden iPhone 6 on third-party online channels since Monday (February 20).
Although these "resurrected" iPhones are not available in Apple stores or official Chinese website, they are also protected by the same product warranty.
When iPhone 6 was launched in 2014, it did not include a 32G version.
Thepaper.cn quoted Apple sources as saying that the American company had designated specific countries and regions to sell iPhone 6 again, all through third-party channels. But Apple did not specify which countries and regions this version of iPhone 6 will be available.
The iPhones now officially for sales in China are iPhone 7/7 Plus, iPhone 6s/6s Plus and iPhone SE. Among them, the 16G version of iPhone SE sells for 3,288 yuan ($477.9), slightly below the $494.04 price tag of the "resurrected" iPhone 6. But the latter has double memory.
Low-end iPhones Target At China's Mid-range Market
Judging from the 3,399 yuan ($494.04) price, the "resurrected" iPhone 6 is a low-end product in the iPhone lineup. But in an emerging market like China, this price ranks iPhone 6 as a mid-range smartphone.
Chinese analysts pointed out that China's mobile phone market environment last year confirms a slogan: "Those who win the mid-range (market) get the throne". Oppo and vivo are the best examples of becoming market leaders by selling popular mid-range smartphones.
Mid-range smartphone sales in China are booming because of two reasons. Firstly, those who bought phones for around 1,000 yuan each a few years ago are now entering a period of upgrading their smartphones. They would likely buy mid-range phones of over 1,500 yuan. Secondly, users in China's third and fourth-tier cities have become the main buyers of mid-range smartphones.
Conclusion: Iphone Shipment Boosting Effect Doubtful
Apple resurrects 32G golden iPhone 6 in China apparently because it see market demands for a once-popular prime brand product with a mid-range price.
Furthermore, as iPhone 6s and 7 now on official sales are not much different in appearance from iPhone 6, buying a new iPhone 6 won't give users a feeling of using an out-dated product.
Although this iPhone 6 only sells for 3,399 yuan ($494.04), Apple's profit margin won't be squeezed too much as many parts inside are outdated and hence get cheaper compared with when iPhone 6 was launched more than two years ago.
Apple sells the resurrected iPhone 6 only on third-party channels. Apparently, it does not want to affect the sales of current iPhone models 7/7 Plus, 6s/6s Plus and SE. Thus Apple is also expected to sell iPhone 6 with little fanfare and hopes to promote it mainly by word of mouth.
But here Apple faces a dilemma. On one hand, Chinese consumers may not pay enough attention on the resurrected iPhone 6 due to a lack of promotion. They may also suspect these cheap iPhones as counterfeits. In either case, the sales of the resurrected iPhone 6 may be slow.
On the other hand, if the resurrected iPhones are well received by the market, the sales of iPhone SE will be inevitably affected.
In view of this, it is doubtful whether these resurrected iPhone 6 can have significant effects of boosting overall iPhone shipments before the launch of the new iPhones (7s and/or 8) scheduled in September.
Disclosure: I/we have no positions in any stocks mentioned, and no plans to initiate any positions within the next 72 hours.
I wrote this article myself, and it expresses my own opinions. I am not receiving compensation for it (other than from Seeking Alpha). I have no business relationship with any company whose stock is mentioned in this article.