Glendower. - I can call spirits from the vasty deep. Hotspur. - Why, so can I; or so can any man: But will they come when you do call for them?  
"Truth, indeed, is something that is believed in completely only by persons who have never tried personally to pursue it to its fastness and grab it by the tail. […] Nine times out of ten, in the arts as in life, there is actually no truth to be discovered; there is only error to be exposed." H.L. Mencken – "Footnotes on Criticism"
This piece will share with you my reaction to the recent publication of a report on Micron (MU) by UBS's Tim Arcuri.   Though a serious and well-constructed work, Mr. Arcuri's conclusions are wrong and need to be responded to.  Nevertheless I hesitate to do it.  Call it writer's empathy if you will.   The thing about writing for publication is that the whole enterprise is fraught with opportunity for ridicule for one reason or another.  On one level, writing is a Don Quiote-like exercise that promises no good end.  As Mencken says above the odds are nine in ten you'll get it wrong.
Mencken's quote above resonates because it perfectly expresses the Janus-faced reality of non-fiction writing.   As ever he perfectly and pithily abstracts the problem.  The first half is absolutely true – the truth is so hard to find! – but it's the second half - an exquisite escape clause if there ever was one – that keeps me coming back for more.  He did say "nine times out of ten", right?   So here's my long-shot effort to find that one chance in ten.  We will certainly expose some error.  We may make some of our own.  Nevertheless, Arcuri is wrong about Micron, and we're going to point out why.  But let's focus on the positive.  The real pay-off I hope we find is a much better understanding of the investing opportunities to be pursued in this dauntingly complex world of the semiconductor memory industry.
The UBS call aside, I believe that investing in Micron is a great opportunity to build wealth for investors.  In fact, echoing Russ Fischer from five years ago I believe Micron is the one investment that any tech investor should be making above and beyond any other.  The UBS call by Arcuri is misleading and in error – and that needs to be corrected.   So enough of the preamble.  Let's get to it.
To be fair, the UBS report – all 57 pages of it – has much to recommend it.   There is a lot of solid analysis – the China market material in particular is outstanding (he and I agree that there is no Chinese there there) – and in an odd off-handed way it is very long-term positive for Micron, the market, and the industry.   Here's an example:
" Structurally, there is a lot to be excited about in semis. If data is the new oil, AI will push more silicon into every vertical of the economy – much like the combustion engine did for oil. Against this backdrop, consolidation and a slowdown in Moore's Law should actually [be] leading to pricing power, all of which is having inflationary effects that are still in the early innings."
 And yet another:
"Traditionally, investors have viewed the DRAM industry through a PC-centric lens; we think this view is outdated. As computing becomes ubiquitous, memory has followed and proliferated to new markets. […] The industry is therefore moving away from […] heavy reliance on volatile spot prices (which are more relevant in the PC market where content is very price sensitive) towards somewhat less volatile contract pricing (servers and networking).  Additionally, as the industry migrates to higher value bits (e.g. server DRAM), it stands to reason that DRAM will become less commoditized than in the past."[Ed. Emphasis added]
We couldn't agree more.  But then he goes on to say:
[…] For memory, we are structural bulls but cyclical bears. This will weigh on the sector near-term, but we think the profitability of the industry through this next cycle will ultimately result in rerating of the entire memory complex.
Did he just say "rerating" in the same sentence with the term "cyclical bear"?  Imagine that.  But Arcuri just can't get through the sentence without using that "c" word.   For him, no matter how good the present is, the cycle is upon us, the past is prologue and nothing fundamental has really changed in the memory business.   Or has it?  Here's Arcuri on that point.
" However, demand is changing structurally, becoming more diversified across market segments (less PC centric, less commoditized), w/server DRAM (~40% 2 Yr. CAGR) & Mobile (~20%) driving growth. Longer term, autos – which are ~8x greater than server in terms of units – and should ultimately have similar, or greater, DRAM content/unit. Near-term, server DRAM, in particular, is also more performance and less cost oriented. Since the up cycle that began in H2'16, MU has been investing heavily with operational improvements enabling it to gain enough ground to be within 12 mos of Samsung in terms of process technology – a gap that has rarely, if ever, been so small. This factor, on top of the current record ~ 63% GM for F2018, means that MU's DRAM business should continue to be profitable even in a scenario where DRAM pricing were to decline ~50%+ in a 6Q period – not dissimilar to prior cycles."[ed. Emphasis added by author]
Arcuri just can't get past the past.   No matter how good the current day results or the prospects for the business and the company, there are the always-lurking ghosts of cycles past haunting the garden-party.  And yes, as far as Arcuri is concerned, there is a party going on right now.  Listen to this:
" Street estimates still look to us to be too low for F2018; indeed, we are net modeling DRAM pricing [up] 31% Y/Y against Street 29%.."
Wow, the present is so bright that Arcuri would have us believe his ghosts have to don sunglasses as they mingle among the guests.  But try as they might to shield their eyes Arcuri can still see them even if we can't – make no mistake about that.
'We analyze the levels of growth that MU is pricing in at current levels. At current levels the market is attributing a 220%+ weight to current capitalized earnings.  Given that we believe that we are close to a peak in terms of DRAM/NAND ASPs and that we expect estimates to get cut going forward, the analysis highlights our out of consensus view on MU. We are bearish on MU even as the markets continue to ignore the upcoming supply additions and ASP declines.[Ed. emphasis added]
Boiled down, he's bearish because of what he estimates is a total of 170k wpm of capacity additions over the next two years – 2018 and 2019.
"Samsung is ramping Pyeongtaek, largely – the company indicates – to offset bit growth loss from migrating to 1x and losses from Line 11 being converted to image sensor production. UBS Asia team is modeling Pyeongtaek ramping to 90k wpm by CYE19. There are indications that MU will be adding clean room space in Singapore [sic] to maintain wafer capacity and meet market demand as it works through technology migration. Hynix is also building a 2nd fab at Wuxi (we estimate ~100k wsm) that will effectively double Wuxi capacity once completed. UBS Asia team is modeling an incremental ~40k wpm at Wuxi by CYE19.
We'll return to his analysis above – there are significant problems with it, not the least that Micron does not make DRAM in Singapore - but what makes it even more problematic is that he understands the important issues that relate to DRAM scaling but can't seem to connect the dots.  To wit:
"Even as the industry relies on technology migration to cater to demand, execution challenges remain. A DRAM cell consists of a transistor and a capacitor. Scaling this combination becomes increasingly more challenging at the sub 20nm node.  Micron, Samsung and Hynix have all experienced challenges with ramping yields and several uncertainties remain. The industry is confronted with a slow-down related to lithography and reduction in throughput of existing capacity with each successive node due to the need for more layers to run through the dep/litho/etch cycle multiple times. Ergo, the industry is forced – on some level – to add wafer capacity to keep up with demand."
So he acknowledges the issues with DRAM scaling but never does quantify them.  In fact, Micron has characterized these loses as roughly equivalent to 10% of converted wafers.    With the industry at 1.15m wpm, that's 115k wpm of losses by the time the industry gets fully to "1X" from 20nm, and then another, equivalent loss going from 1X to 1Y.   Arcuri never does provide us with anything like a real accounting of the wafer math, which should look like the chart below.  (Note that none of the suppliers are completely converting their processes in any one year.  I've got 35% of his incremental 170k wpm coming on in '18 and 65% in '19 for the industry as a whole, but each vendor is different.)

Arcuri keeps referring to 170k wpm of "net" wafer additions over the course of calendar years 2018 and 2019, but it looks to me like he's forgotten that there is no free lunch when upgrading a fab.  If he has forgotten, the suppliers surely have not.  Here's Chun Se Won (SVP Memory Marketing) from Samsung (OTC:SSNLF) during their Q4 '17 earnings conference call:
"In spite of industries' efforts to expand the supply, Extending bit growth will be limited, due to increase in technological difficulty and limited clean room for expansion."
As the suppliers have made very clear for sometime now (and as Arcuri acknowledges in the quote above) each process upgrade is getting more complex and expensive as 2x to 4x more equipment is added, and thus more fab space and process steps are required to take advantage of that new equipment.  And not only that, if the supplier is upgrading in place, (i.e. not a greenfield fab) the upgraded process line(s) have to be taken down while the new process is being installed.   It's kind of like trying to live in a house that always under renovation.  You no sooner celebrate the look of the new kitchen when there's the wreckage from the family room redo that you have to step over to get to your new pantry.  And the faster you go, the worse it gets.  Right now all the suppliers are on a roughly 12 -18 month cadence moving from the 20nm to 1X conversion to the 1Y conversion.  The net result of all this creative destruction is that it's getting harder and harder to get the bit output increase realized that the process advance engineering originally promised.
Arcuri recognizes this, but he doesn't follow through.  Bottom line, his wafer math doesn't work.  Beyond that, he never gets around to accounting for the bits.  How many more bits will the industry produce with his 170k wpm wafers?  We never find out, but he earnestly assures us that it is way too many for the demand growth that he is forecasting for the business.   Here's that forecast:
We forecast healthy DRAM demand for CY2018/CY2019 w/ bit growth of ~20%.  DRAM Demand is largely being fuelled by mobile (2yr CAGR ~19%), servers.(~39%) and autos (~25%, albeit off a smaller base).
So, stir in 20% demand growth, some unspecified but greater than 20% capacity growth, and voilà, we have this familiar ghoulish mixture in the party punch that has Arcuri's ever-present ghosts of cycles past yowling and drooling like it's 2015/2016 again.  Everything proceeds from that.   Supply exceeds demand.  Revenues tank, profits plummet, FCF drops precipitously, and with it Micron's multiple.  That's how he gets to a $35 price.   It's all very logical.
Well, no.  As Mencken famously observed - "For every complex problem there is an answer that is simple, logical, and wrong!"  - and that, folks, is what we have here.
We've talked about the difficulties tying Arcuri down to a supply forecast, but enough of that for now.  Let's stay with the demand forecast for the moment.  Now, as we all know, the issue is never demand (or supply) per se, but only in relationship of the two to each other.  Looking back, we know that the DRAM industry has for the last 18-24 months been in an environment where demand has exceeded supply.   We also know that the industry grew bits in 2017 at a 20% rate.  Micron and its industry peers have been characterizing demand as running something above 20%, in some cases characterizing it as high as the mid-20% range.
Here's Micron's graphical presentation of supply and demand from last year's analyst conference (which they have essentially reiterated in every earnings call since).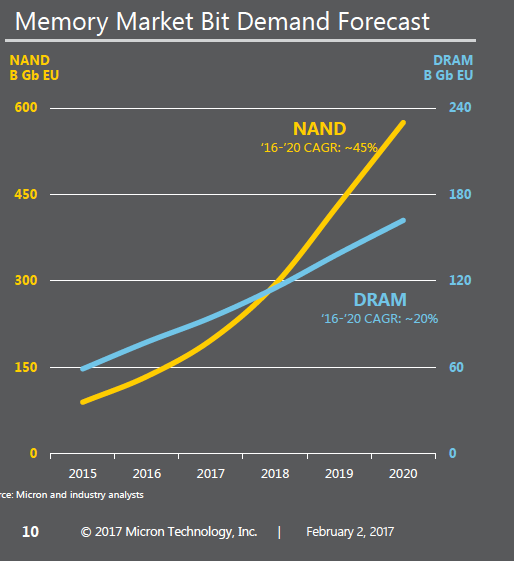 So it's "~20%" over the years 2016 through 2020.  But what does demand really mean?   So we know that we had at least enough demand to buy all the supply in 2017, right?  But how can we ever know how much demand there was above the actual supply?  The semi-conductor memory industry doesn't work from a backlog.  Contract pricing will assure the big customers some level of supply assurance, but when there are no more bits to sell no amount of "demand" gets you any more.  Start today and 18 – 24 months out the industry can supply more, but that's it.  We rely on the market to give us a signal in terms of price, and with prices running an average of+50% YoY we can certainly infer that there was a lot more demand than supply but how much was that?  How much is "a lot"?  We don't know.
To give the UBS study credit, Arcuri does go into some detail on certain demand categories like server, cloud and mobile.  The report is replete with charts, tables, and graphs in this area.  But the real point here for our purposes is that his net result of 20% is less than whatever the last 15 months demand was.
It seems to me that since that is so obviously the case it is incumbent on Arcuri to explain for us why the pace of demand growth should slow in 2018.  He never does.
Why should we think demand will drop?  Without exception, the three industry suppliers disagree with his conclusion, and they're the ones talking to the buyers and wannabe buyers.   We could spend considerable time and words in this article recapping how strong cloud and data center DRAM demand is and how explosively content per server and mobile device is growing, but the key point here is that – however big the demand number is – there is no good argument to be made that it has gone down.  Is the economy a problem?  Worldwide economic growth is excellent even with the current worries about a world trade crisis being a possibility.    The point is that Arcuri never gives a rationale for his demand deficit.
So let's close this and move on.  Back to supply for a moment.  I won't bore you with the excruciating detail but I modeled his 170k wpm new wafers to net wafers to bits by process by vendor and I came to a 19.4% net bit addition in 2018 and 20.2% the year after.   Even if his forecast of 20% demand growth came true the wafer supply increase he points to doesn't generate enough bits to overwhelm demand and cause a glut of supply.
Try as I might, I don't see his ghosts.  Arcuri is wrong.  Micron and its DRAM compadres are excellent investments based on their DRAM businesses.  Arcuri makes a similar oversupply call on Micron's NAND business but it doesn't make much difference to his overall case.  As you know from my last article I argue that as long as DRAM is in good shape NAND results don't mean all that much to Micron.
One final point, and this is another topic that the UBS study failed to address.  Arcuri's whole analysis turns on a conclusion that over the course of the next two years the industry – that's three CEO's - will continue to invest in more wafer supply, even against the backdrop of precipitous quarter over quarter price and gross margin declines.  That they will submit to their Boards multi-billion dollar CapEx budgets to buy more fab equipment - equipment that will take many months to fully employ – all for the purpose of producing unneeded product that will have the effect of destroying their pricing power, and subsequently, multiple tens of billions of dollars of bottom line profit.   To state that case is to know the answer.  There is no way that they would do that.
And did I say three CEO's?   Sanjay Mehrotra of Micron has already stated his policy for Micron, which is to build just enough new wafer supply to make up for the wafer losses caused by process migration.  (This from the Q2 earnings conference call.)
"[…] So our CapEx is geared toward realizing DRAM and NAND technology transition toward more cost-effective advance technology nodes for our products. And it is not about […] wafer capacity production increase for us."[Ed. emphasis added]
Chun Se Won of Samsung has made his position clear as well.  Here is his remark on Samsung's strategy regarding capacity growth from his Q4 earnings concall:
"And for 2018, at this point, we expect the DRAM market bit growth to be about 20% and our bit growth will also come in similar level.  […]  Therefore, Solid supply and demand conditions are expected to continue. We will maintain a "profit first rather than market share" policy while strengthening cost competitiveness through expediting finer process technology migration under 10nm at a proper time."[Ed. emphasis added]
So that leaves one CEO.  Here's SK Hynix Chairman Tony Yoon from their Q4, 2017 earnings call:
"[…] Then it seems as if the DRAM wafer capacity ramp-up is not going to be likely, even into 2018 […]  Now if we are to use this 50% of the M14 second floor, then this will give us room to further ramp up DRAM wafer capacity by 20,000. But then given the fact that for next year [2018], the expected bit growth is about 20% -- low 20% level, and we would have to make our plans depending on that as well as our forecast for the bit growth to come from the tech migration. So our plan -- so we will plan on how we are going to manage the wafer capacity next year based on these various factors."
Ok.  What do you think?  Are we hearing some crazed corporate lions calling for share gains at all costs?  Hardly.  The last thing these guys are going to do is kill the golden goose by over-building.   So Arcuri doesn't address what I will term the "behavioral" issue.  For good reason.  The facts do not support him.  Q.E.D.
In conclusion, the UBS study is flawed and its conclusions are misguided.   The market's reaction to it was over wrought and wrong-headed.   Micron's future has no resemblance to its past.   Arcuri's ghosts may haunt him but they will not come when he calls.
If you are going to invest in one tech stock, Micron is it.
Disclosure: I am/we are long MU, WDC, NVDA, PSTG.
Additional disclosure: edits on Arcuri's name - from Acuri to Arcuri