Why investors should stay away from SeaWorld, Six Flags, and Cedar Fair?
It is reported that SeaWorld plans to sell 20 million shares between $24 and $27 a piece. At the midpoint of $25.50 per share, shares would trade at 27 times trailing earnings. Competitors Six Flags (SIX - 12.1 times), Cedar Fair (FUN - 22.6 times), Carnival Corp. (CCL - 17.9 times), Walt Disney (DIS - 19 times) trade at lower multiples. (By Abram Brown @forbes.com.)
By multiples of free cash flow (NYSE:FCF), a more popular measurement, the multiples are SIX (14.9 X), FUN (12.1 X), Carnival Corp. (39.8 X), and Walt Disney (29.8 X). Taking MorningStar evaluation as a starting point, the so called intrinsic value per share are: SIX ($ 66.37 at 5.5~5.6% 3-yr growth rate), FUN ($ 34.94 at 3.9~5.3% 3-yr growth rate), CCL ($ 41.00 at -2.6~4.6% 3-yr growth rate) and DIS ($ 60.00 at 3.4~5.4% 3-yr growth rate). Meanwhile, on March 14th SIX had an intrinsic value of $58.73 and on April 4th this value increased to $66.37. Stock valuation creates miracle.
Such a set of growth rate is much more than optimistic considering the current economy, unemployment, market and competition, especially for FUN and SIX. I do not see the reasons that SIX should grow faster than FUN, CCL, DIS. If other conditions do not change while SIX and FUN are comparable, assume FUN's intrinsic value at 34.94 is reasonable, SIX's intrinsic value should be no more than $55 per share.
Multiples
TTM Earning
Free Cash Flow
Market Price per share
Intrinsic Value per share
Growth Rate (3-Yr revenue)
SeaWorld ($$$)
24~27 X
$
$
%
Six Flags (NYSE:SIX)
12.1 X
14.9 X
$ 73.20
$ 66.37
5.5~5.6 %
Cedar Fair (NYSE:FUN)
22.6 X
12.1 X
$ 40.30
$ 34.94
3.9~5.3 %
Carnival (NYSE:CCL)
17.9 X
39.8 X
$ 34.95
$ 41.00
(2.6)~4.6 %
DisneyWorld (NYSE:DIS)
19.0 X
29.8 X
$ 60.55
$ 60.00
3.4~5.4 %
The multiples of SeaWorld is apparently too high and overvalued. But from my point of view, the whole industry is overvalued as well. Why SeaWorld IPO now? The top 2 reason should be seasonality and overvalued stocks of theme park industry. Memorial Day weekend (the final weekend of May) marks the traditional kickoff of summer theme park season, and virtually investors intend to bull such stocks before the "sell in May". That is why SeaWorld is releasing price range at this moment to test water. All theme park stocks are overvalued at this moment and investors should expect a major correction in months. Reasons are coming up in the next paragraphs.
(1)Market and competition
Where are the competitors? I put the locations of FUN, SIX, SeaWorld and DIS in one map so that readers can easily figure out what we are talking about. SeaWorld has 3 locations (as we can see from its website), and it compete with DIS in Orlando, with SIX in San Antonio, and with FUN in San Diego. Actually, they compete with each other at also everywhere in United States, especially for FUN and SIX, and it is difficult to build regional monopoly. Although SIX 10-K reports said that the parks "strategically" located in US, we hardly can see any clear strategy by location other than geographic demography. The promotion strategies are common for all the parks, such as seasonal pass, all-your-can-eat, etc. Keep this in mind, the customer groups for the theme parks should be relatively stable even these companies may prefer slightly different promotion and programs. As a common sense, if there is a park 15-mile away from your home people rarely travel 100 miles to another one just because that park has a roller coaster 10-feet higher than that of the park closer.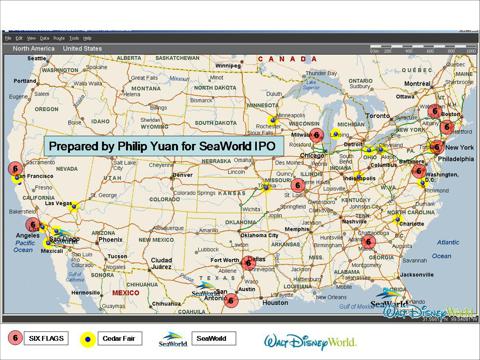 (2)Cyclical industry? How comes the 5%+ growth rate?
Then, with the relatively stable customer group, how can theme parks get more money from their pockets? Is the disposable income increasing? Are they willing to spend more under such a slow economy? Where does the money come from to support the growth rate of 5%?
The following map will tell you why a growth rate of 5% sounds like a mission impossible. The increasing food stamp population will tell the truth -individual budget for entertainment is tighter than ever before. Investors would better forget the "conviction-buy" SIX of $83.50 per share by Goldman Sachs if they still remember Goldman Sachs's famous forecast in mid-2008 that oil price would surge to $200 a barrel. By the way, I agree that Goldman Sachs has more power in manipulating stock price than anyone else.
The only reason that keeps the share price high is the involvement of institutes, funds and dominant insiders. How can small investors mitigate the risk? Stay away from SeaWorld, FUN and SIX stocks.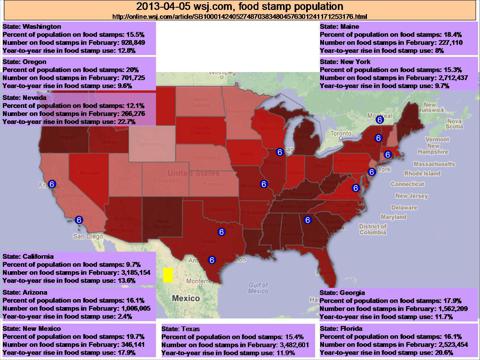 Conclusion:
SeaWorld IPO would be good for current stake holders to cash in, but bad for others to invest. You may say that this industry can create strong cash flow, but if the cash flow is really strong enough why IPO? We know the equity market is already red hot and index is at all-time high this week. We also know that the industry competition is fierce and hardly to say which one has clear advantage over others. Therefore, it does not matter how well Blackstone can market this event, the fundamental purpose is to pocket cash through IPO. Most possibly, SeaWorld IPO will be the last stroke prior to the "Sell-in-May" correction.
Disclosure: I am short SIX, WMT. I wrote this article myself, and it expresses my own opinions. I am not receiving compensation for it. I have no business relationship with any company whose stock is mentioned in this article.