Welcome to the inaugural post of 'TechMBA' – providing well-researched information and data on TSX Venture technology companies
The first company which I'd like to introduce you to if you don't know it already) is Poynt Corporation (TSX VENTURE: PYN).
"Inspiration to action
-- For mobile location-based search, this means connecting customers with merchants at the exact time and place the customer is looking to make a purchase - the solution, Poynt.
 
Poynt Corporation builds the multi-award winning all-in-one location-based search application, Poynt for BlackBerry smartphones, iPhone and iPod Touch, Android, Nokia QT and Windows Phone 7 devices

Poynt fuses search with find, providing users with a simple, intuitive tool to find up-to-date information for businesses, retailers, restaurants, movies, events, weather information, gas prices, people and more – all at the users' fingertips, when and where they need it.

Poynt takes full advantage of the capabilities of each mobile platform. This seamless integration transforms mobile devices from an everyday communication tool, into a powerful multi-purpose entertainment and utility tool.
 
Currently in nine countries--Canada, the United States, the United Kingdom, Italy, France, Germany, Spain, Australia and India--our differentiator and strength is in local partnerships that supply the most comprehensive data in the industry.
 
With almost 11 million unique users, performing over 70 million local searches monthly, Poynt Corporation is an industry leader in the location-based search space." (http://about.poynt.com/aboutus.html)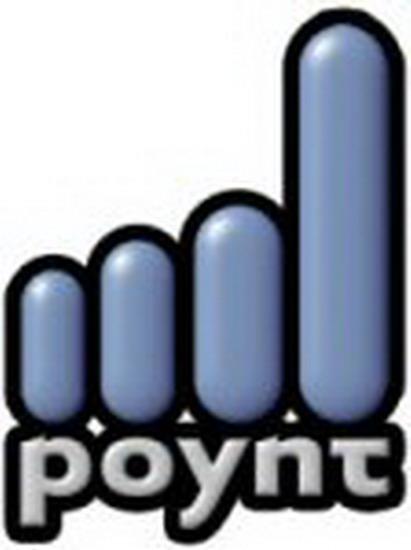 As of today (November 10th), Poynt is trading well below the most recent financing and has since made tremendous accomplishments in becoming the next breakout technology company on the TSX Venture. That being said, there are a few key facets of the company which I believe the market doesn't fully comprehend that I'd like to elucidate. In short:
1.

     
The intellectual property (NYSE:IP) portfolio i.e., the patents, and their worth
2.

     
The value of the user base
3.

     
The opportunity in India
4.

     
The fact that 'Search' is much more valuable than 'Social'


IP Portfolio and its unrealized value
The company currently has 4 issued patents, with 7 pending, and many more to come. Two of the most significant and strategic issued patents are No. 7,870, 229 and No. 7,941,430.
Patent No. 7,870,229 ("the ad patent") pertains to delivering location-based offers and coupons to mobile smartphones based on GPS location and user profile, claiming priority before the year 2000. This patent provides an important protective feature and barrier to entry for competitors in terms of the location-based services (LBS) model.
Patent No. 7,941,430 relates to the delivery of location-based, contextually relevant data sorted by proximity to user. Poynt's technology pairs user-stated intention with relevant, local information, which are key drivers in providing transactional capabilities within any predefined geographic area or 'geofence'.
These patents along with the rest of the company's IP portfolio enhances market position for mobile advertising and mobile special offers, while also solidifying Poynt as an industry leader in LBS.
These are links and brief descriptions to some of what I believe are currently pending patents for the company:
Patent 1 (System and Method for Adding Advertisements to a Location-Based Advertising System),
Patent 2 (Method and System for Wireless Message-Based Advertising),
Patent 3 (Contextual Advertising Using Video Metadata and Chat Analysis),
Patent 4 (System and Method for Providing a User Terminal with Supplemental Information to a Search Result)
To summarize, Poynt has 4 issued patents, with 7 pending, and many more to come. I believe that this is CRUCIAL to the future success of the company. Poynt holds vital intellectual property whereas its competitors do not. Peers within the industry such as Yelp and Foursquare hold no patents to protect against their services and have already had lawsuits brought against them. Poynt has faced no legal action because it owns the intellectual property that drives its services. For example, patent No. 7,870,229 (the ad patent) has been reviewed essentially 4 times by the United States Patent and Trademark Office (USPTO) and has thus had key examinations multiple times that will allow it to stand up to scrutiny during a lawsuit; in fact, it is actually been granted to claim priority since the year 2000.

Not to mention, near the beginning of June 2011, Poynt engaged Gladios IP, a subsidiary of Wi-LAN Inc., to assist the company in enforcing and monetizing its intellectual property. On a daily basis, Gladios IP is responsible for developing programs aimed at licensing Poynt's patent portfolio. Over the last several years, Wi-LAN has licensed intellectual property worth hundreds of millions of dollars from more than 250 companies around the world.
Poynt is actually the inaugural client for Gladios IP
, which speaks volumes about the opportunity that Wi-LAN sees in the company's IP portfolio. Poynt has phenomenal potential to harvest licensing revenue from their patents and I predict a sizable segment of the company's future revenue will be derived from these licensing fees.  


A number of 'Web 2.0' companies have stunned the financial community this year by having astoundingly remarkable IPOs. The commonality behind their successes? Having a reliable group of engaged users.
Take a look at some of Poynt's user data: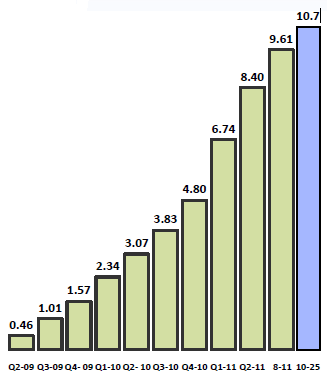 ·

        
New users avg. 23,880/day in June 2011, up 190% from 8,224 average new users in June 2010 (25,000/day in November 2011)
·

        
Total unique users 8.5 million on June 30, 2011, up 25% from end of previous quarter, and up 166% from same year-ago quarter
·

        
User Queries: Avg. 33/user/month
·

        
Page Views: 2-3 per query
·

        
To date, Poynt has 10.9 million users globally
·

        
Growth driven by greater awareness of Poynt through marketing efforts, preloads, and expansion of Poynt across all mobile platforms, geographies and application features

To get an idea of where Poynt stands in line with its competition here are a few examples:
i.

                   
Where.com
(another mobile local search app) was acquired by Ebay for $35/user
ii.

                 
Android
generates approximately $5.90/user, that is estimated to grow to nearly $10/user – using typical revenue multiples those users would be worth $60-100/user
iii.

               
Foursquare
has a user base of 10 million (June 2011) with an estimated valuation of $600 million (based on its most recent round of financing) or $60/user
iv.

               
Yelp
has a user base of 50 million (April 2011) an estimated valuation of $525 million (according to an analyst report from Next Up Research) or $10.50/user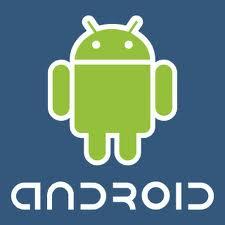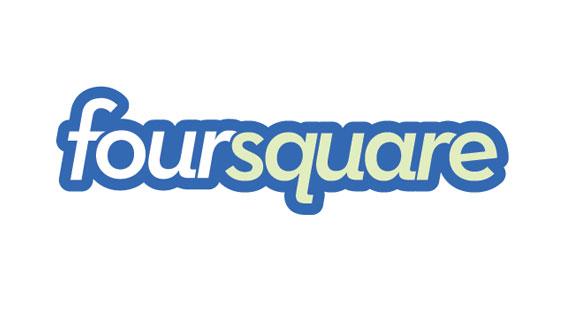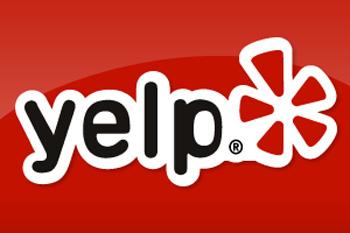 Currently, Poynt over 11 million users with a market capitalization of $68 million – that's an average valuation of $6.18 per user. Notice the fairly significant difference between the per user $ amount and the worth of each company compared to Poynt?
Poynt has a lot of catching up to do compared to its industry peers and I believe that it's well poised to do so. Poynt is growing its user base exponentially in key high growth advertising and mobile markets. Here are the user statistics for the 12 months ended June 2010, and 2011:




As you can see, Poynt had some impressive year-over-year growth – and that was only last year's numbers. Yesterday the company announced Poynt has surpassed 2.1 billion interactions, up from 1 billion interactions on March 11, 2011; this represents more than a doubling of user activity in only 8 months.
Consider some key market statistics that will work in synergy with the company to increase its global revenue even more:
·

        
Smartphone unit sales to exceed laptop and desktop by 2012
·

        
Brands and agencies are shifting towards mobile and location-based advertising
·

        
The mobile ad industry is growing rapidly - $2.7 billion in 2011 to $6.6 billion by 2016
·

        
5.3 billion mobile accounts globally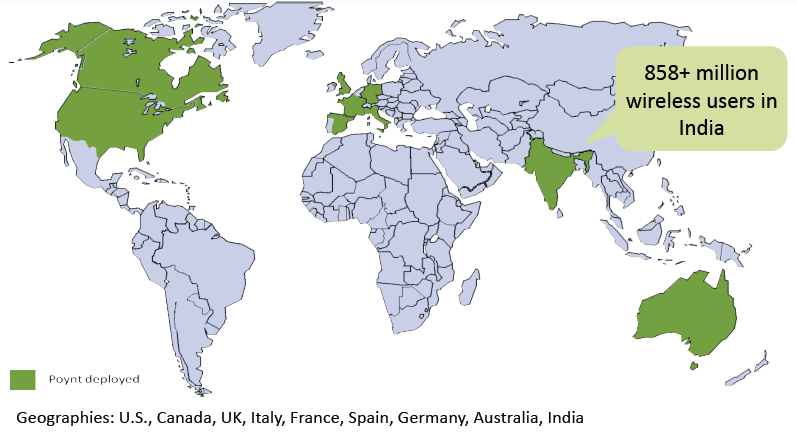 The nine markets that Poynt is deployed in account for 1.6 billion cellphone accounts or about 30% of all cellphone users (with about half of those accounts being from India). Poynt has done very well thus far breaking into a number of different markets, but now is the time to really grow the user base.
Growth is driven by greater awareness of Poynt through marketing efforts, preloads, and the expansion of Poynt across mobile platforms, geographies, and application features. While the technology is practical and useful enough to grow on its own, management is working diligently on signing new contracts every day that help to rapidly expand the company's user base. For example, in June 2011, global preloads contributed to 700,000 new users. For each Poynt app preloaded on a smartphone, 34% become active users who generate approximately >33 queries/month. There are currently 8 global preload deals in operation already, with 8 deals pending. There is LOTS of potential for RAPID user expansion via these global preload arrangements.
More users mean more money – user activity drives revenue through three sources: advertising, transactions, and IP Licensing fees. With so much in the works already I don't think that it's unreasonable at all for Poynt to have doubled its user base from where it is today halfway through 2012.


The Opportunity from the Indian Market
India is the second-most populous country in the world with over 1.2 billion people, has the 4th largest economy, and the 2nd largest cellphone market – there are 858 million wireless subscribers. Its telecommunications industry, the world's fastest-growing, added 227 million subscribers during 2010-11, with over 80% of those being wireless subscribers. Now consider that the smart phone is the most rapidly selling electronic device on the planet, and you've got a recipe for success.
As recently as October 2011, Poynt in association with Times Internet Limited (TIL) introduced "timesPoynt." TimesPoynt brings the same Poynt functionality to smart phones and feature phones across India. TIL is India's largest media conglomerate and has a very impressive resume:


·

        
5 daily magazines, including 2 of India's largest
·

        
4.3 million daily circulation
·

        
29 niche magazines
·

        
Reching 2,468 cities and towns
·

        
32 radio stations, 3 television stations
·

        
55 sales offices, and over 7,000 employees
As if that wasn't enough, Times India Group generated over $1 billion in advertising revenue through the year 2010. To monetize timesPoynt the partnership plans to leverage the Times Group's relationships in India with advertisers, agencies, and merchants. It plans to market and promote timesPoynt through all its media outlets, such as radio, television, magazines, and newsprint. IndiaTimes.com, TIL's flagship brand, is the largest Internet portal in India, receiving more than 1 billion pages views per month. Here is what Andrew Osis, President & CEO of Poynt has to say, "Launching our app in one of the largest mobile markets in the world with the dominant media company in the country provides Poynt with an unprecedented opportunity to drive revenue growth and user adoption."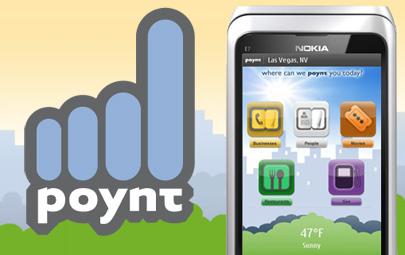 Lastly, there's one other BIG bonus in India that no one seems to be discussing – Nokia.  Poynt and Nokia have an extensive history together. Just as recently as August, Poynt was chosen as Grand Prize Runner-Up in Nokia's 'Calling All Innovators' competition. For winning, the company received $150,000 cash and a $1,000,000 marketing campaign. Take into account that Nokia has a 50% market share in India, and is the most trusted brand throughout the country and you'll soon realize what a gem this partnership really is. Between the preloads onto Nokia cellphones, word-of-mouth, and direct marketing Poynt is very well positioned to be a top application within the Indian marketplace.

The Ad Business – Search > Social
Amazon (e-commerce) is yielding $189 per user. Google (search) is yielding $24 per user. Facebook (social networking) is only yielding $4 per user according to this chart from a JP Morgan analyst.  That means that Google users bring in 6x more revenue than Facebook users. Furthermore, that means that Poynt users, currently yielding $6.56 each, are already worth more than Facebook users! Clearly advertisers are just willing to pay more for search based ad services; which is great because Poynt does that very well: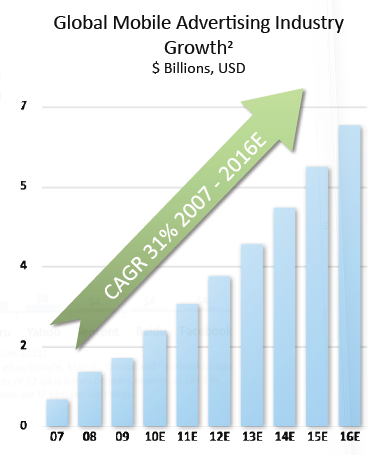 ·

        
#1 BlackBerry App World Local Search
·

        
#2 Ranked Free BlackBerry App
·

        
Top 10 iPhone Search Apps
The mobile advertising industry is already a multi-billion dollar industry and analysts predict that it will have a compounded annual growth rate (OTCPK:CAGR) of 31% through the year 2016. Sir Martin Sorrell, CEO of WPP (world's largest ad firm) has said that "location targeting is the Holy Grail that we, as advertisers on behalf of our clients, are looking for." With expansion plans in all key revenue driving areas (users, transactions, and IP licensing) things are looking very bright for Poynt.
Disclaimer:
  This report is prepared for informational purposes only and is not to be construed as an offer to sell or the solicitation of an offer to buy any security in any jurisdiction where such an offer or solicitation would be illegal. This report does not constitute or contain investment advice. We are not soliciting any action based upon this material. It does not take into account the particular investment objective, financial situation or needs of individuals. Before any action, an individual should seek professional advice. All expressions or opinions are subject to change without notice. The author may have a position in, and may from time to time, purchase or sell any of the mentioned or related securities including derivatives in such securities. Any photocopying or retransmission of this report without permission is prohibited and subject to liability. The author shall have no obligation to update or amend any information contained herein. The author does not guarantee any returns nor guarantee the outcome of what has been portrayed in this report.