On November 30, 2016, the Organization of Petroleum Exporting Countries (OPEC) surprised the world by reaching an agreement to cut production. Now, if OPEC members properly implement this deal in January 2017, it could reduce the supply glut almost instantaneously. OPEC aims to remove 1.2 million barrels per day from their production.
Oil prices continued their move higher on December 1, 2016, following the OPEC news, and Brent crude oil was at its highest in 16 months. This trickles down to the energy sector, which has been beat up due to the global oil supply glut. Nano-, micro- and small-cap energy stocks have high growth potential, so it's a good idea to sign up for free penny stock alerts. One small-cap oil and gas pipeline stock could benefit from the oil production cut in 2017.
Enbridge Energy Partners LP
Enbridge Energy Partners LP (NYSE: EEP) is a energy transportation company and operates a diversified portfolio of natural gas and crude oil transportation systems in the U.S. Enbridge Energy Partners operates in two segments: liquids and natural gas. Enbridge has been trying to weather low crude oil prices and its liquids pipeline systems remain strong. However, like most energy companies, its earnings have suffered.
Third-Quarter 2016 Financial Results
For the third quarter of 2016, Enbridge Energy Partners had a net income of -$406.40 million, but it had cash provided by operating activities of $416.4 million. Moreover, it had an adjusted EBITDA of $456.8 million and distributable cash flow of $214.7 million. During the third quarter of 2016, it announced that it entered into an agreement to acquire an equity interest in the Bakken Pipeline System and a tentative joint funding arrangement with general partner.
The President for the Partnership stated, "The Partnership's core liquids pipelines business continues to perform well … Deliveries on our Lakehead System have strengthened following the wildfires that impacted crude oil production in northeastern Alberta in May. With seasonal refinery turnarounds largely complete, deliveries are expected to remain strong through the end of the year with our heavy crude oil lines continuing to be oversubscribed."
The company's full-year 2016 guidance was not revised, and it's on track to achieve the top-end of its full-year 2016 adjusted EBITDA guidance of $1.8-$1.9 billion. Additionally, it expects to have distributable cash flow between $860 million and $920 million.
Enbridge Has Upside Potential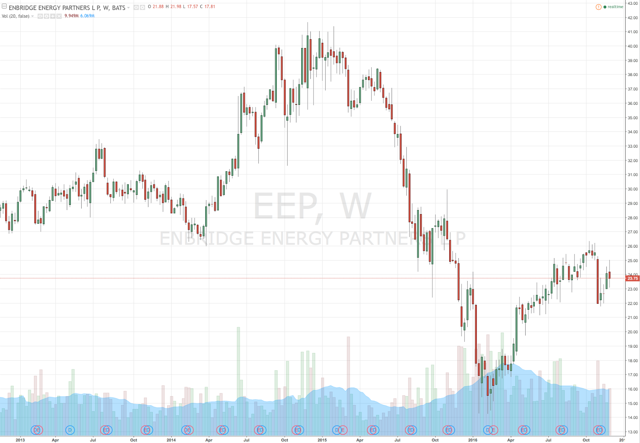 As shown in the chart provided by TradingView above, Enbridge Energy Partners it trading over 70% off its highs in 2014. The company has the potential to increase its share price, since oil prices are poised to rise, which would increase its earnings and revenue.
The Bottom Line
The company declared a quarterly cash distribution of 58.30 cents per share, or an annual dividend of $2.33 per share. Enbridge offers an attractive dividend yield coupled with high growth potential in 2017. OPEC's decision to cut production during the first half of 2017, which is highly beneficial to the energy sector.
Disclosure: I/we have no positions in any stocks mentioned, and no plans to initiate any positions within the next 72 hours.