Semiconductors and semiconductor equipment stocks have performed pretty well in the last year. In fact, among the 25 Russell 1000 semiconductors and semiconductor equipment companies, 20 have shown positive price gain in the last 52 weeks. Furthermore, 13 companies have achieved a higher-than-17% price increase in that period. Micron Technology Inc. (NASDAQ:MU) has gained 60.6% in that period; only Skyworks Solutions (NASDAQ:SWKS) and Freescale Semiconductor (NYSE:FSL) have had a higher gain (see my article about SWKS).
The table below shows all Russell 1000 semiconductors and semiconductor equipment companies and their 52-week price gain.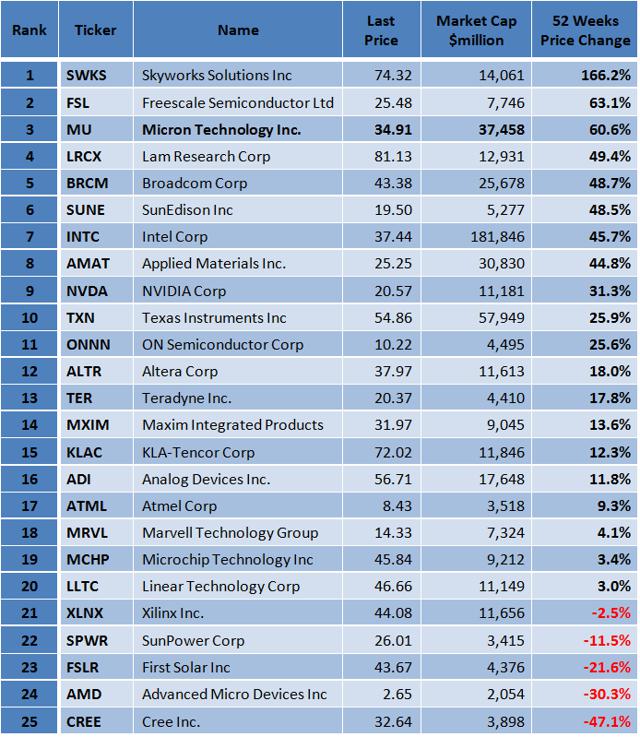 On October 02, I wrote an article about Micron, describing the company and recommended the stock. In this article, I will highlight some recent significant developments in the company's activity.
In November, Micron announced several new products to its embedded portfolio to provide product designers with an expanded range of technologies, performance and form factors that are ideal for the Connected World. Among them, wide range of both NAND and NOR Plus RAM MCPs (Multi-Chip Packages), and next-generation storage solutions for demanding automotive applications.
According to the company, with the rise of the Internet of Things [IoT], there will be more than 50 billion devices connected to the Internet by 2025 - all capturing, analyzing and transmitting more and more data to the cloud and relying on real-time big data analytics to drive decisions. Memory and Storage technologies are at the center of enabling these new applications. Micron is expanding its broad portfolio with exciting new additions and enabling innovative IoT applications across Connected City/Industry, Connected Car and Connected Home.
As a leader in memory technology, Micron will continue to benefit from a rise in demand for memory since it possesses the system-level expertise needed to ensure that devices are outfitted with the right memory implementation.
According to DRAMeXchange , a research division of TrendForce, research release from December 05, DRAM players will stay profitable with overall revenue to rise 16% year-over-year in 2015. The research company noted that 2014 has been a fruitful year for the DRAM industry. Tier-one manufacturers, benefiting from the global smartphone boom, have all stepped up mobile memory production. Mobile memory will account for 36 percent of overall DRAM production this year and is very likely to surpass 40 percent of production in 2015.
Ken Kuo, Assistant Vice President at DRAMeXchange, explained:
Because of high demand for mobile memory, DRAM manufacturers have somewhat reduced standard memory production, keeping module prices high. This year, the 4GB module has been selling for about US$32 while the average margin for standard memory has been above 40 percent. All DRAM manufacturers are staying profitable. The increasingly oligopolistic nature of the market and changes in market demand will stable the development of the industry in 2015.
In another research from December 04, DRAMeXchange said that NAND Flash industry value poised to grow more than 10% in 2015. According to DRAMeXchange, the shrinking NAND Flash production costs resulting from the NAND Flash industry's improving technology are expected to boost demand for various end products, including SSDs and eMMCs. NAND Flash industry value is expected to rise consistently in 2015, reaching as high as US$ 27.6 billion on annual growth of 12%.
As a conclusion of both DRAMeXchange's studies, I believe that Micron can surpass its forecast for the current quarter. Along with its latest quarter results, Micron forecasted revenue for the current quarter that exceed Wall Street views. Micron predicted a 5.2% to 11.1% increase in revenue to $4.45 billion to $4.7 billion.
Micron will report its first-quarter fiscal 2015 financial results on January 07. The company is expected to post a profit of $0.92 a share, a 19.5% rise from its actual earnings for the same quarter a year ago. However, Micron has been able to show an earnings per share surprise in each one of the last five quarters. Therefore, there is a good chance that Micron will continue to surprise by reporting better than estimated results also in the current quarter.
Valuation
According to its valuation metrics, Micron's stock is extremely cheap right now. MU's PEG ratio is extremely low at 0.68, the second lowest among all S&P 500 tech stocks, as shown in the table below. The PEG ratio -- price/earnings to growth ratio is a widely used indicator of a stock's potential value. It is favored by many investors over the P/E ratio because it also accounts for growth. A lower PEG means that the stock is more undervalued.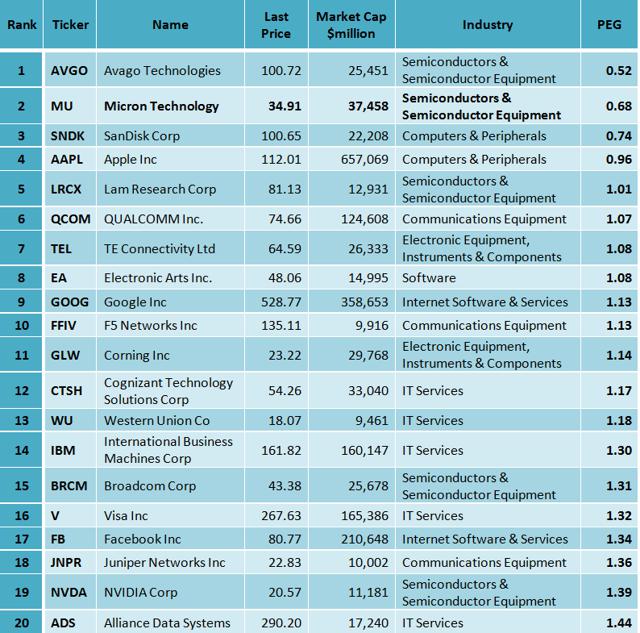 Furthermore, Micron has demonstrated significant improvement in its profitability; all trailing 12 months values of Margins parameters and Return on Capital parameters were above the five years' average, as shown in the table below.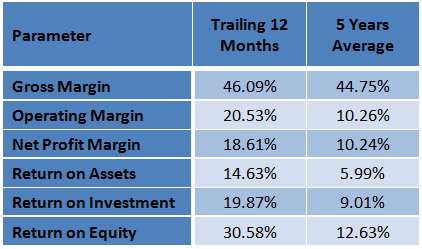 Data: Portfolio123
Conclusion
Two new studies from DRAMeXchange indicate favorable market conditions for the DRAM and the NAND memories. As a leader in memory technology, Micron will continue to benefit from a rise in demand for memory. Micron has compelling valuation metrics and strong earnings growth prospects; it has an extremely low PEG ratio of 0.68, the second lowest among all S&P 500 tech stocks. Micron has shown significant earnings per share surprise in each one of the last four quarters, and it demonstrated significant improvement in its profitability. All these factors bring me to the conclusion that MU stock still has room to go higher.
Disclosure: The author is long MU.
The author wrote this article themselves, and it expresses their own opinions. The author is not receiving compensation for it (other than from Seeking Alpha). The author has no business relationship with any company whose stock is mentioned in this article.