GM reawakened from the dead and bankrupt went public again at the end of 2010.  It was a heavily subscribed gigantic IPO and the stock did well peaking at around $39 during the first of the year 2011.  It began its descent and recently plunged below 32 on the news of its CFO, Chris Liddell would be leaing the company.  Barron's reported, "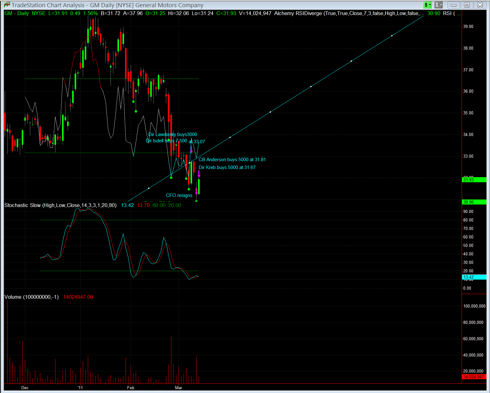 Fourteen months after becoming CFO of General Motors (GM), Chris Liddell is leaving the company. He will be replaced on April 1 by Dan Ammann, the company's senior vice president for finance and treasurer. The company gave no reason for the transition. Shares fell 3.3% in early trading.
Liddell joined GM in January 2010. He had previously been the CFO at Microsoft (MSFT). At GM, he was instrumental in engineering its IPO. He was also praised for strengthening the company's accounting methods — when it was emerging from bankruptcy, GM acknowledged "material weakness" in some of its statements, but the company's audit committee said this year that weakness had been fixed, CNNMoney noted.
The company's statement indicated Ammann had been groomed for this position. Ammann, who is 38, helped Liddell prepare the company's IPO and has helped set the company's financial strategy. Prior to joining GM, Ammann was managing director and head of industrials investment banking at Morgan Stanley (MS).
"I came to General Motors to be part of something great," Liddell said. "My objective was to help rebuild this iconic company and I am particularly pleased that through this process, we have also developed a strong successor in Dan Ammann."
Okay, that would freak me out on the surface but I had been watching GM with some interest.  First of all two directors bought 3,000 and 7,500 shares of stock shortly before the news broke.  Is it possible the Board did not know about Liddell's imminent departure?  I doubt it but it is possible.  Then the next two days after the stock dropped the Chairman of the Board and another director bought 5,000 shares each.   Okay that means they did know about it and this isn't a shock.
Now for the bull case:
Perhaps the CFO, Liddell, that left was sour he didn't get the top job.  After being CFO at Microsoft and GM, you have to wonder when he will be CEO at a major company.  Maybe he just wants to decompress for a while.
GM is already in a much improved competitive position.  Shorn of some debt and union benefits, it's far more competitive.  Besided its second largest US competitor, Chrsyler is gravely weakened.
GM is a strong brand (Buick) in China, the number one auto growth market.
The Japanese auto industry may be hobbled by the disaster in Japan.  Toyota announced all of its plants in Japan would be shut down on Monday.  With the hobbled power grid, it's uncertain how soon it will be up to maintaining its export posture.  Besides there will be substantial Japanese domestic replacement.
The US economy is clearly improving and GM should be a beneficiary of this.
Valuation is not stretched by any standards
The chart is showing a major divergence.  Note how the RSI trend line is headed sharply higher yet the stock is still going lower.  This is highly symptomatic of an imminent price reversal.
saxangle.com/