While most risk assets have rallied considerably on news of the ECB's LTRO, gold and silver have not. The precious metals have not rallied because the dollar has remained incredibly strong. A 6 month chart of the U.S. Dollar index is shown below.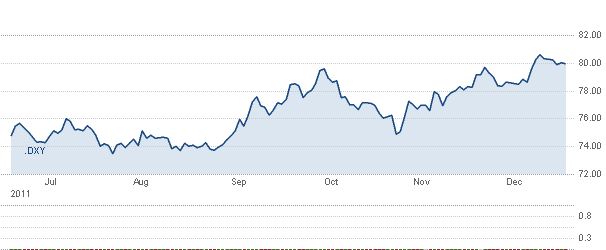 (cnbc)

As you can see, the dollar has not given up much of its recent gains. Gold and other precious metals have been moving inversely from the dollar. A 6 month chart of Gold is shown below.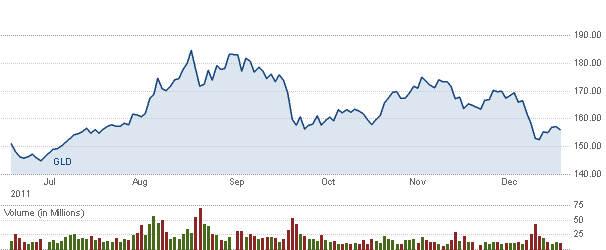 (cnbc)

Gold is near 6 month lows, this compares with the dollar which is at a 6 month high. So far, there has been no sign of a breakdown in the inverse relationship between gold and the dollar. However, this could soon be about to change. At some point, it is likely that gold reacts to the fact that the LTRO means increased liquidity. Increased liquidity will mean that money will find its way into gold like it has found its way into stocks already.

It is likely that the dollar will remain strong because of the LTRO. The LTRO has lead to an increase in the amount of Euros out there which has significantly lowered demand for Euros. So while the LTRO is bullish for the dollar, it is also bullish for gold.

In the short term, it is unlikely that the link between the dollar and gold will be broken. However, over the long run it is possible that this relationship will break down. Investors should wait for the moment when the dollar and gold stop moving inversely. This change could occur any time between the next few days and the next few months. Investors should not buy until this change occurs, because the dollar is likely still going higher in the short term which should keep gold under pressure for now.



Disclosure: I have no positions in any stocks mentioned, and no plans to initiate any positions within the next 72 hours.