Kellogg (NYSE:K) recently announced plans to acquire Pringles from Procter & Gamble (NYSE:PG) for about $2.7 billion in cash. This deal is just the catalyst needed to ignite a turnaround in K.
Shares of Kellogg have underperformed rivals over the past year as the company has struggled to meet earnings expectations.
K is down 0.7% over the past year. This does not compare well the performance of K's competitors.
Competitors performance over the past year
K earnings surprise history

Source: Nasdaq
K CEO John A. Bryant said of the deal:
The snack business is growing faster and has greater appeal internationally. Pringles, known for its signature canned potato snacks, is in 140 countries and offers the potential for increased scale in Europe and a good entry point into snacking in Asia and Latin America.

While Pringles had lower margins than other Kellogg businesses, the company had demonstrated a good track record of improving the operations of its acquisitions.
The Pringles deal will help to further diversify the company away from the slower growing cereal business, which K has depended on for most of its profits in the past. Pringles along with Keebler and Cheez-It gives K a solid foothold in the snack business for the future.
K has proved adroit at handling big deals in the past. Here is a case study on the success of the Keebler acquisition. Similar to when K announced the acquisition of Keebler, investors are not excited about the prospects of the Pringles deal. However, the Pringles deal will likely produce long-term value for shareholders like the Keebler deal did.
Overseas exposure
The Pringles deal will nearly triple K's overseas business. Having more exposure overseas is good for two reasons. Firstly, overseas markets are growing faster than the U.S. market. Secondly, an increased reliance on overseas sales means that K could benefit from a weaker dollar.
U.S. Dollar Index 10-year chart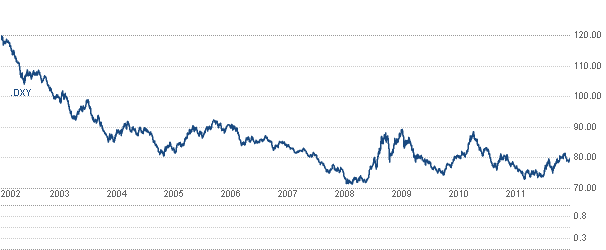 Source: CNBC
The long-term trend of a weak dollar will help K grow earnings from its international business in the future. As mentioned above, the Pringles deal will nearly triple K's overseas business.
Immediate earnings boost
K expects Pringles will add between 8 and 10 cents per share to 2012 earnings. Stronger earnings numbers will make K more appealing to growth investors.
Valuation
K trades at 14 times forward earnings. K is not a cheap stock, but it is not an expensive stock either. Companies in the food industry tend to trade at higher multiplies because their business is more stable. GIS trades at 14 times forward earnings, KFT trades at 15.2 times forward earnings, and HSY trades at 17.6 times forward earnings.
Dividend
K currently pays a dividend of 3.27%. The payout ratio is currently 50%. This relatively low payout ratio means that K will be able to maintain the dividend while it is uses the rest of earnings to pay off debt.
Conclusion
K's acquisition of Pringles will help K grow its international business and snack business. The Pringles deal will provide a catalyst for investors to buy K.
Disclosure: I have no positions in any stocks mentioned, and no plans to initiate any positions within the next 72 hours.