On Friday, February 11, 2011, Peoples State Bank, Hamtramck, MI was closed by the Michigan Office of Financial and Insurance Regulation and the Federal Deposit Insurance Corporation (FDIC) was named Receiver.  This makes it the seventeenth bank to fail in 2011 and the first in the state of Michigan. The FDIC entered into a purchase and assumption agreement with First Michigan Bank, Troy, Michigan, to assume all of the deposits of Peoples State Bank.
Safety Ranking
BankVega Safety Rank for Peoples State Bank, Michigan was 1. The safety score for peer banks (similar sized banks with a similar mix in assets and deposits) was 29.3. Thus we had placed this bank in the riskiest bucket among all commercial banks in the country. Further our safety score for this bank has been very low for the past two years indicating that this bank has been in decline for quite some time. In the last eight quarters safety ranking for this bank has been 5 or less. Safety ranking for its peer banks during this period has been more than 26. Thus, in our opinion, this bank has been amongst troubled banks for a long time and was also included in our list of banks most likely to fail in 2010.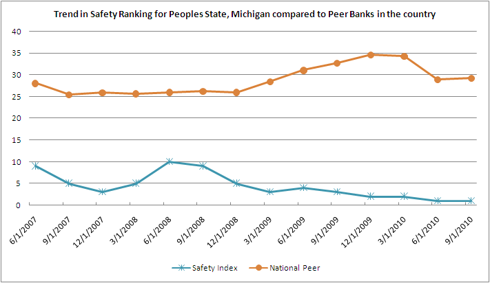 Recovery Rate
Our estimates suggest that this bank will be able to recover about 84.75% of its asset in post-failure auctions. In our opinion this is a relatively average recovery rate as compared to similar bank failures in the past.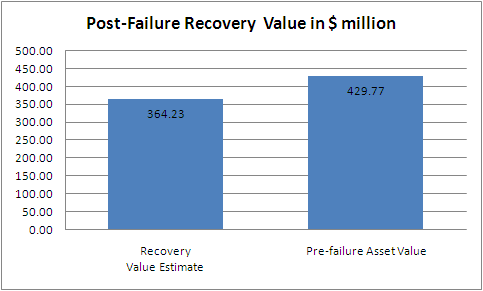 Enforcement Orders
FDIC had also recognised early, the bank's financial situation and issued an Order to Cease and Desist (FDIC-09-129b) on Sep 18, 2009. It accused the bank of the following "unsafe and unsound banking practices":
Operating with an inadequate level of capital protection for the kind and quality of assets held.
Engaging in hazardous lending and lax collection practices and Operating with an excessive level of adversely classified assets, delinquent loans, and nonaccrual loans.
Further it directed the bank management to "restore all aspects of the Bank to a safe and sound condition, including capital adequacy, asset quality, management effectiveness, earnings, liquidity, and sensitivity to interest rate risk."
However not satisfied with the Bank's "unacceptable" capital restoration plan, deteriorating condition, and the management's inability to return the bank to a safe and sound condition, the  FDIC issued it with a SUPERVISORY PROMPT CORRECTIVE ACTION DIRECTIVE (FDIC-10-598PCAS) on Aug 18, 2010.
Key Performance Indicators
The concerns raised by the FDIC are also reflected in the trends of BankVega Financial Performance Indicators for Peoples State Bank.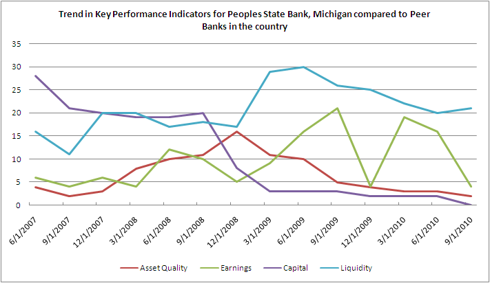 Capital: BankVega Capital Index for Peoples State bank was 0 while that of its peer banks in the country was 43. This shows that the bank was grossly undercapitalized in comparison to its peer banks across the country. In its Prompt Corrective Action Directive, FDIC had directed the bank to "sell enough voting shares or obligations of the Bank so that the Bank will be adequately capitalized after the sale". However BankVega Capital Index for the bank since 2009Q1 has been 3 or less (43 or more for peer banks). This shows that there was no improvement in the capital situation of the bank despite the FDIC directive.
Asset Quality: Mortgages (Residential + Other real Estate) comprise 70% of the bank's asset portfolio. Due to very high proportion of Nonperforming loans in its asset portfolio, BankVega Asset Quality Index for the bank was 2, 3, 3 for 2010Q3, 2010Q2 and 2010 Q1 respectively. This shows that the FDIC concerns about the bank's Asset Quality were justified as has been captured by our Asset Quality Index.
Earnings: The bank has had accumulated losses of around $45 million since 2008Q3. BankVega Earnings Index for the bank was 4 compared to a value of 52 for its national peer banks. Clearly, continued losses led to erosion of the bank's capital as noted by FDIC
Liquidity: The bank tried to maintain adequate liquidity with itself. Liquidity Index was 21. Although this was still much less than the national average of 54, liquidity was not one of the bank's immediate concerns. The failure of Peoples State bank, Michigan was primarily due to its inability in raising enough capital to cover for continued losses from its delinquent loans.