"Gangnam Style" is a single by South Korean rapper Psy. If you haven't heard of "Gangnam Style" you've probably spent the last month orbiting in outer space. The song was released on July 15, 2012 and since it has been meteorically rising and rocking the music industry and the chart topper was amongst the top 10 searches on Google in September 2012.
What's not so popular though is that Psy's father is chairman and CEO of DI Corp (Ticker: 003160: KS) and holds a 10% stake, while his uncle is vice chairman of the company's board and owns 15.8% of the shares according to a news report by Korea's MK Business News.
Since the release of the Video, DI Corporation's stock price surged 568.75% registering a yearly performance of 846%. South Korea's mass of retail investors, mainly middle-aged people (referred to as "ants") have a tendency to invest in theme stocks. They invest in stocks that catch the public attention because of a publicity stunt or big move regarding company executives, often entirely unrelated to the company's actual activities.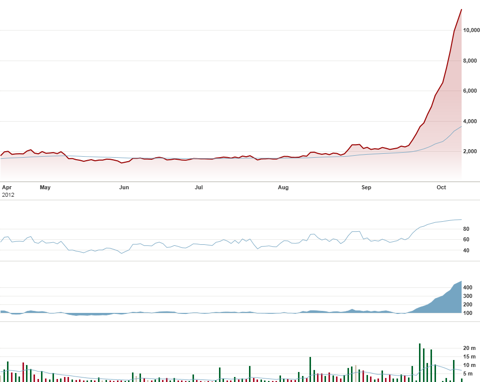 According to the Economist, one of the most common themes has been the marriage stock. When a company's family member weds a business conglomerate family member, the company's stock price rallies. In 2009, shares in a firm named Bolak ran up from 2,000 won to 9,000 won after the owner's daughter married into the family behind LG. However, the excitement soon faded and currently Bolak shares trade at 3,035 won. A recent example exhibits the rally of Ahn Chul-soo's company from about 20,000 won to 167,200 won per share as Ahn Chul-soo emerged a political force before crashing to 69,500 won.
South Korea's market regulations prohibit a company's stock from rising or dropping more than 15% in a day, and DI Corp has hit the limit-up consecutively in the last three days sessions. However, as with previous examples, DI Corporation is poised to a crash as soon as the euphoria dwindles.
The Korean Financial Investment Association has indicated there is no link between the DI corporation and Psy and that an official warning for investors may soon be released. The Association sees the surge as being unusual and is advising investors to be cautious because shares could drop as quickly as they rose.
Year over year, DI Corp. has seen net income shrink from a gain of 7.1B to a loss of 12.9B despite relatively flat revenues. DI reported sales of 87.03 billion Korean Won (US$78.32 million) for the year ending December of 2011. This represents a decrease of 2.7% versus 2010. The companies EBITDA contracted by 156.82%, its cash from operations dropped by 37.60% and its inventories rose by nearly 83%. The company has also not reported any major new developments or product releases in the past couple of months that would warrant any strengthening of the company's financials.
In its recent key developments, on the 7th of June D.I. Corporation announced that it has signed a contract with Samsung electronics Co. Ltd to supply semiconductor inspection device amount to 2,229,150,000 Korean won. However, this broadcast was countervailed by an amendment of a contract with Powertech Technology Inc. to supply semiconductor inspection device and inspection board to 9,218,270,713 Korean won from 17,315,565,823 Korean won on the 19th June but share price rose relentlessly
Looking into technical indicators, the RSI (Relative Strength Index) reached 96%, indicating that the company is aggressively overbought. Its peer group companies with the highest Net Income, Silicon Works, Eugene technology and Simm Tech are recording a negative performance during the last six month as shown in the below chart; Interestingly, DI corporation managed to more than quadruple in value despite weak financials.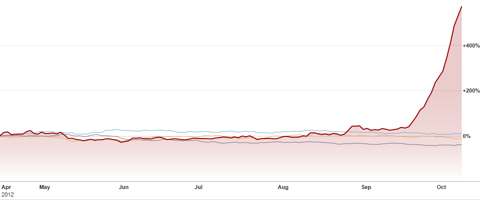 Company
Revenue
Net income
Market cap
Price/sales
Return on
investment
(5 yr)
Net Profit margin (5 Yr)
Payout ratio (5 yr)
Dividend
(5 yr)
DI Corp
--
--
355.03bn
--
-0.0012
-0.0019
94.08
--
EugeneTechnology Co Ltd
130.83bn
25.72bn
290.94bn
2.22
28.39
17.33
8.53
--
Silicon Works Co Ltd
301.49bn
32.88bn
430.19bn
1.43
--
--
--
44.29
Simm Tech Co Ltd
349.18bn
22.95bn
368.28bn
 
 
 
 
--
In Conclusion, DI corporation is clearly overvalued, and its recent rally is highly attributed to the"Gangnam Hit". All indicators and previous illustrations signal that the detachment of the company's market value from its fair value should soon converge. As soon as some speculators will start to cash in their profits, stock value will drop dramatically. A proper tactic is to wait until the share posts a daily decrease with an increasing volume before initiating a short position.
Disclosure: I have no positions in any stocks mentioned, and no plans to initiate any positions within the next 72 hours. I wrote this article myself, and it expresses my own opinions. I am not receiving compensation for it. I have no business relationship with any company whose stock is mentioned in this article.
Additional disclosure: I have no positions in any stocks mentioned, but may initiate a long short position in "DI Corporation" 003160: KS over the next 72 hours.