The past few weeks have been more than exciting for smartphone stock investors after Apple Inc. (Nasdaq:APPL) won their court case for patent infringement versus Samsung Electronics Co. (005930.KS). Google Inc. (Nasdaq:GOOG) received some brusies from the court ruling but is looking to overcome them today with Google's Motorola Mobility when they unveil their latest smartphone.
Nokia (NYSE:NOK) and Microsoft (Nasdaq:MSFT) will also unveil their smartphone on Wednesday with Amazon.com Inc (Nasdaq:AMZN) set to unwrap their new Kindle Fire tablets tomorrow. Smartphone enthusiasts and investors will get their chance to finally see at the September 12th scheduled event of the uber-secretive new Apple iPhone 5 along with the new iPad mini.
With investors doing everything they can to get shares in any company dealing with these new smartphones, especially the iProducts maker, will need to tread cautiously before buying stock, especially in the penny stock of iProducts accessory maker Domark International (OTCBB:DOMK).
One penny stock newsletter, AimHighProfits, covered the ascent of DOMK stock up until the point when DoMark's CEO suddenly resigned just prior to capitalizing on the launch of their SolaPad product. At that point, after subscribers had already seen 674.6% gains in the penny shares, AimHighProfits began issuing warnings to avoid the stock. Well, DOMK has resurfaced.
Domark International, through its wholly owned subsidiary, SolaWerks Inc., is preparing to release updated editions of its revolutionary SolaPad and SolaCase cover and solar charging systems that fit all versions of the Apple iPad and iPhone. Based on overwhelming customer feedback, SolaWerks has refreshed its SolaPad and SolaCase with new features, including softer covers among other features to be announced.
Furthermore, SolaWerks intends to release a new version of the best-selling SolaCase to fit the soon to be released Apple iPhone 5. But is it all just a chance to take advantage of unsuspecting investors in the "hype" of the iPhone 5 launch?
Apple generated record sales with its last device launch, the iPad 3, similar to the record launches of its previous iProducts. In July 2012, Apple surpassed all previous sales records with 14% month-over-month sales growth compared with an average of 8.5% over the past seven years. Domark International made an unknown amount off the sale of their iProducts since they have not filed any financial data with the SEC since the three month period ended February 29, 2012, about two weeks before DOMK stock began trading on the OTC.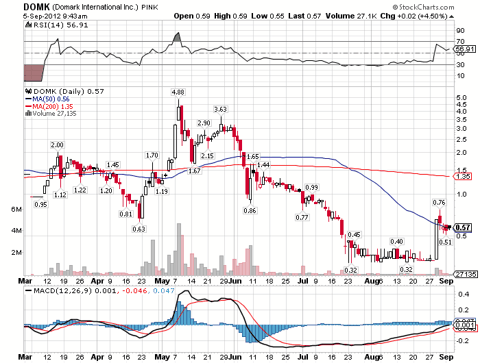 Prior to the iPad 3 launch earlier this year, Domark International owned and operated Armada Sports & Entertainment, Inc., a sports marketing company engaged in owning, developing and conducting made for television sports & entertainment events such as The Million Dollar Invitational's, The World Putting Tour Championships, and the Celebrity Challenges.
To capitalize on the hype created by Apple, the company created a subsidiary, SolaWerks, whose management, sole director Michael Franklin, quit just days before the release of their Solapad and SolaCase product refresh.
The SolaCase and SolaPad systems by SolaWerks cover and recharge the batteries of Apple's iPhone and iPad devices using solar power. Each SolaPad or SolaCase cover contains a large, high-efficiency solar panel on its reverse side, plus an additional internal battery to keep Apple devices charged at all times. Future versions are being engineered to incorporate new features and capabilities designed to make a customer's iPhone or iPad much more powerful and functional. However, the technology is far from new, just like the product itself.
The chargers, which were for the iPhone and not the uber-hyped SolaPad for the iPad, were supposedly ordered and received, tested and functional. However, the solar chargers clearly had"VOLT" on the top and came with a "CE Rating" on the interior tag.
These "VOLT" solar chargers being pawned off by DoMark under the "SolaWerks" name are the exact same ones the surprisingly resigned CEO and President of DOMK, Michael Franklin, was pushing with Go Solar USA (GSLO) in January, 2011. Go Solar USA was suspended by the SEC in June, 2011 at the same time as Evolution Solar Corp.(EVSO), another company Franklin was heavily involved with. EVSO was suspended after questionable press releases.
According to ABI Research, the Apple accessory market, dubbed the "Apple Economy," accounted for $5 to $6 billion of the estimated $34 billion global mobile device accessory market in 2011!
If DOMK captures even a tiny piece of that market, it could spell monumental earnings for this $0.50 company. IF INVESTORS fall for the same scam again, it could spell monumental earnings for this old technology and the insiders holding the stock.
Disclosure: I have no positions in any stocks mentioned, and no plans to initiate any positions within the next 72 hours.