I found out about this one oil stock back in March when it was trading at $0.365 per share, a penny stock for all intents and purposes. Now we've all seen the penny stocks that are going to change the world with their product that can make your car run on water, cure cancer or solve any one of a million other impossible tasks, but Save The World Air, Inc. (OTCBB:ZERO.OB),(OTCBB:ZERO), ("STWA") is different and here's why ZERO.OB could be the best performing oil stock of the year.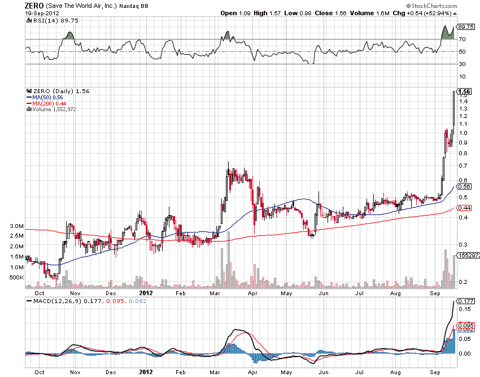 Let's look at the original players of STWA. The BOD consisted of the Erin Brockovich's law team of Ed Masery and Eugene Eichler, CFO of the law firm, with Erin Brockovich as VP of Environmental Affairs. They even pulled Bobby Unser Jr. in. The law firm Masery, Vittero and Eichler split the PG&E Corp. (NYSE:PCG) settlement of $140M, so these people did not need money. They truly wanted to make a difference by actually changing the world in some manner thanks to Erin.
http://www.theacorn.com/news/2005-01-05/Community/036.html
Also on the BOD, Nathan Sheldon who joined K&N Engineering (Who hasn't seen a K&N Air filter?) as President and part owner. In 2002 he sold his interest in K&N Engineering and founded S&S Marketing which is engaged in the automotive aftermarket parts rep business which he currently operates. Ever heard of S&S motors on a Harley-Davidson (NYSE:HOG)?
Charles Blum recently resigned as President of STWA. Mr. Blum spent 22 years as the President/CEO of the Specialty Equipment Market Association (SEMA). The current CEO of STWA is Cecil Kyte who joined the Company in 2007 to slowly replace Gene Eichler.
Their Technology:
STWA, Inc. develops and commercializes energy efficiency technologies that assist in meeting increasing global energy demands, improving the economics of oil extraction and transport, and reducing greenhouse gas emissions. The Company's intellectual property portfolio includes 24 domestic and international patents and patents pending, which have been developed in conjunction with and exclusively licensed from Temple University. STWA's technologies include Applied Oil Technology™ (AOT™), which is designed to improve oil flow through pipelines. AOT™ has been proven in U.S. Department of Energy tests to increase the energy efficiency of oil pipeline pump stations. ELEKTRA™ improves diesel engine efficiency for industrial diesel engines, as well as diesel-powered trucks, trains, marine vessels, military fleets and jet turbines.
The AOT™ was developed by one of the top three physicist's in the world, Dr. Rongjia Tao, who is the chairman of physics at Temple University. The way STWA found Tao was via the U.S. Government who realized that their technology was sound by issuing them a $500,000 grant for further research. Since Dr. Tao specializes in reducing the viscosity in fluids, he jumped at the chance. Actually, STWA took up Temple University's entire physics department for roughly one year supporting Dr.Tao's success.
2012 has thus far been a pivotal year for STWA on many fronts and has culminated in three (3) published reports by the U.S .Department of Energy ("DOE") and the Rocky Mountain Oil Field Testing Center ("RMOTC") proving that their platform energy efficiency technology not only works, but has proven to work beyond their dreams.
The 80% improvement in efficiency for the transport of oil across pipelines is huge and quantifiable.
AOT™ can increase oil flow up to 80%!
http://content.stockpr.com/stwa/media/4fdf5e9e8f0f1ea463d9986dc5e0507d.pdf_
STWA's testing at the DOE's RMOTC was funded in part by the Pipeline Research Council International ("PRCI") which made a contract payment to STWA in the third quarter of 2012. The PRCI's web site states, "The Pipeline Research Council International is the preeminent global collaborative research development organization of, by, and for the energy pipeline industry." PRCI is dedicated to assuring the maximum efficiency of research development and deployment through a highly-leveraged funding model of member and external funding, information sharing, cooperative project development, and the broad dissemination and application of its research results.
In summary, STWA's testing was further funded by the leading Pipeline Research Council International which is an organization of 39 of the world's largest oil companies formed with the sole intent of finding technology to reduce drag in oil pipelines. This is something the PRCI has been trying to do since 1952.
How much money can STWA help oil companies make?
Increased Flow Capacity = Value
• Every 1% Throughput Capacity Increase at $75/bbl = $136M+
For each 1% increase in crude oil flow capacity on a 36" wide 2,000 mile long pipeline with a capacity of 500,000 barrels of oil per day, that pipeline could, theoretically, produce an extra 400,000 barrels a day, which equates to an additional value of $136,875,000 per year with oil at $75 per barrel.
• Every 1% Throughput Capacity Increase at $100/bbl = $182M+
On that same hypothetical 2000 mile long pipeline with oil at $100 per barrel, the increased transport potential for every 1% throughput capacity increase could be worth approximately $182,500,000 per year.
Estimates of Approximately $1 billion a day in profit just for the U.S. market have already been cast out, and STWA works on a 50%-50% payment basis.
STWA's AOT™ holds the potential to become an extremely high-margin, high-demand product for pumping station fuel savings as well. In a recent market case-study, research found that the Trans-Alaska Pipeline System ("TAPS"), an 800-mile, 48" pipeline that originates in Prudhoe Bay, AK, and terminates in the Port of Valdez, consumes between 30,000 and 60,000 gallons of fuel, each day in each pump station. If one assumes a cost of $3.16 per gallon of fuel oil, that 80% savings equates to $17,848,880 per year in savings per pump station. There are 11 pumping station on the Trans Alaska Pipeline System and 662 stations in the US.
STWA IS Green Energy
According to the EPA, the average passenger car emits 11,450 lbs/CO2 per year. An efficiency improvement of 80% would yield a reduction of up to 385,768,500 lbs/CO2 from each pumping station on the TAPS. That would be the equivalent of taking 31,023 cars off the road by having each pump station operating more efficiently.
Secured Platform Technology and Future Intellectual Property Rights
In the third quarter of 2011, STWA signed an exclusive licensing agreement with Temple University reflecting updated technologies and terms covering intellectual property related to the Company's products. The new licensing agreement creates a convergent, non-divisional relationship with Temple University based largely on the grant of exclusive rights and co-ownership of future Intellectual Property. Temple has since been paid over $1.2 million, so STWA now owns the rights to the patents outright.
What's happening with STWA now?
In the beginning of 2012, STWA entered agreement with China to install the AOT™ on their pipelines, but China required their testing first.
http://ir.stockpr.com/stwa/press-releases/detail/163/stwa-begins-pipeline-product-certification-process-with-
tdc-and-china-petroleum-pipeline-administration
STWA finished the lab testing in August, 2012 and the next phase was to install the AOT™ in a closed loop test at the China Petroleum Pipeline Administration's Pipeline Flow Assurance Test Center in Langfang. This was completed successfully when STWA raised $500,000 through convertible notes that lasted just five days to manufacture AOT™ units to install a 300 kilometer, 27" pipeline for the final Phase III commercial implementation of the AOT™.
With STWA's AOT™ on a 300 kilometer stretch pipeline in China and the first shareholder meeting in over three years set to take place Friday, September 21, 2012, I hardly think STWA would schedule a shareholder meeting at the ritzy "Santa Barbara Club" in Santa Barbara, California to have hundreds of upset shareholders tossing out complaints as to why, until recently, the share value has hardly moved in a decade. I believe that a sales announcement since, on September 18, 2012, Cecil Bond Kyte, CEO of STWA, elected to exercise a Warrant issued to him covering 500,000 shares of common stock at an exercise price of $0.25 per share, $125,000.
After Wednesday's closing price of ZERO at $1.56, Kyte is sitting on a 524% gain on that transaction alone. Followers of the penny stock newsletter AimHighProfits found out about ZERO stock back in March when the share price was just $0.365. That's a 327% gain at its current level.
STWA's AOT™ is not only perfect for the Bakken shale oil projects, it's a must. Shale oil is too expensive to transport through pipelines because of its thickness. It costs one barrel to move three which is why they are loading them on rail cars instead. STWA's AOT™ makes transporting shale oil possible because it turns it into the viscosity of sweet, light crude. STWA's AOT™ is a game changer for the U.S. and the world. Imagine being able to almost double the size of every pipeline without having to pull permits or construct new pipelines. Get the picture?
Disclosure: I have no positions in any stocks mentioned, and no plans to initiate any positions within the next 72 hours.