If you are a penny stock traders, chances are one or two of the stocks you played last week after Barack Obama defeated Mitt Romney was involved somehow in Cannabis (Marijuana). Tuesday's passing of Washington's and Colorado's Marijuana legalization initiatives as a milestone to ending the prohibition of cannabis as well as a potential boon for cannabis related businesses.
Although more than ten Company's on the OTCBB (see list here) are focused around some version of the drug, there has been one clear winner thus far: Cannabis Science Inc. (OTC: CBIS.OB). AimHighProfits.com pointed out CBIS to its readers back in the beginning of 2012 when its share price was well under $0.02 a share and watched it rise to an all-time high of just under $0.25 for gains of over 1,000%.
It looks like AimHighProifts, a penny stock newsletter that covers any stocks under $5 on any of the U.S. exchanges, was right again on their prediction for the Colorado Springs, CO based medical marijuana research and development Company following the Tuesday voting results:
"The top 2, MJNAand HEMP, have gained dramatically over the last 5 weeks and could see a chance to sell out since no new news will be able to push them after today. CBIS, one of our biggest winners at the start of the year, is likely the one that could provide, once again, the largest long-term gains."
On Friday, Cannabis Science's CBIS was the highest traded of all the marijuana stocks, but it lead the OTC market listed stocks in trades closing up 29.71% at $0.0895 after $4.44 million dollars, 51.03 million shares, traded after more than 3180 trades were executed.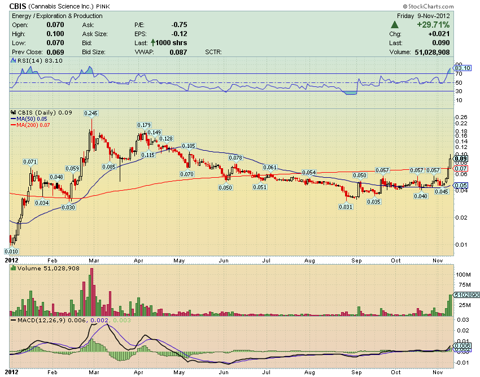 According to the Denver Post on the Colorado Amendment, "The amendment will allow those 21 and older to purchase up to one ounce of the drug at specially regulated retail stores. Adults could grow up to six marijuana plants at home." This is where Cannabis Science separates itself from the "stoner" focused marijuana stocks and why CBIS stock will be a better long-term winner than the others.
The Company works with world authorities on phytocannabinoid science targeting critical illnesses, and adheres to scientific methodologies to develop, produce, and commercialize phytocannabinoid-based pharmaceutical products. In sum, Cannabis Science is dedicated to the creation of cannabis-based medicines, both with and without psychoactive properties, to treat disease and the symptoms of disease, as well as for general health maintenance.
Media outlets like CNBC have recently reported that the estimated revenues for manufacturing and equipment in the medical marijuana industry for 2010 are $150 million. In addition, the estimated size of the marijuana market if it were to be legalized in the U.S. is $14 billion according to the 2010 Cato Institute paper 'The Budgetary Implications of Drug Prohibition'. Legalization could yield some $8.7 billion in tax revenues and enforcement cost savings.
Although it may take more than 12 months for the legalization of marijuana to take part in these two states, the federal government still considers it to be a federal offense. Those issues will surely be headlining newspapers and blogs throughout the country if and when they are addressed. However, the medicinal uses of the drug are where CBIS stock is bound to make the impact which drives it's share price higher. How so? By focusing their business on cannabinoid medicines approved through the FDA along with non-psychotropic medicines for the naturopathy market.
The Seattle Times state financial experts estimate the new legalization could raise nearly $2 billion in tax revenue over the next five years, with the money going toward education, health care, substance abuse prevention and basic government services. There really is no telling how "high" CBIS stock price will go, but my money is that it breaks its 52 week high of $0.2455 set back on February 29, 2012 before the end of 2012. AimHighProfits knows penny stocks and if they are in love with CBIS, so am I.
Disclosure: I am long OTCPK:CBIS.
Additional disclosure: No compensation of any form was given or is expected to be received for investor communication services on CBIS, MJNA, or HEMP.