After just three days of the ongoing Awesome Penny Stocks pump on Superior Venture Corp. (OTC:SVEN), it already bears the caveat emptor status, skull and cross bones symbol on OTCMarkets.com. Despite the fact that SVEN stock was expected to dip in price on Thursday, the share price showed superior support at $0.275, still a level by many to be severely over-priced.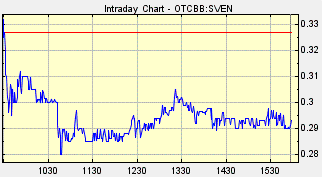 AimHighProfits has been covering all of the Awesome Penny Stocks picks throughout 2012 and probably has the best coverage available for those looking to make some money off of the SVEN scam. Just one day prior to the announcement, they covered the previous picks in detail in an article titled: AwesomePennyStocks | What To Expect When You're Expecting
Thursday's slight dip in price on SVEN shares may be the lowest level traders have been able to get in at since the day one announcement, but as detailed by AimHighProfits, the real dip is yet to come. Actually, prior to the knowledge of Superior Ventures and their Ilustrato Pictures being the "pick of the year" for Awesome Penny Stocks, AimHighProfits did a complete profile on the company on November 10. The article can be read in its entirety here:
http://www.aimhighprofits.com/sven-could-superior-venture-be-a-blockbuster-in-china-20752
After the closing bell on Thursday, the company issued a press release highlighting a feature film development deal for domestic motion picture co-production with Beijing-based Hairun Pictures with a total budget value of $8 million. The deal, coincidentally, is worth just $2.3 million more than the total dollar volume traded on SVEN during the Thursday trading session: $5,705,831.
There are a lot of expectations riding on the SVEN scam for many, especially for penny stock newsletters that are riding the coat tails of Awesome Penny Stocks calling SVEN their pick to end 2012 with. Will SVEN stock outperform the picks which began the year, North Springs Resources (OTC:NSRS) or Sunpeaks Ventures (OTC:SNPK), or will it be a fizzler like TagLikeMe Corp. (OTC:TAGG)? For now, only time will tell, but the closing price on Friday will dictate what to expect of SVEN stock price come December.
Disclosure: I have no positions in any stocks mentioned, and no plans to initiate any positions within the next 72 hours.