In just a few weeks, the big car manufacturers like Ford Motor Company (NYSE:F), General Motors Company (NYSE:GM) and Toyota Motor Corporation (NYSE:TM) are about to see why investors have been so bullish on the penny stock of Echo Automotive, Inc. (OTC:ECAU).
While the Prius made an impact on the consumer market, there's a new technology that Echo Automotive has perfected which turns any fuel driven vehicle into a semi-hybrid. That solution is called EchoDrive... the technology currently being tested (and about to be mass produced) by the Company which is targeting the Fleet Industry, aka the work trucks that service the U.S. like FedEx, UPS, Joe's Plumbing, etc.
Shares of ECAU stock have already risen over 100% after having an impressive Friday, leading all other OTC listed penny stocks, with $17,647,146 in dollar volume on 10,748,320 shares traded.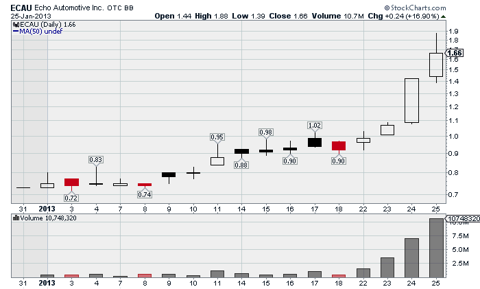 AimHighProfits first uncovered ECAU stock back when it was trading at just $0.74 when researching how this automobile drivetrain adds a battery-powered electric motor to traditional combustion engine - as an after-market piece of equipment - thus making a wide variety of vehicles 'hybrids', by definition. Instead of the costly manufacturing of other hybrid vehicles like the Toyota Motor Prius and Ford Motor Company's Fusion, Echo Automotive has a real shot with their "bolt-on and go" feature at changing how fleet industry vehicle manufacturers look at fuel-saving research and design.
Echo Automotive announce on Thursday that they are working on commercializing the bolt-on drive system, the EchoDrive, which is first taking aim at the small fleet (5 trucks or less) market. That's a market currently made up of 6.2 million vehicles, which is more than enough to keep ECAU busy for several years.
Only time will tell, actually the first week of March to be exact, if the system is received well by the fleet industry leaders in attendance at the National Truck and Equipment Association trade show scheduled to be held in Indianapolis, Indiana March 6-8, 2013.
While it might appear to be inconsequential to those not so familiar with hybrid electric vehicles, for those who have their finger on the pulse of demand for fuel-efficient vehicles, it's a huge deal. For those that trade penny stocks, getting the alert at $0.74 on ECAU from AimHighProfits was a huge deal as well.
Disclosure: I have no positions in any stocks mentioned, and no plans to initiate any positions within the next 72 hours.