Since it started trading on January 11th, the penny stock of Green Innovations Ltd. (OTC:GNIN) has been an unstoppable beast of an investment. Traders who had their research done early to better understand what risks were involved to balance the upside potential were eager to get their hands on GNINstock as early as November when AimHighProfits first uncovered the Company.
Imagine, being able to get into GNIN stock as low as $0.60 for gains of over 358%. (see Chart)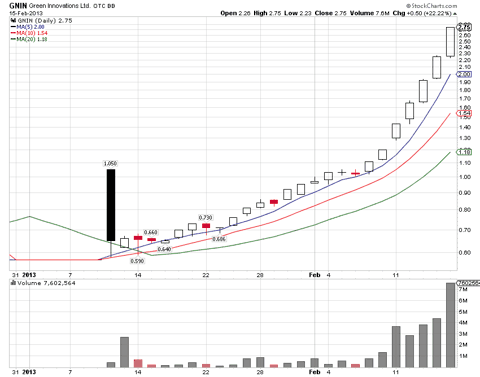 Well, all of that forward momentum is about to take a tremendous hit as the awareness campaign has switched gears from just call centers and snail mail advertisements to a full blown mass marketing campaign - the signal to sell and run.
To celebrate President's Day, the group called Brighton Markets out of Kowloon, Hong Kong, issued their entire subscriber list alerts on Green Innovations' GNIN claiming the timing is absolutely perfect to demonstrate at least 100% gains to our subscribers in the immediate future.
That claim could not be further from the truth.
Back in August, the same group was responsible for a similar campaign on Punchline Resources (OTC:PUNL) which went on for weeks out of call centers before hitting the mass marketing campaign of snail mail and email alerts. After seeing gains of nearly 200%, the stock was attacked by short sellers to crumble leaving many unaware shareholders left holding the bags. (see Chart)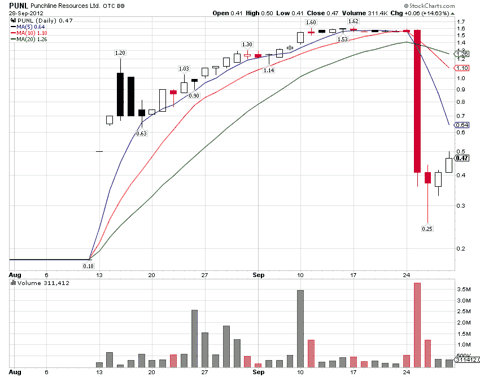 A similar situation is brewing with GNIN.
The alerts issued highlight how Green Innovations Ltd. focuses on filling a void within today's economy by delivering eco-friendly, biodegradable products to consumers in North America - products that consumers can identify with as having a positive impact on their environment.
Highlights include article excerpts from The New York Times which talk of the benefits of bamboo as quantified on a large scale. Since becoming a public company less than 45 days ago, GNIN has made considerable strides towards becoming North America's largest distributor of green products.
While all that might be great, there is no way this bamboo paper distributor can hang on to a market capitalization of $275.00M. At its current price level, it would be a stretch to GNIN hit $3 but a clear indication of a ceiling before shorts gather together and send the share price closer to its true valuation which will ultimately wind up near the level where PUNL stock trades today, $0.27.
Ladies and gentlemen, welcome to the world of discovering something before the crowd!
Disclosure: I have no positions in any stocks mentioned, and no plans to initiate any positions within the next 72 hours.