The penny stock world is quite peculiar sometimes. Revenues are, for the most part, meaningless as compared to big board stocks where as what a company plans to do, despite having no cash to do it, is often times worth its weight in gold. Sometimes you don't even need to file updated financials as long as you have a good story to sell.
If you really want to see your penny shares fly through the roof, just mention the word "marijuana" and its sure to catch fire.
Such is the case for the caveat emptor designated penny stock of SK3 Group Inc. (OTC:SKTO).
Nearly $3 million worth of SKTO stock traded on Friday after the Company announced that their recent acquisition, Medical Greens™, has booked over $30 Million in annual licensing, management and logistic services throughout California after only its first full week of operations under SK3 control. Since mentioning the name, Medical Greens™, on March 13, SKTO stock has gained over 1,047% and closed on Friday at a new 52 week high.
Sounds incredible right? Almost as if there is some kind of OTC magic casting a spell on SKTO. Well, either you're as high as a kite to believe this, or your ballsy enough to walk up to a cop in California with a lit joint in your lips if you think this BS PR can keep flushing out new highs everyday.
SKTO YTD Stock Chart: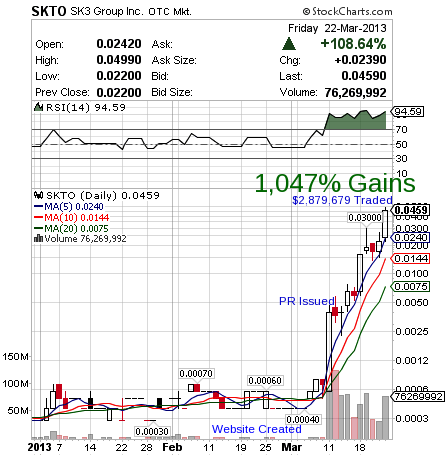 SKTO stock was trading at just $0.004 on March 13 with sporadic volume at best for much of the course of 2013. Suddenly, the scam ticker came to life again with a press release after announcing that a newly created website with ties to a UPS store in Pasadena, California, http://medicalgreens.com, is SK3 Group's new direction: Medical Marijuana.
While many other penny stocks have seen ample opportunities to collect on the hype of marijuana legalization, even from prior to the November elections where Colorado and Washington State said "Yes", the Robert Hipple and Henry Jan scam promoted ticker, SKTO, which spammed their way to selling worthless shares of Healthcare of Today Group for years, decided to join the group of marijuana stocks:
Top Marijuana Stocks
What's more than peculiar, actually fraudulent, is that, after not doing any filings with OTCMarkets for more than 2 years, the PR announcements are signed by A. Mayor. Short for Artemus Mayor, Mayor is the Vice President of (non-existent) Sales for HealthCare of Today. Other insiders like Jason Fu., creator of all of Hipple and Jan connected websites in the past, is also directly linked to Medical Greens.
The website for Medical Greens, incubated on February 25, 2013 (see here), was not even completed when the first news came out on March 13. After announcing on Friday that more than $30 million in contracts have been secured (see here) in the first month under control by SK3 Group, the website still offers nothing of detail to secure the roughly $10 million of SKTO stock which has been traded in the last 10 trading sessions.
Pumped incessantly by well-known names on iHubwho have historically worked collectively with fraudulent CEO's to revive old ticker symbols, few have even gone out to check that the address used by Medical Greens company is a UPS mailbox located in Pasadena, CA. (see here)
Regardless of the fact that Medical Greens is not a registered business entity, that their presence on the web never existed until a month ago, or that they are even a trademarked name as they claim, without filing updated financials or backing up their story strong enough to hold water, the SKTO scam has been extremely hot heading into the weekend.
Although some of the iHub message board pumpers claim to have taken $500 and turned it into more than $40,000, chances are that, come next week, the early "April Fools" joke is released and share prices of SKTO stock come crashing down from its augmented reality.
Disclosure: I have no positions in any stocks mentioned, and no plans to initiate any positions within the next 72 hours.