The official launch of the Well Power, Inc. (OTC:WPWR) pump and dump commences today and penny stock traders are praying to their trading platforms that StockTips has learned from their mistakes of the past and can bring them some love this week which ends on Valentine's Day. Expecting to be compensated $4 million for their efforts of making traders believe WPWR stock will rise from the ashes of Friday's crash because they have the solution to the biggest problem America's oil & gas drillers face - flare gas.
However, although the website was launched just last week and the penny stock alerts issued just last night, the Company which was originally designed to manufacture a fully automated frying wok to be used as an automatic fried rice cooker has a very good chance of putting traders into the frying pan which is cost-averaging if the first 3 days is anything like how Tiger Oil and Energy, Inc. (OTCPK:TGRO) began the year: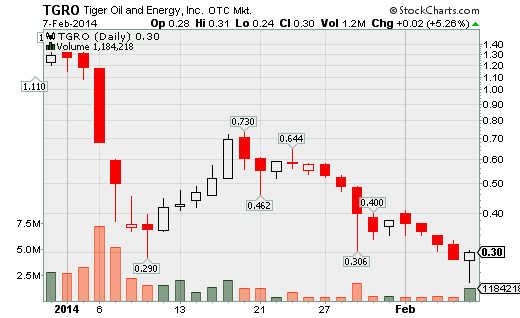 Everyone knew WPWR was going to be the next pump by StockTips because when they initially alerted on TGRO stock on January 2, claiming that "As I have said all along, I would not be surprised to see TGRO close off this week at over $2.00 and then $3.00 shortly there after." the image banner within the alert was:

Well Power took over the shell corp. of Vortec Electronics, Inc. which now allows for sole-director Cristian Neagoe to display all that he learned about clean technology production while at the University of Bucharest in Romania. With rights from ME Resource Corp. to an invention which relates to a method and an apparatus for producing chemicals and/or heat/energy and/or water from a methane-containing gas, WPWR stock went on watch to hopefully not pull an Awesome Penny Stocks' VLNX move on traders. WPWR became of great interest after effectuating a 50-for-1 split back on January 6th.
As was published by AimHighProfits on January 31 when WPWR was still trading as VOELD:
On the same day, with legal representation provided by Cane and Clark LLP (yeah, you know what that means), the newly created Well Power Inc. signed a non-binding Letter of Intent with Cristian Neagoe to acquire a license to a technology which reduces CO2 emissions and creates revenue streams with minimal capital expenditure - an economical, mobile and scalable Micro-Refinery Unit ("MRU") to process raw natural gas into Green Fuel™ and clean power.

A $400,000 non-refundable license payment is all that it cost for the exclusive distribution rights which will allow for the concept that it will be used to engineer and develop a Territory specific, full-scale pilot project. The target market will be oil and gas producers, oil and gas operators, oil and gas service providers.

This deal done with ME Resource Corp. should allow for Neagoe to shine since he has a degree in physics from the University of Bucharest in Romania, a PH.D in Theoretical Chemistry form the Romanian Academy of Science, and, just over a year ago, earned a Chemical Engineering degree from the Ecole Polytechnique Montreal.

Summary so far: Romania and French Speaking Canada educated Neagoe, with the help of some attorneys well linked to some shady penny stocks, took over a Malaysian based company that was supposed to create an automated fried rice cooker for commercial use.

So, beyond the non-refundable $400,000 license payment ($100,000 due in 30 days, $300,000 due in 90 days) - which Well Power doesn't have available, each one of these MRU's are due to cost $800,000 per.For just under $1,000,000 a unit, they'll get a container sized unit with the capability to process 100 mcf/day of natural gas into engineered fuels (up to 10 bbls/day), clean power (min 35kW/max 70 kW) and fracking quality water (up to 80bbls/day).

Pretty good deal for those Filipinos.

Oh, you didn't know about all the Filipinos involved too? Yeah, when they were setting up the shell corp. that eventually became Well Power Inc., a couple dozen or so Filipinos owned between 25,000 and 50,000 pre-split shares of WPWR stock - the 975,000 pre-split (48,750,000 post-split).

So, Cane and Clark LLP, a Romanian born sole director, a 50-for-1 stock split, 48,750,000 parked in the name of a couple dozen Filipinos based around Manila, Philippines, and the first day of prints now having pushed the share price of WPWR stock to half a buck, how this one takes off from this level will be a miracle!
Since the time that AimHighProfits issued the watch for WPWR shares to come down, they have dropped from 0.51 to 0.055, a decline of -89.22%. The biggest move came late Friday when, starting at around 2:00 PM EST, 9,160,700 shares of WPWR traded, driving up to as high as 0.18 before the bottom collapsed to bring down the share price to as low as 0.05.
The move since January 31 has forced all that were banking on front loading into a guaranteed promotion of WPWR stock to rethink their strategy moving ahead since the days of being able to rely on such a method simply do not exist since Awesome Penny Stocks disappeared.
With the highlight of the campaign being focused around how flare gas from oil and gas exploration efforts is estimated by The World Bank to waste $50 billion annually, the "flare" to getting into WPWR and out with a profit could have been set up perfectly by the manipulated price drop Friday afternoon down to 0.055. Since TGRO stock did run from as low as 0.22 on December 9, 2013 to as high as $1.59 prior to the start of 2014, crashing for the first 3 days of the year before working its way up from the low 0.30's to as high as 0.73, Seeing WPWR stock hit 0.15 before its time to buy roses for your lover is a real possibility. After 0.25, you could be buying the roses for your money's funeral so beware.
Disclosure: I have no positions in any stocks mentioned, and no plans to initiate any positions within the next 72 hours.