Today, OTC traders, specifically penny stock newsletter subscribers, were treated to a long awaited stock tip from the same group that brought them Amwest Imaging (AMWI), North Springs Resources (NSRS), Sunpeaks Ventures (SNPK) and Great Wall Builders (GWBU). Today's special stock tip was that of a pink sheet listed company with no cash or revenues as of June 30, 2012:
Vision Plasma System (PINK:VLNX)
The drama began about two weeks ago when the group thought it would be of an advantage to traders who were willing to cough up $149 for a month, $999 for a year, to get an alert on their stock pick in advance. The stage was set and, like in any good snake oil sales pitch, an message was issued last night to the tune of:
IMPORTANT RULES TO FOLLOW:

1. DO NOT under any circumstances leak the pick. Don't tell your friends, family, colleagues or anyone about it. We are monitoring all the forums (ihub, etc). All the blogs, and other newsletters (including the ATA newsletter). We are aware of many subscribers' intention of leaking the pick as soon as it comes out, and we strongly advise against it.

If the pick is leaked and we find out about it WE WILL cancel and postpone its announcement. This is not a threat. It is a fact.

If you want to help your friends so much just tell them to subscribe to the premium newsletter and they can be part of this too.

2. Ken Swift make sure to follow rule No. 1 and you will be fine.
Ken is a moderator of a message board which hosts a large following of active penny stock traders who follow this particular group.
Within 30 seconds of the premium service release, emails, tweets, text messages and message board posts went viral with the details of the alert which was supposed to be kept under wraps.
Hi Everyone,

We are pleased to announce our newest pick VLNX

We will be sending you extensive information about the company later, but for now you may visit the website at VisionPlasma dotcom

Vision Plasma Systems, Inc. is a technology company that has developed a Mobile Plasma Gasification System for the Complete Remediation of Hazardous Wastes. The power and opportunity in Vision Plasma System's proprietary Arc Master I lies in mobility and flexibility. The system can be located close to the source of hazmat, which largely eliminates the need for long haul transportation of dangerous materials on highway,rail and barge systems. The system also can be up and operating within one hour of arrival on site.

Enjoy this newest pick!

Happy Trading!
Funnily enough, as over $80 million dollars has traded on this company as of mid day.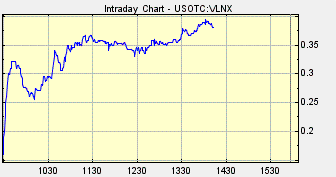 $80 million in volume and a 175% gain even though they are not an SEC filer, had $0 cash as of June 30, 2012, had $0 revenues as of June 30, 2012, had $0 cash as of June 30, 2011, had $0 revenues as of June 30, 2011, and are listed at the same address that North Springs Resources (OTCPK:NSRS) was once listed at prior to moving to Washington State.
So what is likely to come of this recent trading activity in VLNX stock? Over the last 12 months, the group has produced the following results:
2012
GWBU May 15th, 1.22 - Highest Price: $1.95 (60%), Jun. 7
SNPK Mar. 8th, 0.42 - Highest Price: $2.40 (757%) Apr. 18
AWSR Feb. 23rd, 0.28 - Highest Price: $1.80 (543%) Feb. 23
2011
NSRS Dec. 27th, 0.21 - Highest Price: $1.72 (1129%) Feb. 7, 2012
AMWI Nov. 17th, 0.071 - Highest Price: $1.39 (1858%) Dec. 8
MILV Oct. 27th, 0.048 - Highest Price: $0.14 (250%) Nov. 8
POTG Sep. 22nd, 0.11 - Highest Price: $0.40 (300%) Oct. 3
HDSI Aug. 8th, 0.12 - Highest Price: $0.35 (250%) Aug. 8
No one can even confirm if the alert is the real thing since the typical modus operandi for the group has been adjusted to serve up this pre-alert of VLNX. Whatever the end result is as to whether the group is officially behind the alert on Vision Plasma Systems or not is yet to be determined. The case in point is that whoever set this up by using email addresses like centroazteca@hushmail.com as the reply-to address certainly thought the process through cleverly enough to even use an address of a former alert from the group.
Disclosure: I have no positions in any stocks mentioned, and no plans to initiate any positions within the next 72 hours.