A couple of positive headlines for Martha Stewart Living Omnimedia Inc. (MSO) may have gone largely unnoticed recently thanks to a slew of other headlines regarding the firm's legal issues.
On August 7th MSO rolled out a press release announcing the launch of Martha Stewart Essentials. Martha Stewart Essentials is a new line of six Whole-Food-Based high quality supplements made specifically for women. The Essentials line is one of the only lines of supplements made specifically to address the health needs of woman. The supplement line includes products for hair, skin and nails, bone support and menopause support. The press release stated that the product would be on retail shelves beginning September 15th.
On Monday, August 12th Martha Steward personally attended the National Association of Chain Store Expo at the Sands Expo and Convention Center in Las Vegas to promote the launch of the Essentials line. By the accounts relayed to us, attendance was high at the booth and Martha announced on her Twitter account that MSO partnered with Inergetics on the Essentials line.
To date MSO has not put out a press release announcing the stores that have begun stocking the line of supplements. But channel checks show that a rollout of Martha Stewart Essentials is moving forward. We have seen the product line in several Walgreens Stores, and a manager of a Walgreens store confirmed that the Essentials line is a nationwide rollout. As of May 31, 2013 Walgreen Co. (NYSE: WAG) said it had 8,096 stores opened further verifying this is a significant product launch for Martha Stewart Essentials.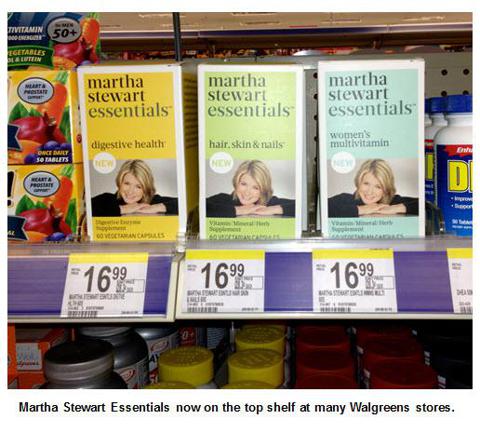 Inergetics, Inc. (OTC:NRTI) developed the Martha Stewart Essentials line in partnership with Martha Stewart Living Omnimedia, and now is in the process of marketing and distributing the line. Inergetics entered into a licensing agreement with MSO that is laid out in the Commitments And Contingencies section of Inergetics August 14, 2013 10-Q. The agreement has minimum royalty payments to MSO for the 5 years of 2014 through 2018 of $1,800,000, $2,100,000, $$2,700,000, $3,200,000 and $3,800,000 respectively, on top of the $450,000 paid as of June 30, 2013. As royalty payments typically have relatively high margins for the receiving company, a high percentage of these payments should have a significant impact on MSO's EBITDA over the next five years. Inergetics goes on to say in the Subsequent Events section in the 10-Q that during the third quarter of 2013 Inergetics has shipped in excess of $1.4 million of product to retail chains. Inergetics does not say specifically the products are the Essentials products, but we assume they are due to the facts that the Essentials line is rolling out at Walgreens and Inergetics revenues were $73,442 in the first two quarters of 2013.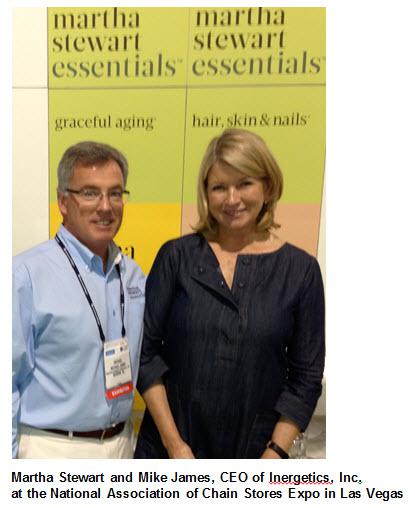 Inergetics is a supplements company that started with a protein product, Resurgex, which was proven in clinical studies to increased recovery time for NCAA Division I athletes.
In June of 2013 Mike James was named the CEO and he took over the task of rebuilding the stagnant company. Mr. James began by bringing industry experts into the Inergetics management team. Since becoming CEO, Mr. James has paid off toxic debt, recapitalized the company with the least amount of dilution he could, grew the Resurgex product from one product into a line of top performance muscle building and recovery products for competitive athletes, acquired two new brands, Slim Trim and Bikini Ready, and launch them into retail stores. The crowning achievement for Mr. James and his team is the partnership with Martha Stewart Living.
Inergetics has gone from a company with nearly no product sales in the first quarter of 2013, only $6,775, to shipping over $1.4 million of product in the third quarter at the time the 10-Q was released. The Inergetics management now has the Martha Stewart Essentials line going into 8,000 Walgreens. This is a management team that has produced. Not only does the 3rd quarter look like is will be the highest ever for Inergetics, but the fourth quarter could even top the third as the company continues to expand the rollout for Martha Stewart Essentials into other grocery chains over the next few months.
Martha Stewart Essentials looks like a great opportunity for both Martha Stewart Living Omnimedia and Inergetics. MSO is capitalizing on their most valuable asset, their brand, with a woman's health line that is right in line with the message that they have been conveying for years. "I have envisioned nutritious whole-food-based supplements for women who live their lives the way I do, healthily and with passion," said Martha Stewart about the Essentials supplements. "I have confidence that consumers will recognize the high quality and nutritional value these formulas deliver, and that they will be as excited about them as I am." These licensing agreements are becoming more important to the financial structure of MSO, and we would expect to see more like it in the future. As for Inergetics, the new management team has turned Inergetics into a thriving company with loads of potential. Inergetics is about to have a significant spike in revenues that has not yet been realized in the stock price.
MSO Stock is starting to bouce off a 52 week low reflecting the ongoing legal and licensing issues between Macy's, JC Penny's and MSO. Until this is all resolved there will be continued risk in the stock of MSO. However, it does look like MSO is attempting to produce higher margin revenues with partnerships that signify the Martha Stewart brand. If MSO continues along this path, these price levels could be a good entry point into the stock.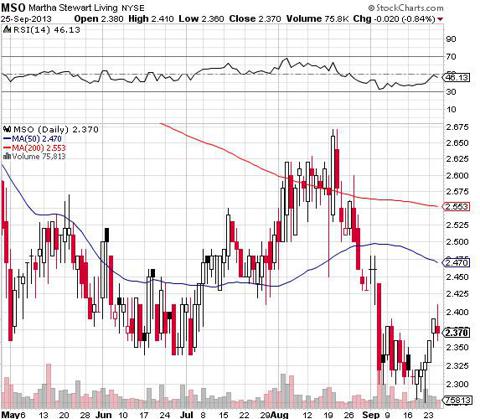 The risk for Inergetics (OTC:NRTI) is that they are a small company that has failed to produce properly through their last two managements. The new management led by Mr. James looks to be on the right path, increasing the number of products and getting them into large chain retail stores. The current share price not taken into account the Martha Stewart Essentials rollout, nor the fact that the Inergetics has already shipped $1.4 million of product in the current quarter. Inergetics is the logical way to play the Martha Stewart Essentials product launch, as the rollout will have a significant upside effect on the Inergetics' top and bottom line.
Disclosure: I have no positions in any stocks mentioned, and no plans to initiate any positions within the next 72 hours. I wrote this article myself, and it expresses my own opinions. I am not receiving compensation for it. I have no business relationship with any company whose stock is mentioned in this article.