The Crash in the Dow is Tiny Compared to Monday's Vanguard Flash Crash
Everybody is talking about the Dow Jones Industrial Average (DJI) falling over 1000 points on Monday. A 1000 point drop was a 6% crash on Monday. Scary, right? What if I told you there was another crash that was 5 times worse that very few people are talking about? When I woke up Monday morning I followed my routine as usual. I checked my current holdings and watched the market open. I had expected a nasty down day after watching China's Shanghai Composite Index - but what I didn't expect was a flash crash in my index ETFs. Two notable ETFs in particular, Vanguard Health Care ETF (NYSEARCA:VHT) and Vanguard Consumer Staples ETF (NYSEARCA:VDC), dropped over 30% each at their lows. These ETFs usually tend to follow the broad market pretty closely - so waking up to see these ETFs plummet all the way down to a crash of over 30% shocked me. I don't yet have the data on how steep these ETFs were trading at a discount to their net asset value (NYSE:NAV), but I believe it will be shown to be quite high. These are no small funds. These two funds combined are worth over $10 billion. Within an hour on Monday morning,$3 billion was wiped out. Check out the crazy charts below:

(Chart from TD Ameritrade's thinkorswim)

(Chart from TD Ameritrade's thinkorswim)
As you can see from the charts above, VHT fell to a low of $91.31 and VDC fell to a low of $84.62. Both of these numbers represent a drop of over 30% from their previous close. After about an hour, the flash crash was over and the two ETFs began trading in line with the rest of the market. It was a train wreck that I couldn't look away from - especially given the fact that I hold some of my retirement savings in these two funds. These two funds hold very reputable and solid companies. Even if these ETFs didn't rebound within an hour, they would make great long-term investments at discounted prices. See below for a snapshot of their holdings:
VHT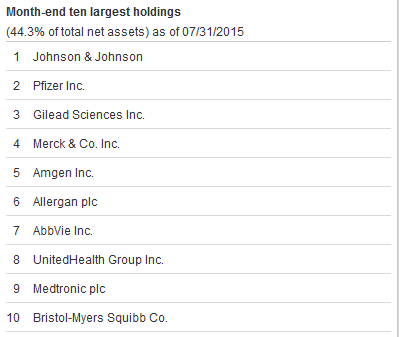 (Data from Vanguard)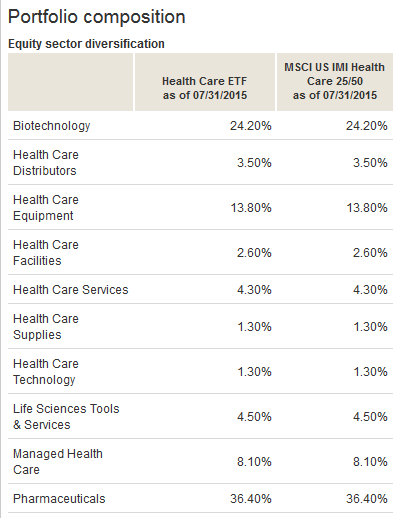 (Data from Vanguard)
VDC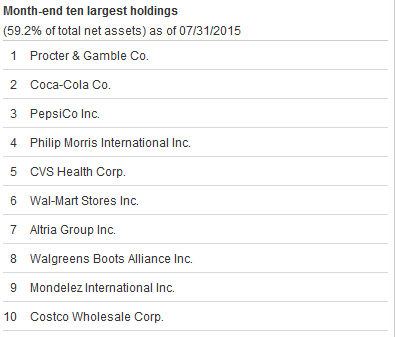 (Data from Vanguard)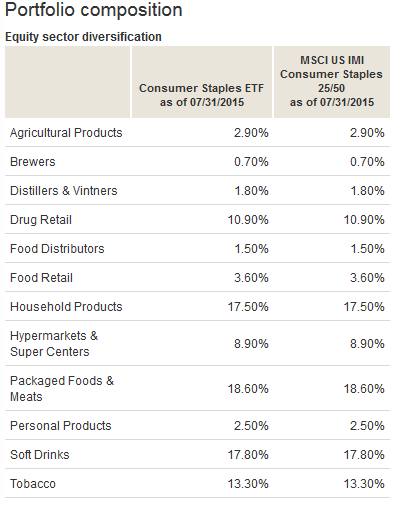 (Data from Vanguard)
Now I know several of my more well-versed readers are yelling at me telling me that there is usually no way to profit off of these flash crashes. You're half-right. You're right in the fact that executing an order will be difficult during a flash crash. You're right that there is a short window of time and most people won't even be there to see the crash - let alone have time to evaluate the situation and get an execution of shares. These are all very valid points. However as you can see from the volume, especially in VHT, there was plenty of trading going on at the heavily discounted levels. While you may not have been able to get an execution at 30%, 20% was very doable if you were liberal with your limit order and have a broker with decent executions designed for trading. Given that I hold my Vanguard ETFs in Vanguard's brokerage, I, along with many others, decided to check their positions using their website. The website crashed at one point and I am assuming it was due to the volume of people doing the same thing I was. I made the mistake of trying to use Vanguard to purchase myself more shares to make it easier on my tax report but that was clearly a mistake and cost me a significant amount of money. My order to buy VHT did not go through and remained "pending" for a good couple of minutes, if not longer.
How to Profit Off the Next Flash Crash
So what did I learn? I learned that flash crashes, as made famous in 2010 (read more about the 2010 flash crash here), happen often enough that they warrant keeping an eye out for. So how does one profit off flash crashes without staring at the market as it opens every morning? One possible solution is to put good-till-cancel (GTC) orders on the holdings you are keeping long-term and wouldn't mind buying at a discount. You can set these discounts wherever you like, I have personally set them at 10% below the current market value as of Monday afternoon. I would not recommend keeping a large amount of money available for this - as it's entirely possible no flash crash or correction will occur, in which case you will be left losing money to the demon of inflation. You also need to consider that your orders may not go through, especially if your brokerage is not known for great executions. If the idea of tying cash up doesn't appeal to you, there are also plenty of websites and applications that offer alerts that will either email or text you when a fund or company drops a certain percentage. These alerts can let you know when a flash crash is happening but it will be up to you to evaluate the situation and manually make the trade. In my case on Monday, that ended up costing me.
Conclusion
Flash crashes can be scary. If your retirement savings suddenly lose 30% of their value and you don't know why, it can be easy to panic. Keeping a cool head and developing a strategy will not only allow you to get through those situations - it will allow you to make a profit off of them. At some point, you may even be hoping for a flash crash so you can buy more shares on the cheap from those who panicked.
Disclosure: I am/we are long VHT, VDC.