Facebook a few years ago was known by very few and was still in its infancy. After A lot of hard work, determination, and with a growing portfolio of possibilities, it has rose up rapidly, with its 52-week high being $72.59; compared to its 52- week low at $23.38. It has rallied over 160% in a relatively short amount of time, I have followed Facebook since its IPO in 2012 and still maintain a very high interest in the future of this ever evolving company. In the beginning it had a rocky start but as they expand themselves and grow, with over 1.3 Billion users Worldwide they have now become the largest online social network.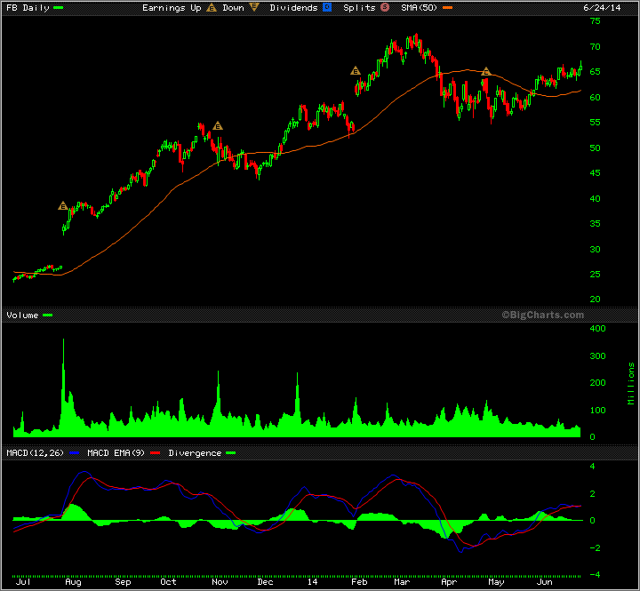 www.marketwatch.com/investing/stock/FB/charts
Facebook has came off its highs of $72 dollars per share and around mid April hit a low point just shy of $55 dollars per share. Since this year, Facebook has Acquired and came out with a few new and highly useful products. Such as it acquisition of WhatsApp for 16 billion dollars in cash and stock, $12 billion in Facebook shares, $4 billion in cash. Facebook has also acquired a company called Oculus rift for $2 billion dollars, this company has great potential to be a game changer for Facebook, aiming to get 1 billion headsets into peoples homes. Also recently Facebook has added an app called Slingshot to add to the list of its products. It lets you share media and videos with a single person or groups of people, a little bit like the App SnapChat. It will be interesting to see how this and many other things evolve in the coming few years. All of these things that came out this year will make the future for Facebook, perhaps we will see the birth of a company who will be in our lives for many generations.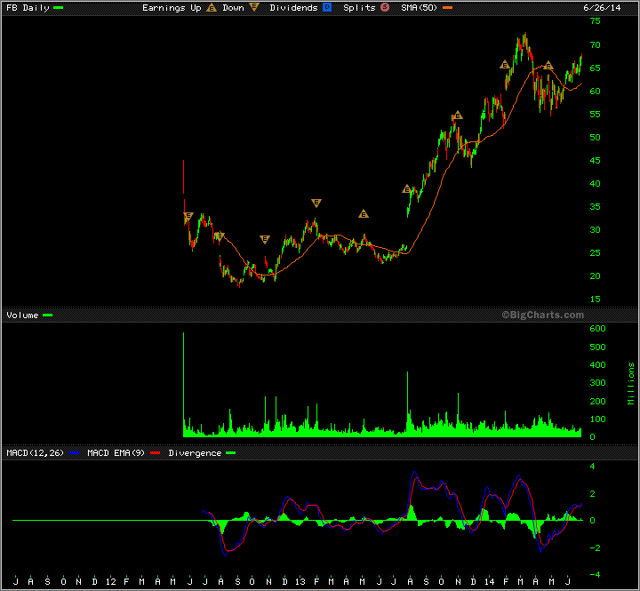 www.marketwatch.com/investing/stock/fb/charts
I have Traded Facebook on and off since it bottomed out back to around $18 dollars per share. I like Facebook for a number of reasons but for this article I'm going to be discussing the technical trade. Some people go by or have heard the phrase " Buy the dips, sell the rallies." This is in some ways what your doing but what my trading plan for Facebook is to trade the support and resistance lines around $63.75-$64. My view is that once that barrier has been passed in the stock price, the price will rise to create another floor and possibly break out to new highs. I wouldn't be surprised to see Facebook above $80 dollars per share in the distant future. Although always remember to be careful and this is meant to offer new ideas that you can run through your filter yourself and see what you come up with. Also remember that since Facebook is a larger company and a lot of different types of people, and company's, that trade this stock as well as many individual investors therefore it has a tendency to move with the market sentiment so be sure to keep a close eye on everything. My thoughts on the short side of Facebook don't come into play until the stock price hits around the $60-$57.00 dollar range. After that point i would look for it to possibly fade lower and would sell out the long position and look for further indicators. Update: This was wrote for Monday the 23rd-24th, still looking for the $67.00 dollar range to hold for a gap up past its highs. May do another full fundamental focused article later on in the future but for now I wanted to get this trade out there so it may have some benefit.
Mark Zuckerberg on Facebook's Future, From Virtual Reality to Anonymity www.wired.com/2014/04/zuckerberg-f8-interview/
Disclosure: The author has no positions in any stocks mentioned, and no plans to initiate any positions within the next 72 hours.