The gigantic head and shoulders formation is still in place, and trend indicators are still bearish on the EURUSD. ($EURUSD) In addition, the market has a Fibonocci line very close to the head and shoulders neckline. Take a look at the chart.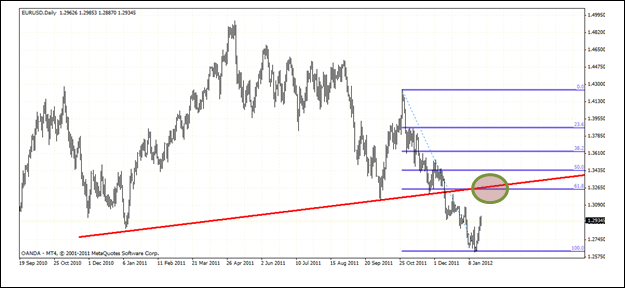 You can see the EURUSD bounced and has since rallied about 500 pips.
What should be clear is the neckline of the head and shoulders and the 38% Fibonacci retracement are close to each other. The Green Circle on the chart shows this crucial area for the Euro.
The Head and Shoulders formation is huge and took over a year to complete. Formations of this size and quality should be respected. We don't know if it will hold or not - but the formation says EURUSD will go to 1.1000.
A market can break a neckline of a head and shoulders formation, then come back and retest the neck line. This happens frequently and is a pro traders dream trade. This can be a good time to sell for a big downward move.
I've highlighted this area as the potential starting ground for a very large downward move.
The euro not only has neckline in this range, but the first Fibonacci retracement is right around the same level. Fibonacci lines are notoriously loose - so I am thinking the area rather than the specific numbers are a good place to sell.
Watch the 1.3200 to 1.3290 area. This could be a good place to sell if you are not a pure trend follower.
This analysis is not taking into account any fundamentals, but ratherlooking only at price action. I strongly believe lower prices in the EURUSD will tend to cause even lower prices. I also think there are strong forces which will tend to weaken the EURUSD.
I've just uploaded a video at generatefx.com that goes into a bit more detail on this technical formation.
Also, the 1.32-1.33 level is a test. if the EURUSD goes upwards and past the 1.32-1.33 level for any length of time or higher than 1.34, the head and shoulders formation is "broken".
Prices only rarely move in a straight line up or down. Moves of this size usually unfold over many weeks or months - so don't expect a quick move upwards to 1.3250 and then a dramatic drop to 1.1000. Be patient on this one.