"Dell has been trying to turn itself into a solutions provider in order to offset the declining PC business as consumers move toward mobile devices like smartphones and tablets." -- Taken from CNBC
It's unlikely that you will hear commentary from any analyst on a company in the technology sector that is dependent on PC sales to not mention the declining PC market. Dell was the first company that came to mind that would be easy to illustrate my point. It came to mind easily because Dell, unlike say HP, doesn't have the same server business, peripheral business, etc. to offset these declining PC sales.
AMD's stock recently dropped roughly 14% after an analyst cut his estimate on the stock, citing the declining PC market as a reason, according to Barron's. I present my argument to give Seeking Alpha readers a glimpse into how I feel the PC/Tablet space will be defined in the upcoming years, so they can be ahead of the power curve if Wall Street decides to redefine how PC sales are tracked.
A Brief History of the PC and Moore's Law, and How it Relates to Investors
The first computer, the ENIAC, would not fit in a small house. It was thought that 5 computers would be enough for the world. In the 1970's, PCs made their first appearances. They were used mainly by hobbyists, were as powerful as the ENIAC, and cost roughly $1400 (today's equivalent) compared to ENIAC's $1M price tag. By the 1990s, the PC was a $2000, 20 pound box connected to a 40 pound monitor. In the 1990s we were also introduced to mainstream laptops. These laptops were heavy, had terrible battery life, and enough fans to cool a small room. As CPUs became more efficient, the amount of waste heat generated went down and battery life went up. This allowed for fanless designs and thinner form factors, and gave rise to the divided market as we see it today: PCs and the mobile/tablet sector.
From engadget's article on the IDC report of declining PC shipments, we can indeed see that traditional clamshell style notebooks and PC sales have declined. Meanwhile the mobile sector has experienced tremendous growth with smartphones and tablets. The Guardian states that tablet sales could challenge traditional PC sales by 2017.
What Will the Tablet be in 2017?
By the end of the year, Advanced Micro Devices (NASDAQ:AMD) and Intel (NASDAQ:INTC) should both have tablets in the market based on their respective Temash and Silvermont x86 architecture. If these tablets provide comparable battery life but more power, sport either the Android or Windows 8/8.1 OS, have a detachable keyboard with trackpad, and capacitive touchscreens, do their numbers count toward the traditional PC market or the tablet market?
As processors become more powerful, the activities we use our tablets and smartphones for evolve. The benchmarks used below are to demonstrate that Moore's Law is essentially at work here.
The following illustration is taken from phonearena.com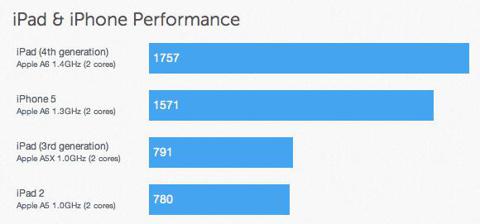 The following image is taken from a favorite benchmarking site of mine, Anandtech.com. Compare the relative change between the iPad and iPad 2 in the bottom benchmark however, because the metric used for measure is different from the above graphic.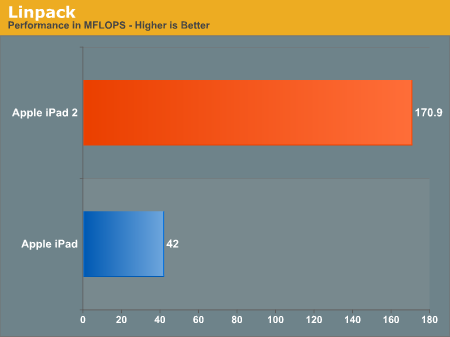 Right now, ARM Holdings (NASDAQ:ARMH) has chips in 95% of the world's cell phones, and 40% of mobile computing solutions, of which tablets are included according to their website. Companies like Nvidia (NASDAQ:NVDA) license the right from ARM to use ARM based designs and manufacture their own branded chips.
Taken from ARM Holding's Website:

There are already several benchmarks showing the Intel z2760, an x86 processor, beating the Tegra 3 in several applications. AMD also has several benchmarks, showing it too is more powerful than the Tegra 3.
These chips are respectively based on Intel's Clover Trail and AMD's Hondo CPU designs. The benchmark I have linked to for the AMD example shows how substantial the performance increase is: 277% increase between AMD's z-60 and Tegra 3 regarding graphics power is not inconsequential. The benchmark graphics above show how quickly processing power is progressing in the tablet space. Noteworthy is that both of these tablets are being replaced by the end of the year with even more powerful products based on Intel's Silvermont architecture and AMD's Jaguar CPU cores.
Conclusion
If you are long AMD or Intel, do not miss these product launches. The products you are looking for are Intel's Bay Trail tablets and Merrifield smartphones, and AMD's Temash powered tablets and laptops. This is also valuable information for ARM Holding longs. These products have the ability to displace ARM Holding CPUs, negatively affecting ARMH revenue, while adding significant revenue for Intel and AMD. I have a more in depth analysis here concerning ARM Holdings having true competition for the first time.
It flies in the face of logic that consumers will one day say, "This device is probably powerful enough." The benchmark graphics I used above demonstrate how tablet performance is increasing. According to Nvidia, the current PS3 and Xbox 360 are barely more powerful than smartphones." Battery life, form factor size, CPU power, graphics power, and cost will all factor in when the consumer is making their decision. A common argument is that the cost of an x86 CPU is more expensive and has worse battery life. Intel has said it plans on having $200 laptops and tablets, so I do not feel price arguments are relevant. Nvidia realized the limitations of the ARM CPU concerning battery consumption as they increase their processing power. This was solved by using processing cores in a big.LITTLE arrangement. But the "big" processors take over when performing computationally intensive tasks, such as playing a 3D game. I am waiting to see real world benchmarks on battery life before deciding if an ARM CPU is significantly better than x86. I have no interest in seeing how long battery life is as the device sits idle. Isn't there a saying about watching paint dry?
But the main point I want to get across is not to be scared out of long positions in AMD or Intel simply due to analysts citing the declining PC market. The PC market is not declining, but rather changing, with the lines between tablets, smartphones, and PCs blurring. AMD and Intel are the underdogs in this fight, since ARM Holdings has such a large portion of the market share. It is true that traditional PC sales have dropped, but compare this to how tablet sales have increased. Intel and AMD are both making pushes into mobile computing. It may be more prudent to base your investing decision on the company you feel is best poised for the emerging tablet market, and really take a look at how the hardware is actually evolving.
Disclosure: I am long INTC, AMD. I wrote this article myself, and it expresses my own opinions. I am not receiving compensation for it (other than from Seeking Alpha). I have no business relationship with any company whose stock is mentioned in this article.